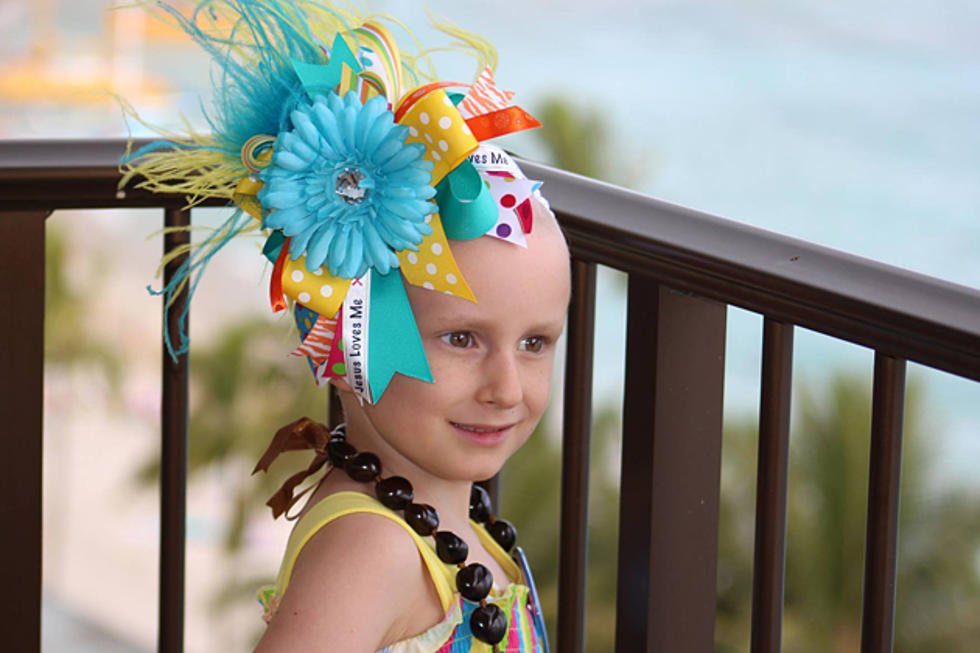 Meet the Little Girl Who Made Miranda Lambert Weep
Facebook/BrookesBlossomingHope
Perhaps you've seen the video. Perhaps you've watched it twice, because in watching Miranda Lambert break down on stage, you found some new reason to be absolutely certain you say "I love you" with a big hug to your children each night. Brooke Hester is the 7-year-old in the viral video wearing a pink hat and holding a picture and a flower. Her story from Lambert's show at a recent stop in Texas makes the moment so much more meaningful.
Brooke's mother, Jessica Hester, tells Taste of Country that getting her daughter to her first "real" concert -- a point the spirited Brooke argues -- took work, luck and the generosity of many people. The tickets were donated anonymously, but the family wondered, and maybe doubted, if Brooke would be home from a Michigan hospital in time to go. And then they wondered if her immune system would be up for it.
Mommy, I worked so hard to grow my hair and now it is gone … again, but it's okay, it will grow back, and in between I can always wear my blossoms.
For nearly four years Brooke has battled Stage IV, high-risk Neruoblastoma. The family is split between Texas and Michigan so dad can work and keep health insurance, and mom can be with her daughter for personalized, specialized treatment. Brooke has lost her hair seven times, including just last week.
"Mommy, I worked so hard to grow my hair and now it is gone ... again," Jessica remembers her daughter saying. "But it's okay, it will grow back, and in between I can always wear my blossoms."
A blossom and a note with a picture of a little red wagon is what Brooke is seen handing the 'Little Red Wagon' singer during 'Over You' in Corpus Christi. Through her charity Brooke's Blossoms, the little girl has provided headwear to more than 13,000 children in 37 languages. It's flowers, feathers and bows for the girls, sweatbands, ball caps or something crazier for the boys. A journal at her Caring Bridge site recalls how important it was for her to give Lambert these two items, and while she accepted and soaked in the moment, she ultimately left them behind.
"The cleaning people ended up giving Brooke back her drawing and blossom that Miranda had taken from her in the emotional performance, but we hope with the help of some special friends that it can somehow find its way back to her so that she will know what she has inspired in Brooke's heart and foundation."
Jessica and Brooke sound anything but discouraged. Instead, they recall the ushers taking them away from their crowded space on the floor to an area just in front of the stage. They recall Lambert coming over and finding the 7-year-old, stopping mid-song to hold her hand and cry like they were related. "I am so glad this was Brooke's first real concert," Jessica tells ToC, "and even more astounded at the compassion that not only got her to the foot of that stage, but the absolute love and sincerity that Miranda clearly shared with my daughter."
"Brooke goes wild singing along with Miranda Lambert's energetic songs, and later in the performance when she sang her favorite one, the 'Little Red Wagon' song, Brooke wanted to get down (from her mother's hold) and dance as she belted out each lyric with all the swagger and strength the song inspires," mom adds. "I remember Brooke kissed my cheek (as if I had any credit for the evening whatsoever) and said, 'Mommy this is the best night ever!!!!'"
It's Lambert who inspires Brook to have her own "backyard swagger" each day. She provides strength for a little girl, and by extension, an entire family. The Hesters asked to remind everyone that September is Pediatric Awareness Month. Who are we to say no to such a strong little girl?
How Well Do You Know Miranda Lambert?
More From Taste of Country