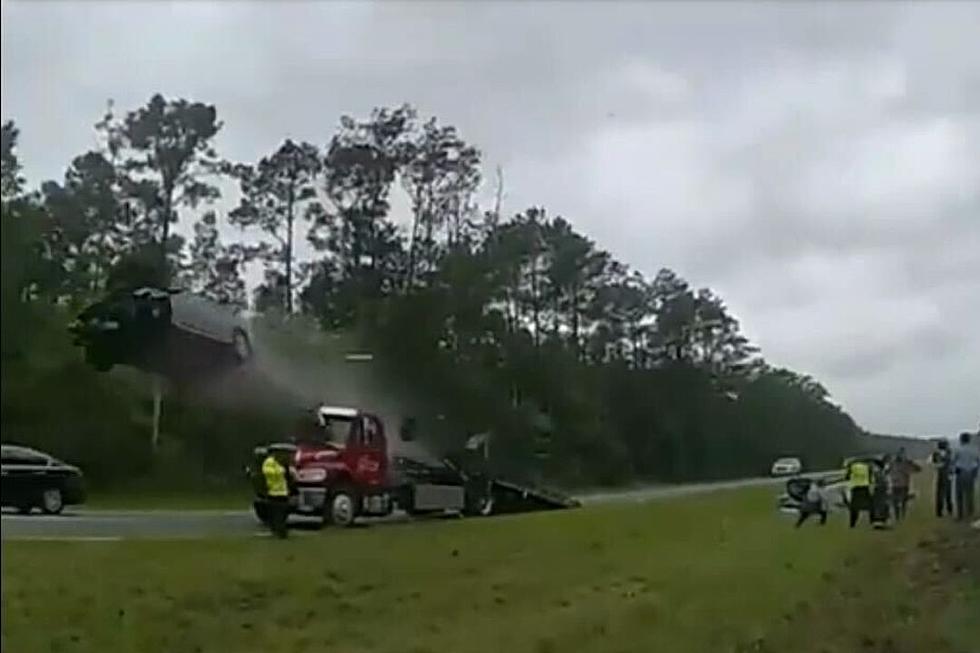 You Won't Believe This Real-Life 'Dukes of Hazzard' Car Jump [Watch]
WSB-TV, YouTube
Whether you will admit it out loud or not, we have all probably dreamed of taking our car airborne once or twice for fun ... but certainly not by accident while driving full-speed on a highway. The clip below kind of looks like a modern-day scene out of The Dukes of Hazzard, but it is not. This happened in Georgia on May 24, when a woman drove her car into a tow truck at full speed on a highway and the crash was caught on video.
Newly released body cam footage from a Lowndes County Sheriff's deputy shows the car go up high in the air and travel about 120 feet before smashing back down onto the highway. Officers were on the other side of the highway conducting a traffic stop when the crash occurred.
The driver was a 21-year-old woman, who was taken to the hospital with non-life-threatening injuries. Georgia State Patrol deputies said the car traveled an additional 23 feet after hitting another car when it crashed back onto the highway.
For comparison purposes, here is a jump from the General Lee on The Dukes of Hazzard.
It's still unclear if the driver will be facing charges. There has been no other information about her or her condition. But let this serve as a reminder: If you're approaching emergency vehicles, or any stopped vehicles, slow down, and be alert and give them the space they need.
Evan Paul is the host of Taste of Country Nights, a syndicated radio show heard on more than 120 country radio stations nationwide, every night from 7PM to midnight. He plays the best new country music and interviews today's top stars, like Luke Combs, Miranda Lambert, Dan + Shay, Keith Urban, Carrie Underwood, Luke Bryan, Chris Stapleton, Lady A, Morgan Wallen, + more! 
See the Cast of The Dukes of Hazzard Then and Now:
See What the Cast of Reba Looks Like Now:
See the Cast of 'Home Improvement' Then vs. Now
More From Taste of Country