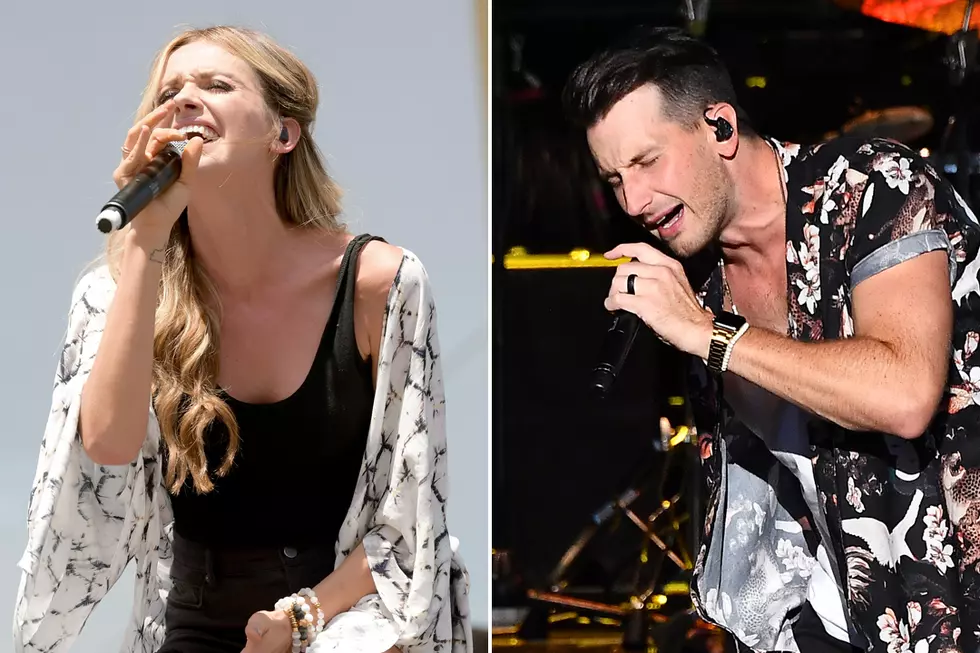 Carly Pearce Plots 2019 Co-Headlining Tour With Russell Dickerson
Jason Kempin / Paras Griffin, Getty Images
Carly Pearce and Russell Dickerson are teaming for a co-headlining tour in 2019. The longtime friends and songwriters have announced the Way Back Tour, which will visit 11 cities in the U.S. beginning Jan. 24.
The trek includes stops in Ohio, Wisconsin, Louisiana, Texas, and South Carolina, among other states. Tickets for the joint tour go on sale Nov. 9.
"Carly and I go way, way back and we have cheered each other on for years," Dickerson says. "Breaking onto the scene together has been such a fun ride, so we had to book a tour together to celebrate!"
Both singers have celebrated their first No. 1 single within the past year, Dickerson with "Yours," and Pearce with the chart-topping "Every Little Thing."
"It's crazy to think about eight years ago when Russell and I had a residency in Nashville together. Now, to see the evolution of our careers that have mirrored in so many ways is a dream come true," Pearce gushes. "Sometimes slow and steady wins the race, and I couldn't be more proud of how far we've come."
Carly Pearce and Russell Dickerson's 2019 the Way Back Tour Dates:
Jan. 24 — Cleveland, Ohio @ House of Blues
Jan. 25 — Madison, Wisc. @ The Sylvee
Jan. 26 — Fort Wayne, Ind. @ The Clyde Theatre
Jan. 31 — Lexington, Ky. @ Manchester Music Hall
Feb. 2 — Myrtle Beach, S.C. @ House of Blues
Feb. 21 — Baton Rouge, La. @ Texas Club
Feb. 22 — Nacogdoches, Texas @ Banita Creek Hall
Feb. 23 — Tulsa, Okla. @ Cain's Ballroom
Feb. 28 — Champaign, Ill. @ The City Center
March 1 — Grand Rapids, Mich. @ 20 Monroe Live
March 2 — Chicago, Ill. @ Joe's on Weed
Carly Pearce Is in Love and She Doesn't Care Who Knows It!
See 18 Country Singers and the Famous Celebrities They Dated:
More From Taste of Country