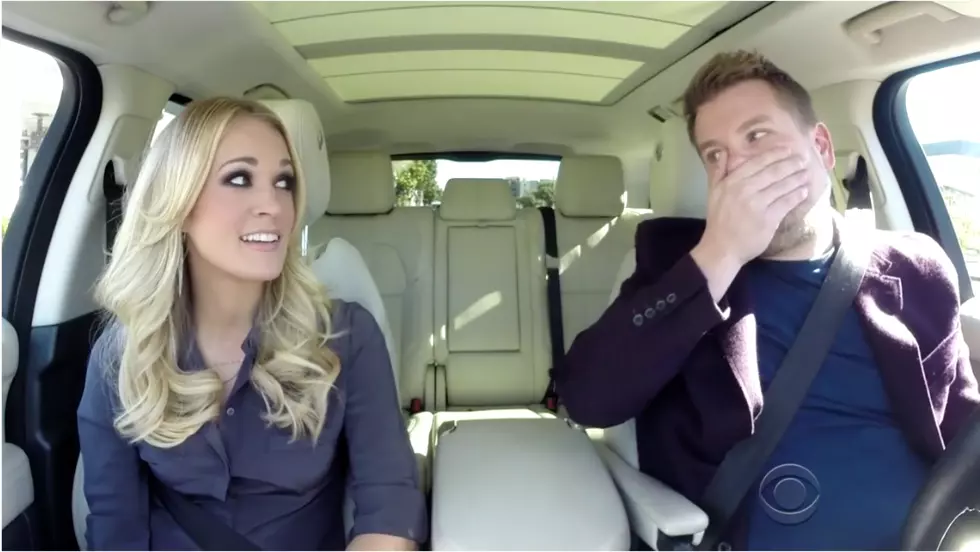 Carrie Underwood Sings Carpool Karaoke With James Corden [Watch]
YouTube
If anyone had any doubts, Carrie Underwood's voice is that good all the time. The singer took a turn on late night host James Corden's Carpool Karaoke series, climbing in the passenger side of his SUV and rocking some impromptu performances of her greatest hits as they drove through L.A.
Though Corden gave his performances his all, Underwood's voice shone, even in a car, as she harmonized to Corden's belting and her own voice over the radio speakers. The duo mustered up as much drama as they could for her tunes "Smoke Break," "Jesus Take the Wheel," in between chats about Underwood's husband Mike Fisher and the requirements for being a country star.
Underwood explained to Corden that "boots are the roots" of country singers, and to be a bonafide star he'd need a pair of his own. So the two set off into a western-wear store to select a pair for Corden. After trying on a $2000 vest with his elaborate boots and a black cowboy hat, Corden left with just the hat, due to budgetary constraints.
The hat inspired even more country swagger in Corden, and the duo belted "Before He Cheats" together next. Underwood's effortless vocals were impressive, as always, even though it wasn't an official performance. Underwood even got to show off her knowledge of Wham! tunes, to which she admitted she knows every word. Corden and Underwood broke into "Wake Me Up (Before You Go-Go)," and proved she wasn't lying — she even knew the ad-libs.
"That was awesome. We're awesome," she concluded. The fun clip also features a challenge between the two to see who can hold a note longer, and what Underwood thinks of Fisher's fighting in the rink. Check out the full video above to see the hilarious commute.
See What (Else) Carrie Underwood Has Been Up to Since Baby
More From Taste of Country