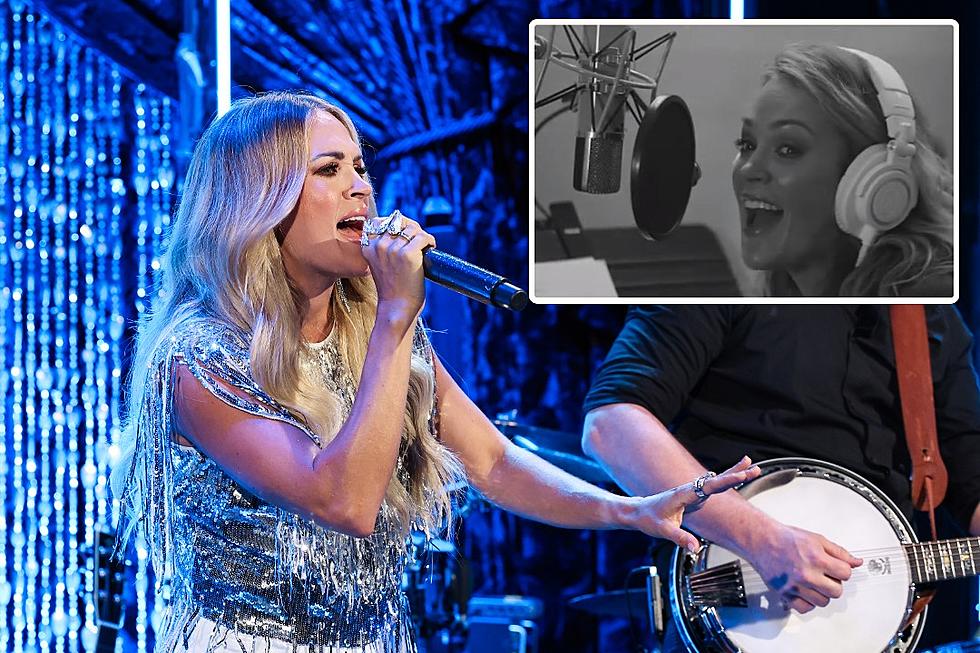 Carrie Underwood Hilariously Flubs Tongue-Twisting Lyric in 'Out of That Truck' [Watch]
Instagram / Terry Wyatt, Getty Images
Carrie Underwood surprised fans on her 40th birthday with a new song, "Out of That Truck", which dropped at midnight on Friday (March 10). She also shared an in-studio video laying down the vocals for the track and revealing one very tricky lyric.
"That messed up tape deck's still stuck playin' that mix I made for you," is what the first verse line is supposed to say — however, Underwood completely flubs it and sings gibberish before laughing at herself.
"That. That is the hard line," she says to the producer. "Hardest line I've ever had to sing."
The irony here is that the "Denim & Rhinestones" singer is a writer on the track and could have easily created an easier line for herself. For now, she can point the finger at David Garcia and Lydia Vaughn, who co-wrote the breakup song.
"We just kind of went in, and it was like having this memory and nostalgic kind of song where it's like, you kind of can't get over somebody, but it's because of all the physical marks that you left in a space — that being the truck," she explains.
It's a different approach to revenge and heartbreak than we have heard from Underwood in the past. Oh, she's getting back at her ex, all right, and she's using his truck — however, this time it's much more subtle than in her early hit, "Before He Cheats."
"Well, it was inevitable, I guess. I knew someday I'd have a truck song that I wasn't, uh, I wasn't wreckin' it," she says with a chuckle.
"Out of That Truck" is not attached to an album at this point; however, it has a similar rock-leaning vibe that Underwood explored on her 2022 album Denim & Rhinestones. The Oklahoma native has not hinted at a new project in the works.
For now, Underwood is wrapping up her Denim & Rhinestones Tour on Friday, March 17. She'll then head back to Las Vegas for more of her Reflection residency dates.
Pictures: Carrie Underwood's Denim & Rhinestones Tour Visits Nashville
More From Taste of Country