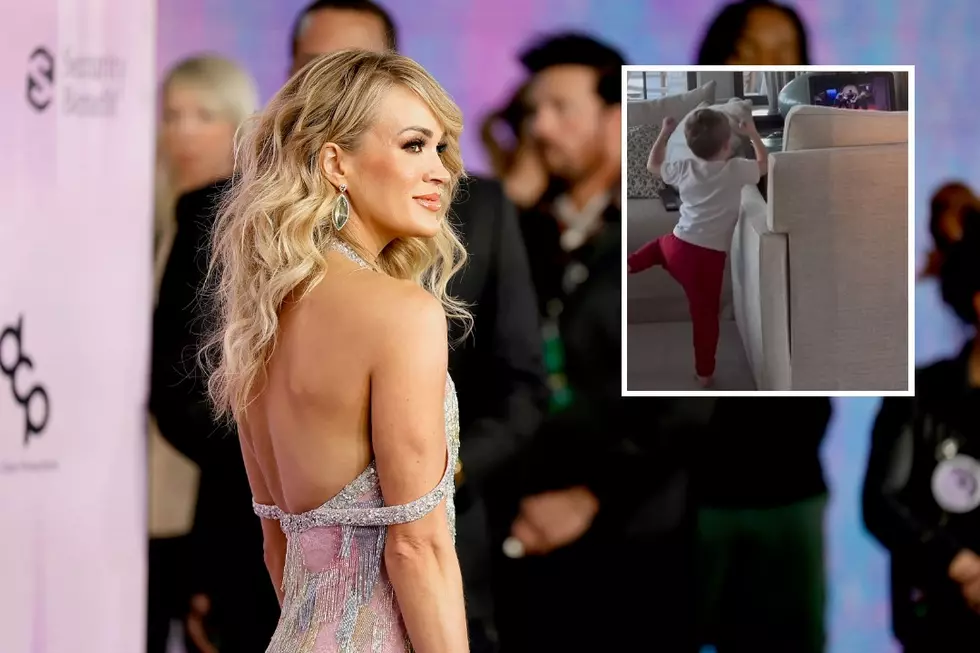 Carrie Underwood's Son Jacob Adorably Gets His Workout On [Watch]
Instagram, Frazer Harrison Getty Images
New year, new Jacob Fisher! Carrie Underwood's youngest son seems to be taking his New Year's resolutions seriously. The country singer posted an adorable video of Jake working out alongside an old fitness DVD.
"The boys found one of my old Tae Bo DVDs in a box of things and Jake thought he'd have himself a little morning workout!"
"I may soon have myself a gym buddy," she writes.
Underwood took the sneaky video from behind the soon-to-be 4-year-old's back as he followed along to the training. Jacob is seen pulling his arms up to his face as he kicks and stomps each of his feet. At one point, he uses his hands to pull up his left leg.
If you listen closely, you can hear mom snickering from behind the camera.
He's not able to keep up with the pace of the instructor, however, and eventually breaks into a quick dance before losing interest and throwing himself onto a nearby couch.
As an avid gym rat herself, it must be satisfying for Underwood to see her sons latching onto their fitness genes at a young age. The "Denim & Rhinestones" singer has been open about her fitness journey over the last several years. She has released her own app, Fit52, as well as a healthy living book, Find You Path, to help others get in shape and take better care of themselves.
Underwood also shares another son, Isaiah, 7, with her husband Mike Fisher. After playing in the National Hockey League for nine years, as Fisher did, it's safe to say that physical activity is a common theme in their household. If the boys don't become musicians like mom, they could become professional athletes like their dad.
The Oklahoma native and country megastar has enjoyed some time at home with her family over the holidays. She'll return to the road on Feb. 2 to kick off the second leg of her Denim & Rhinestones Tour with Jimmie Allen. The trek ends on March 17. She'll also return to Las Vegas for more of her Reflection residency this summer.
Carrie Underwood Reflection: The Las Vegas Residency Pictures
Carrie Underwood kicked off her Reflection: The Las Vegas Residency on Wednesday, Dec. 1. The show featured nearly two dozen hit songs plus a dazzling video wall and eight talented dancers who went to great heights to entertain the audience.
More From Taste of Country