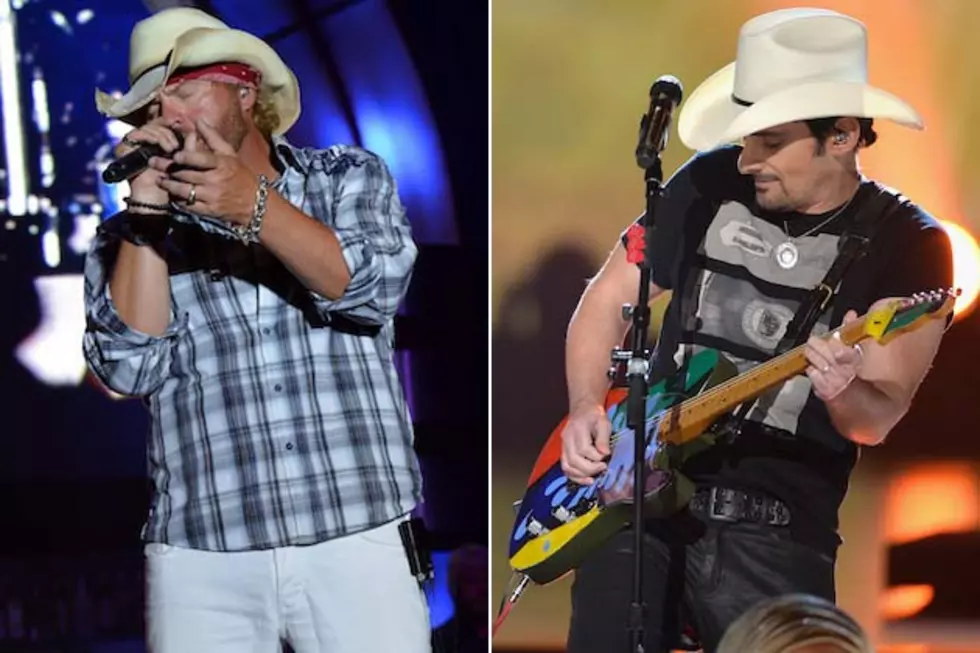 Toby Keith, Brad Paisley + More Record Album of Doobie Brothers Hits
Rick Diamond/Kevin Winter, Getty Images
The Doobie Brothers are teaming up with a slew of top-notch country stars, including Toby Keith and Brad Paisley, to record an album of the band's hits. They'll then 'take it to the streets.'
The partnership between some of country's biggest stars and the legends of classic rock is guaranteed to excite fans worldwide. Zac Brown Band, Sara Evans, Chris Young, Jerrod Niemann, and Love and Theft will also help the four-time Grammy winning act create an album of all new recordings of Doobies Brothers hits.
The album, which will be released later this year, allows the country artists to pick their favorite Doobie songs, and then record them with the band. Many of the artists featured on the record have performed Doobie songs live in concert. Sony Music Nashville label head Gary Overton's first live concert was a Doobie Brothers show in Phoenix, Ariz. in 1972.
"Seeing the Doobie Brothers perform all those years ago was such a thrill for me," Overton explains. "Artists have been telling me how excited they are to be a part of this project, and that alone speaks volumes about the amazing heritage of music that the Doobie Brothers have created."
The band has sold more than 30 million records, and with the exciting addition of fan-favorite country singers, the Doobies are well on their way to an even higher number.
The passage of time has brought many changes to the group, but the band's studio lineup will include Patrick Simmons and Tom Johnston, multi-instrumentalist John McFee and Michael McDonald.
This isn't the first time the band has gone country; 'CMT Crossroads' featured Luke Bryan and the Doobies, whetting country fans' appetites for more collaborations between country music and the 'You Belong to Me' hitmakers.
More From Taste of Country