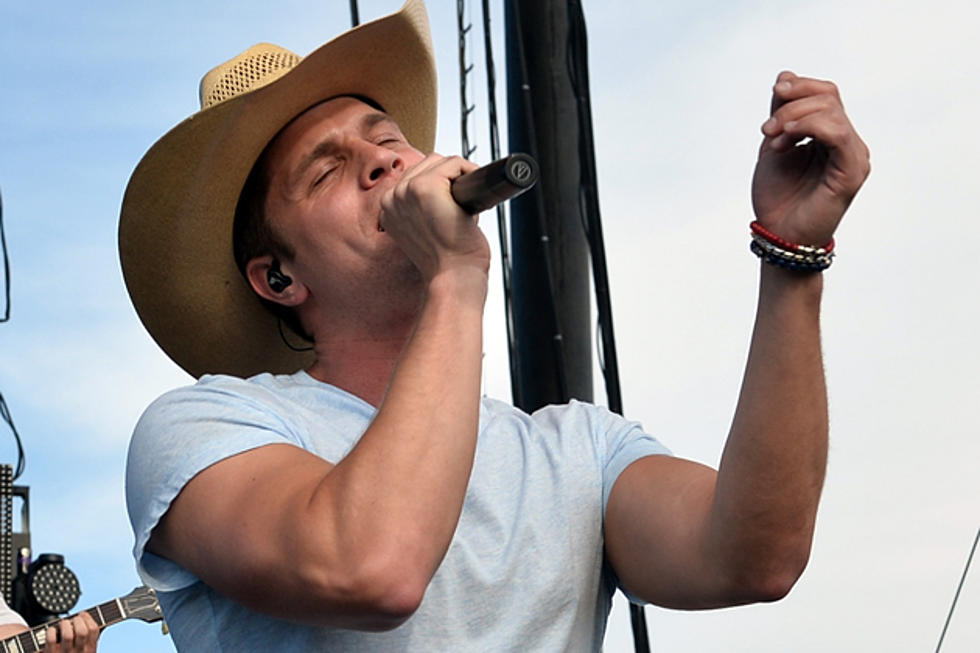 Dustin Lynch Has No Problem Slipping Into Someone Else's Boots
Kevin Winter, Getty Images
Dustin Lynch is working on his second album, the follow-up to chart-topping eponymous debut. He's had to make adjustments, to say the least. But the Tullahoma, Tenn. native has always been able to find his true north in the songwriting. Lynch -- whose current single 'Where It's At' is nearing the Top 20 -- says he's a songwriter first, so he's prone to tripping over some of the other benefits and trappings of fame and success.
Lynch told Taste of Country how surprised he is to be recognized when he's not in uniform. A plain t-shirt -- fitted to feature his muscular frame -- and a stiff, light brown Resistol that tops a chiseled face are as much of a calling card as Zac Brown's beanie. But without it, he still gets stopped in strange places.
Recently fans have started getting tattoos of his lyrics, a gesture he appreciates but admits he didn't know how to appreciate at first. And then there's his signature on-stage salute to the crowd. Lynch first told ToC about the Bicep Chug last June, and it caught on amongst his fans. However a few people grew upset with him, claiming they invented it. One guy even threatened legal action, so Lynch stopped outwardly promoting the move, although he'll still tuck a can of cold beer between his bicep and forearm and "chug" with his crowd at the end of a show.
I got to jump into somebody else's situation in life to get in there and get the good gritty stuff. I live on a single wide trailer with 10 dudes, it's not normal, you know?
"I didn't get into country music to fight over drinking a Coca Cola, for God sakes," the 28-year-old says, annoyed by the drama.
The music is what's important, and Lynch promises a sophomore effort that takes his career to the next level. The catchy lead single is a positive sign, but there's another meatier track that has the singer brimming with excitement. He told ToC how he's able to fall into someone else's narrative to write songs. That's a necessity for a touring musician living 10 months a year on a bus.
ToC: How close is your new album to the vision you had of what it'd sound like when you started recording it?
Dustin Lynch: You know, to start, it changed. It's kind of evolved as we've gone, partly to do with, I did two songs on a Merle Haggard tribute album, and I met a guy named Mickey Jack Cones, that (produced) both of my tracks, and we kind of hit it off, and had great chemistry ... and he brought a completely new kind of flavor to my music, and it's exactly what I wanted to do with the album too, is raise the bar a little bit, and I think we've done that.
When it comes time to actually choose the songs that make the album, do you consider what's popular or what's not getting a great reaction on county radio?
Yeah, I think, you know for me, it's what songs can I relate to. If I relate to this song, somebody else is going to, you know? I'm just your average dude, and I also have the luxury of playing these live, and kind of seeing what happens when I play them live at our show. We get a reaction to it, you know it's going to be a good thing.
Last year the term "bro country" became a bad word. Did you kind of stay away from songs that could possibly be labeled that way while recording this new album?
Right, yeah, I think that we're mindful of that. But, you know I think also the "bro country" thing is real life. The reason it's working is because it's what my fans, and what I live, you know? And that's just the deal. I think, is there over saturation? I think there's potential. I also look at the songs that I have and I don't think they're that, you know?
Other than the single, what's a song from the album that's really going to knock people over?
Oh, the song called 'Your Daddy's Boots.' It's one of my favorite songs I ever wrote in life. It's about that kind of love we all try to find in this lifetime. And you know, becoming, just becoming the man of someone else's life. That's really what the song is about.
Did you have a tough time writing that kind of song when you were a little bit younger?
You know, I don't. As a songwriter I draw from everybody. Also, I become a victim when someone else is actually a victim, you know what I mean? I can get into someone else's boots pretty easily. So everybody around me really affects me as a songwriter, and those situations. They're real life situations, you know, I can't live them all. I'm a single guy on a bus, you know? I got to jump into somebody else's situation in life to get in there and get the good gritty stuff. Because what I do, I live on a single-wide trailer with 10 dudes, it's not normal, you know?
What is one thing you didn't know before your debut single that you wish you had, or that really surprised you?
That's a great question. I didn't realize know how recognized I would be. You know, I thought with, wearing a cowboy hat, and then you know being able to put a ball cap on, or no hat, I could kind of disappear. It's not the case. I think especially through social media, everywhere you go, anything you do immediately is up for the world to see. And that's tough to imagine, you know?
It happened in Las Vegas. I had a three hour window, and I was like, "You know what? I'm going to jump off the grid, and go hang out with a couple of buddies at a pool." And immediately it becomes, "Hey, are you this? Are you that? Can we get a picture?" It's like, wow, this is, it's kind of flattering you know, to think ... I'm out there in my swim trunks, in the middle of nowhere Vegas, and people recognized me, so you know it's flattering, it's great. But that's something I didn't realize would become part of my life so much.
On Twitter, there's a picture of someone who had gotten a tattoo of one of your song lyrics. How does that make you feel?
You know, it's another eye-opening thing that has happened with me, that I didn't realize when I got into this, how much our songs and lyrics become a part of people's lives. It's amazing.
You know, I always loved music, I always wanted to do music. I just, as you know, as a songwriter I didn't realize these stories we hear of cowboys and angels, songs like 'Your Plan,' you know ... it's just amazing. Life changing. I've had several people come up and say my song 'Your Plan' has literally saved their life. That's awesome. That's when you know you're doing the right thing with what God put you here to do. So it's the driving force behind writing as much as I do, and working on making the best records we can make because these songs do make a difference, and I think I've realized that over the past two years.
Watch Dustin Lynch Talk About Bicep Chug