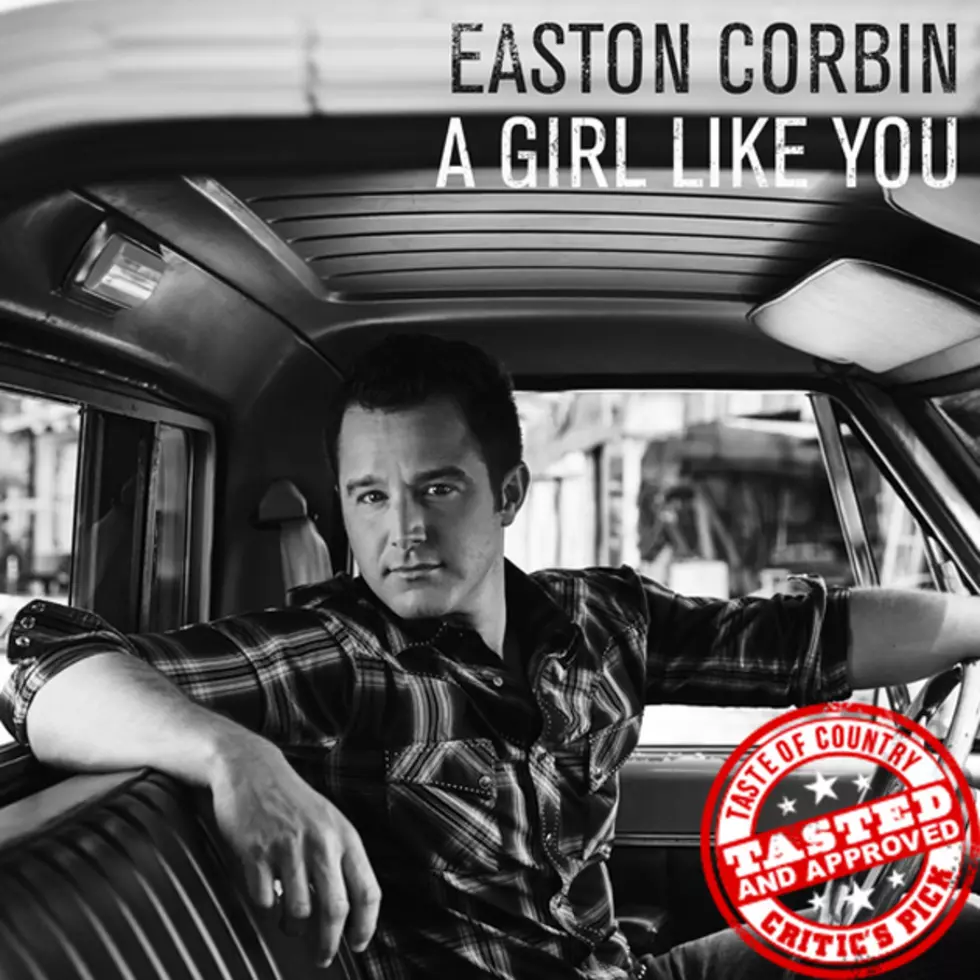 ToC Critic's Pick: Easton Corbin, 'A Girl Like You' [Listen]
Mercury Nashville
It takes a fraction of a second to know Easton Corbin is on to something different with "A Girl Like You." Those drums ... an old-timer may be heard uttering "Boy, they ain't right."
But of course they are. Corbin has figured out something artists like Justin Moore know well — he can sex up his arrangements and never fall from a traditional country music tree. That accent is his forever foothold, and lyrically "A Girl Like You" stays true to his roots.
After the progressive introduction a more traditional country song follows. At the bridge the song recalls old Alabama with a perfect '80s synthesizer experiment that somehow works over a relentless drum track. Clean guitars perforate a steady wall of sound as thick as anything Corbin's presented. This is a needed new sound for a singer heralded as the next George Strait. "A Girl Like You" is as exciting as anything he's released since that debut single in 2009.
Did You Know?: Ashley Gorley, Jesse Frasure and Rhett Akins wrote "A Girl Like You." Frasure is known for bringing outside-the-box stylings to country music. He moonlights as DJ Telemitry.
Listen to Easton Corbin, "A Girl Like You" 
See All Albums Scheduled for Release In 2017
Easton Corbin, "A Girl Like You" Lyrics:
Got lots of bars, around this town / They got cold beer yeah and they got Crown / Got neon lots in the window pane / Got lots of guys thinking they got game / Got loud guitars a little outta tune / But they ain't got a girl like you, nah no they don't.
They play lots of songs on the radio / About them good ol' country girls that we all know / Long tan legs and cut off jeans / Yeah just shaking that sugar every country boy's dream / I've heard 'em all at least a time or two / Ain't none about a girl like you, you know that's true.
Chorus: 
You got that beautiful, one of a kind thing that comes so natural / No baby don't ever change / And I wonder when I see the smile on your face/ Baby what did I do, to ever get a girl like you / A girl like you.
You can dress it on up, or you can just hang out / Kick it on Broadway, or kick back on the couch / You can dance on the bar or you can dance in the rain / Shotgun a beer or just sip champagne / Yeah there's only one, ain't room for two / There ain't another girl like you, another girl like you.
A girl like you don't come along but once in a lifetime, better hang on / I can't find one thing wrong, I could just go on and on and on.
I could sail the ocean blue and never find a girl like you.
More From Taste of Country