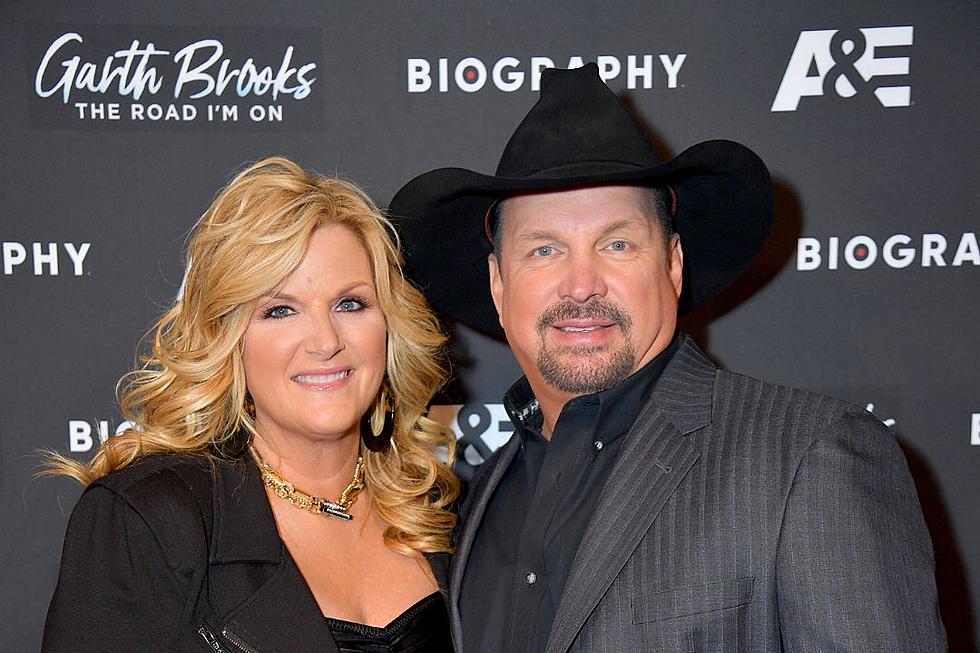 Garth Brooks and Trisha Yearwood Tease New Duets Album
Michael Loccisano, Getty Images
Garth Brooks gave fans an update on his current projects during the newest episode of his weekly Facebook session with fans, Inside Studio G, and he let it slip that he will be releasing a duets album this year.
The news spilled out when a fan asked when Brooks and wife Trisha Yearwood will finally release an album of duets together. After running through some song ideas suggested by the fan, Yearwood asks Brooks, "Want to?"
Brooks looks slightly conflicted as he answers, saying, "Well, I, of course, want to, but ..."
Yearwood laughs and asks her husband to clarify, after which he says, "There's already a duet record coming out this year!"
It's unclear if that project will feature duets between Brooks and other artists or strictly duets with Yearwood. After he spilled the news, Yearwood said, "Maybe after that duet album, we can work on our duet album."
The conversation about the album begins around the 19 minute mark here: 
Either way, Brooks says he's looking forward to a "busy, busy year," which will include his Garth Brooks/Plus ONE Las Vegas residency (beginning in May).
While fans are itching for a full duets album from Brooks and Yearwood, the two singers — who've been married since 2005 — have collaborated numerous times over the years. Some may remember their 1997 duet "In Another's Eyes" and 2019's "Whiskey to Wine "and "What Gave Me Away."
They also shared a rendition of "Shallow," originally performed by Lady Gaga and Bradley Cooper from A Star is Born, in 2020. 
While the Las Vegas residency will take up much of Brooks' time in 2023, he has yet to announce additional tour news. He had a busy 2022 that included a historic show at Baton Rouge's Tiger Stadium and a return to Croke Park in Dublin, Ireland for five shows in September.
See the Top 50 Country Duets of All Time!
More From Taste of Country