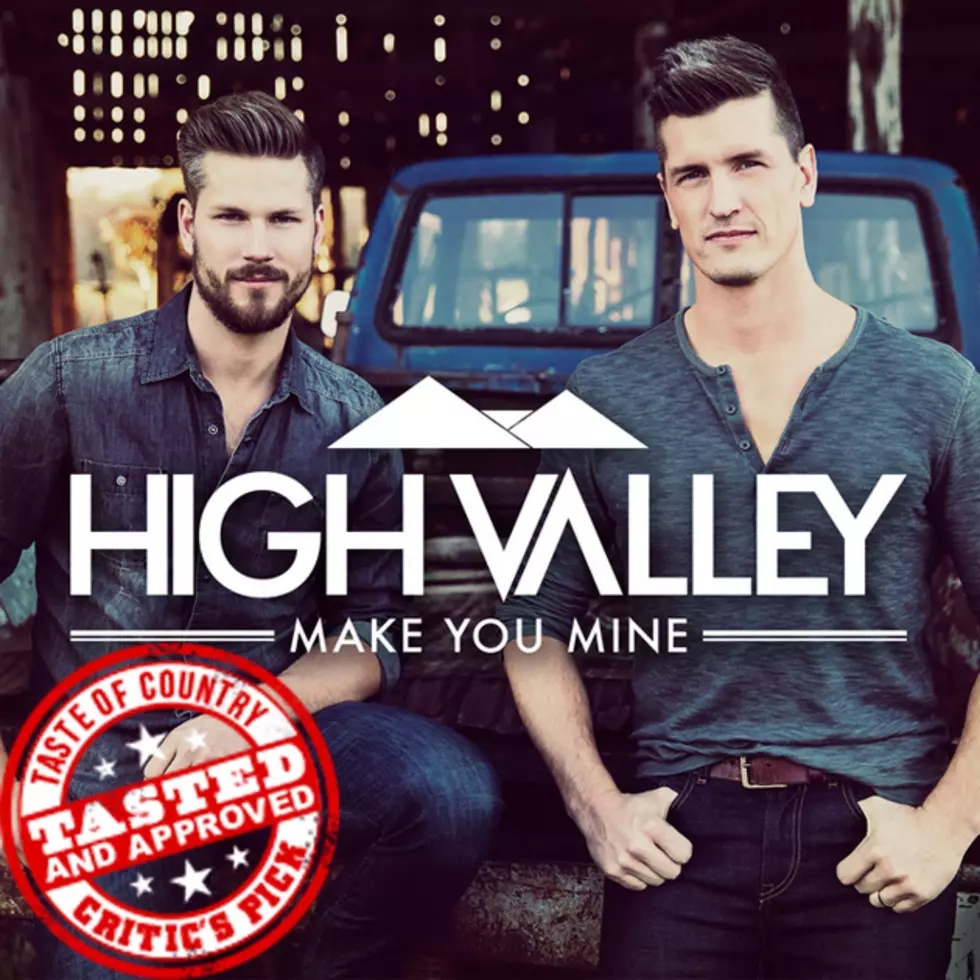 ToC Critic's Pick: High Valley, 'Make You Mine' [Listen]
Warner Music Nashville
High Valley's "Make You Mine" is a rollicking banjo and guitar driven jam that explodes from the speakers. Go ahead, try to keep from stomping your foot as the duo builds to the chorus.
Ricky Skaggs lends a hand on High Valley's debut on Warner Music Nashville. The Rempel brothers have been at it for over a decade, and there's nothing first-timer about this recording. They lean hard into an alt-country sound popularized by Mumford and Sons. This is what country confidence looks and sounds like. Some call it swagger.
Lyrically, "Make You Mine" is a colorful love song that uses familiar images and ideas to tell an outdoor story of passion and betrothal. One could argue the picture this duo paints is too familiar, and on paper, that's fair. But their arrangement makes this an urgent listen. It's fun that touches your soul, and that is very rare on country radio.
High Valley was featured as one of 10 Taste of Country Hot Artists to Watch in 2016. "Make You Mine" was a hit on Canadian radio and is on their 2014 County Line album, released on Open Road Records. It's not clear if or when the song will be re-released on WMN.
Did You Know?: High Valley used to be a sibling trio. Brother Bryan left the group in 2014 to focus on family.
Listen to High Valley, "Make You Mine"
More Hot Artists to Watch in 2016
High Valley, "Make You Mine" Lyrics:
"You were made to shine under southern stars / Pure as a mountain rain / You're the love song pouring out of this guitar / Sweeter than sugar cane / You got my heart wrapped up like it's down in a holler / Covered in kudzu vines / When the night feels right I'm gonna come a callin' / I'm gonna make you mine."
Chorus:
"You're hallelujah, Sunday morning / All I ever need and wanted / Underneath this pale moon sky / I'm gonna make you mine / Yeah I'm gonna make you mine."
"Gonna take you slow dancing by the water / I just wanna hold you tight / I'm in love with the soul-miner's daughter and I'm gonna make you mine."
"You were made to shine under southern stars / In my arms tonight / I can feel the beating of your heart / I'm gonna make you mine."
More From Taste of Country