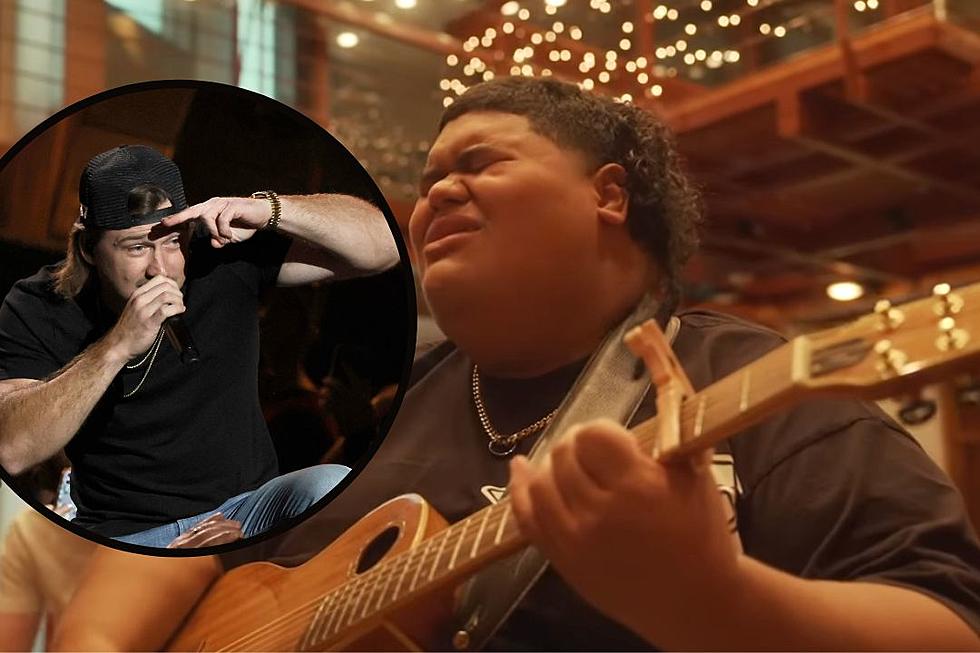 'American Idol' Winner Iam Tongi Covers Morgan Wallen Hit, Does It Perfectly [Watch]
@IamTongi, Youtube, Matt Winkelmeyer, Getty Images
Iam Tongi has been exploding on the music scene since winning Season 21 of American Idol. He has a brand new tour that he is setting out on in 2024, as well as a brand new Morgan Wallen acoustic cover song that he puts his own soulful spin on.
The recording of Wallen's "Sand in My Boots" took place in Nashville, and Tongi explains why he chose to cover Wallen's 2021 hit.
"I have immense respect for Morgan Wallen, and 'Sand in My Boots' is a song that truly touches my heart," the Idol star says. "The raw emotion in the lyrics and the soulful melody resonate with me on a profound level."
The video starts out very surreal and calm — Tongi is playing a guitar and has someone playing a steel guitar to accompany. He looks as if he is in a deep mode of relaxation as he gets ready to belt out the lyrics to the No. 1 country hit.
As the song progresses, so does Tongi's comfort. By the final chorus, you can hear the Hawaiian native hitting notes that come from the heart, filling the beautifully-lit room with an angelic sound that captures the essence of the familiar song in a brand new light.
Tongi promises to be releasing more acoustic cover songs like this in the near future, as his stardom continues to get larger with more than 23 million global streams. He just finished up a successful tour run in New Zealand and Australia, and he is headed back to the States to start a new tour, beginning Oct. 25 in New York City.
Evan Paul is the host of 
Taste of Country Nights
, a syndicated radio show heard on more than 120 country radio stations nationwide, every night from 7PM to midnight. He plays the best new country music and interviews today's top stars, like Luke Combs, Miranda Lambert, Dan + Shay, Keith Urban, Carrie Underwood, Luke Bryan, Chris Stapleton, Lady A, Morgan Wallen, + more! 
PICTURES: See Inside Carrie Underwood's Beautiful Post-'American Idol' Home
Carrie Underwood invested her money wisely after winning American Idol in 2005. One of her first big purchases was a 3,099-square-foot home in the well-to-do Nashville suburb of Franklin, Tenn. Underwood paid $384,000 for a luxurious 3-bedroom, 3.5-bathroom stone and stucco home in a private gated community.
The house features a library, a vaulted ceiling and lovely amenities throughout, but while it's very nice, it's certainly not the kind of home you'd picture for a budding country superstar. Underwood wound up being a huge success right out of the gate with her debut album, Some Hearts, and she sold the home in Franklin for $372,500 in 2007, when she purchased the Brentwood mansion that she would later share with her husband, Mike Fisher.
Gallery Credit: Sterling Whitaker
PICTURES: See Inside Bret Baier's Staggering $32 Million Mansion
Bret Baier has listed his massive $32 million mansion in Washington, D.C., for sale, marking the highest-priced home listing in the history of the city.
Gallery Credit: Sterling Whitaker
PICTURES: See Inside Jerry Lee Lewis' $1.6 Million Rural Estate
The 30-acre rural estate Jerry Lee Lewis owned prior to his death is for sale, and pictures show a private and secluded spot to get away from prying eyes.
Gallery Credit: Sterling Whitaker
More From Taste of Country