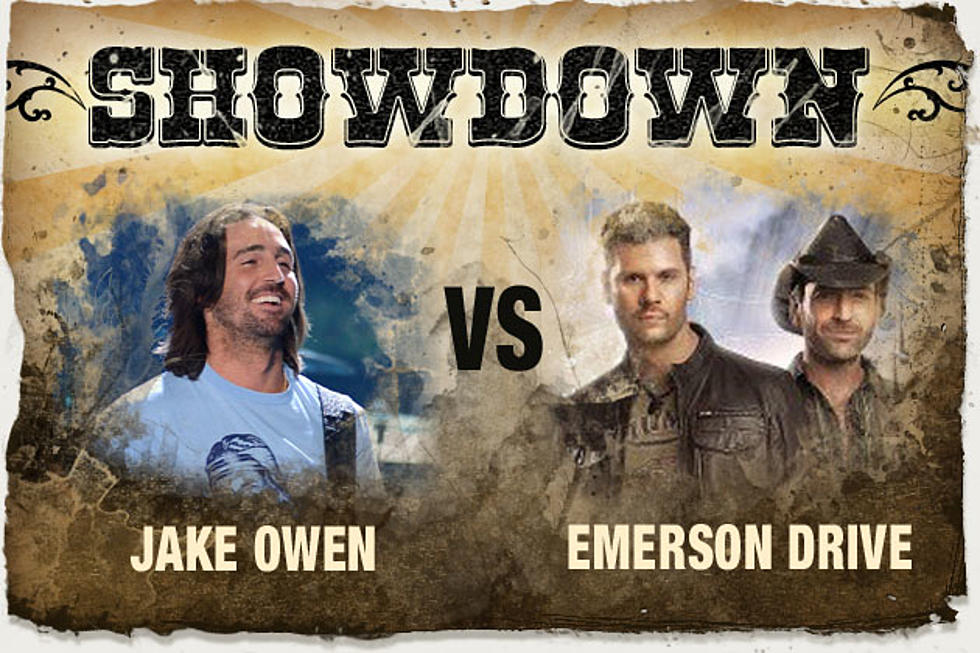 Jake Owen vs. Emerson Drive – The Showdown
Mark Davis, Getty Images / Facebook
Fans of Jake Owen were blowing up the phonelines last night on Taste of Country Nights radio, giving the 'Anywhere With You' singer the edge he needed to squeak past Train's 'Bruises' in the Showdown. Today, Owen's latest single will face a country group looking to make a Nashville comeback.
Emerson Drive scored three Top 5 hits in the early 2000s, including 'Moments,' a chart-topper from 2007. The Canadian country group returns with 'She's My Kind of Crazy,' a song that's already getting significant attention on satellite radio. It's an upbeat, feel-good love story that's already gone Gold in Canada.
Listen to clips of both Owen and Emerson Drive's songs and vote for your favorite here. You can vote once every hour online, so come back and vote often to be sure your artist wins. Hear the full versions of the songs tonight after 10PM on Taste of Country Nights. Help your favorite song win by placing additional votes at (888) 678-9995. You can listen to the show online through any of the 41 radio stations that carry it. Voting will end tonight at 10:40PM CT.
Listen to a Sample of Jake Owen, 'Anywhere With You'
Listen to a Sample of Emerson Drive, 'She's My Kind of Crazy'
Showdown Rules: The song with the most votes wins, and the winner goes on to face a new challenger in the next Showdown. Vote as much as once per hour online, and again by calling (888) 678-9995. If a song wins five days in a row, it will be retired into the Taste of Country Showdown Hall of Fame to allow for new songs to compete. Some songs will be considered for a second Showdown if voter turnout is healthy in a losing effort.
More From Taste of Country