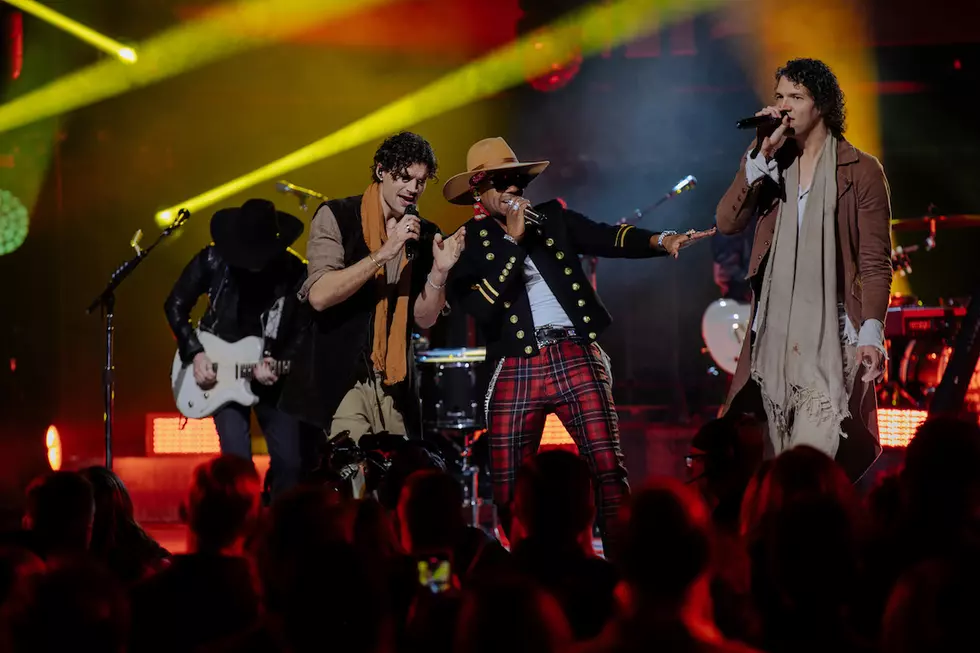 Jimmie Allen Shares a Stage With For King + Country on 'CMT Crossroads'
Catherine Powell, Getty Images
Jimmie Allen and Christian pop duo For King + Country are the latest cross-genre pairing to take the stage in an episode of CMT Crossroads, a CMT series that brings country artists together with out-of-genre acts for a collaborative performance of their respective hits.
The upcoming one-hour concert special will feature Allen's "Down Home," "Freedom Was a Highway" and "Best Shot," plus For King + Country hits like "God Only Knows," "Joy" and "Relate." According to a press release, the episode will also include a performance of a never-before-heard new song — though it's not clear which act will be taking the lead on that track.
People reports that the Christian duo, consisting of brothers Joel and Luke Smallbone, have long been friends with Allen — in fact, their careers have been on a similar trajectory, and they used to help support each other when they were both struggling new acts.
"We would just lick our wounds and we would spur each other on and pull each other out of proverbial music ditches," remembers Joel Smallbone, describing how he and his brother used to meet Allen for breakfast at a cafe in the Nashville area.
It's not the first time that For King + Country have dabbled in the country genre: Previously, they have collaborated with Dolly Parton on "God Only Knows," and they have also teamed up with Hillary Scott of Lady A.
Ahead of the full CMT Crossroads performance, fans can get a taste of what lays in store with a sneak-peek preview of the two act's group performance of Allen's "Freedom Was a Highway" — featuring sharp dance moves from Allen and equally striking harmony from the brother duo.
Allen and For King + Country's CMT Crossroads episode airs Tuesday, Feb. 28 at 10PM ET on CMT. There will be additional encore airings on Sunday, March 5 at 11AM ET, Friday, March 10 at 8PM ET and Saturday, March 11 at 10AM ET and 6PM ET.
35 Songs That Prove Country and Rock Music Go Hand in Hand
With Dolly Parton's recent induction into the Rock & Roll Hall of Fame, the country and rock genres are closer than ever before — but she's far from the first country artist to venture into rock territory, or vice versa. Here are 35 songs that show just how great the musical crossover between country and rock can be.
More From Taste of Country