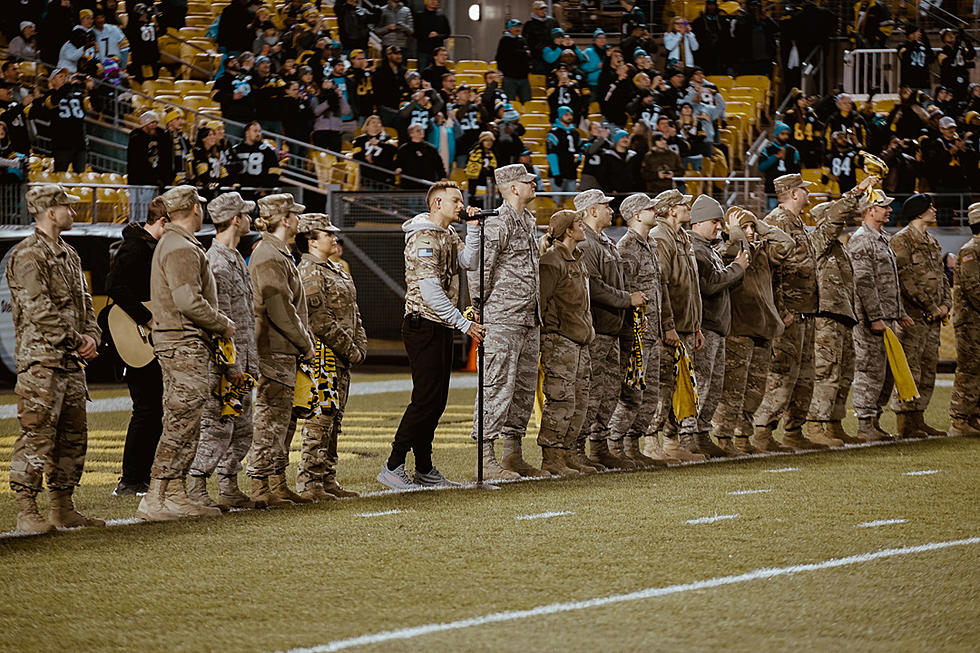 Kane Brown Sings 'Homesick' for Troops at Pittsburgh Steelers' 'Salute to Service' Game
Alex Alvga
Kane Brown joined NFL's Pittsburgh Steelers in honoring members of the Armed Forces during Thursday night's game (Nov. 8) against the Carolina Panthers.
Brown took the mic on Heinz Field and performed his single "Homesick" as a part of the Salute to Service event, which filled the night full of activities designed to honor the United States military.
"I get to sing for our troops tonight," Brown proudly posted on Instagram, posing on the field in a camo jersey. He jokingly added, "I'm a light skin @ab tonight," referring to the fact his shirt sported the number 84, which belongs to Steelers wide receiver Antonio Brown.
The performance not only had Brown singing for the troops — including 80 soldiers on the field with him — it also had dramatic drop-ins from parachuting skydivers (from the Army Golden Knights) timed throughout the song.
Brown was also joined by his new wife, Katelyn Jae, who sported a Steelers sweatshirt for the occasion. All in all, it was a fitting way to usher in Brown's eagerly awaited sophomore album, Experiment, set to drop Nov. 9. The set explores a variety of genres, including traditional country.
Prior to launching his music career, Brown says he wanted to join the Army, but his extensive tattoos prevented him from enlisting.
Watch: Kane Brown Talks About His Most Controversial Song
Is Kane Brown Country Music's Sexiest Male Artist?
More From Taste of Country