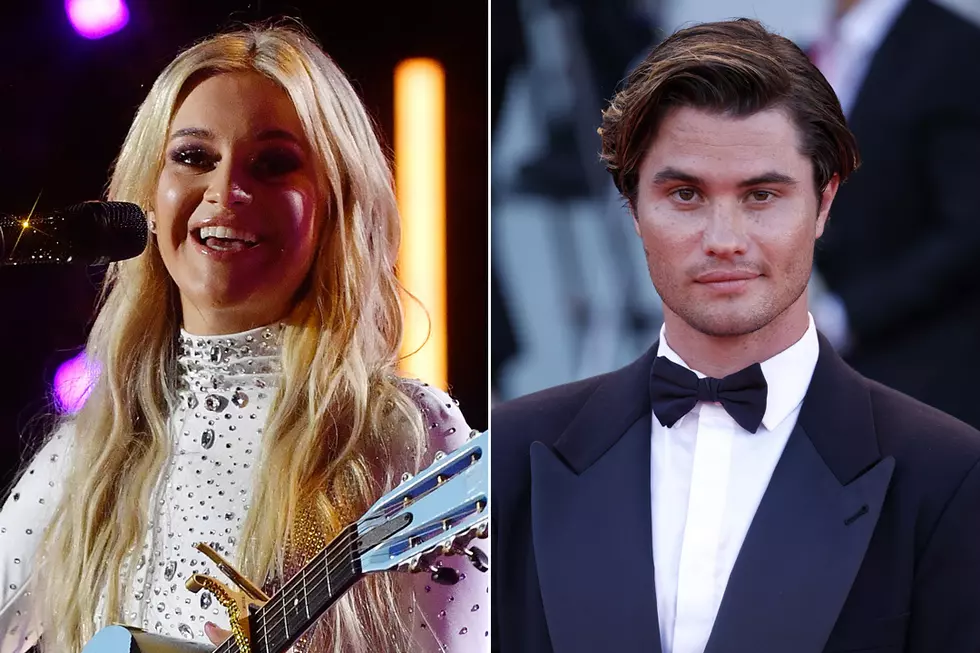 Kelsea Ballerini Confirms She's Dating Chase Stokes: 'I Slid Into His DMs'
Getty Images
After all but confirming her relationship with actor Chase Stokes via a string of photographs and social media hints, Kelsea Ballerini officially shared the news — and detailed how the two met — during her appearance on the Call Her Daddy podcast on Wednesday (Feb. 22).
"I slid into his DMs," Ballerini reveals, explaining that she knew right away that dating apps wouldn't be for her.
In fact, the idea for Ballerini to strike up a flirtation with Stokes came from her manager, who lives in Charleston, S.C., the same city where Stokes films his TV series Outer Banks.
"I've never seen the show, but I just knew of him, and yeah. So I followed him [on Instagram] and he followed me, and I just swan dove right on in," she details.
"His handle is @HiChaseStokes, and I said, 'Hi, Chase Stokes,'" Ballerini goes on to say.
The singer explains that new love looks a lot different for her this time around — after all, the last time she got into a relationship was when she was 22 years old, and getting to know her now-ex-husband Morgan Evans.
"I think I'm finally an adult. I think that just kind of happened over the last couple of years," Ballerini admits.
"And I feel like what that means to me is I have opinions," she continues. "I have a career that is a priority for me, to show up for myself and the people that I've aligned with along this journey. And I have aspirations and goals that are tied to no one, and those are all really important things."
Still, earlier in the interview, Ballerini also reflected on how she's still embracing the fun early stages of her relationships, and that's a trait she's had since the very beginning. The singer even cites the lyrics of her recent single "Heartfirst," and says that although her response to finding new love is perhaps more measured than it would have been in her early 20s, she doesn't ever want to be too jaded.
"I am such a 'jump right in' person, which, part of me was like, 'I don't wanna do that again' and part of me was like, 'Here I am.' But I don't know how to shield that because I like that about myself," she explains. "I would rather feel things without a filter and fall on my a-- later and feel the opposite of that feeling fully than not let myself feel a feeling. That's the point of life, you know?"
The singer also says that she hasn't given too much thought to Evans' response to seeing photos of her and Stokes crop up online. "Because I'm not married to him anymore, and I don't need to care about his feelings anymore. And I mean that with all the respect in the world," she notes. "But his journey is not mine anymore."
She also points that she and Evans might be in different stages of moving on after their divorce. "He and I's healing journeys are different. I think I grieved a lot of the marriage in the marriage. So I think I was ready to open back up — and I actually have no idea what his journey is right now — but I've just felt, why not. Why not?" she reflects.
"I've never really dated. I don't know how it works. Let's just put ourselves out there. Let's just vibe. And it's been fun," Ballerini continues, also pointing out that she doesn't feel guilty about moving on from heartbreak. "Am I just supposed to stay here and be sad forever?"
8 Brutally Honest Divorce Lyrics From Kelsea Ballerini's 'Rolling Up the Welcome Mat' EP
Kelsea Balerini opened up her divorce diary in February 2023 with her Rolling Up the Welcome Mat EP, a project that follows the stages of a breakup — from grief and loneliness to anger to acceptance — in chronological order. Here are eight of the most revealing lyrics from the project.
More From Taste of Country