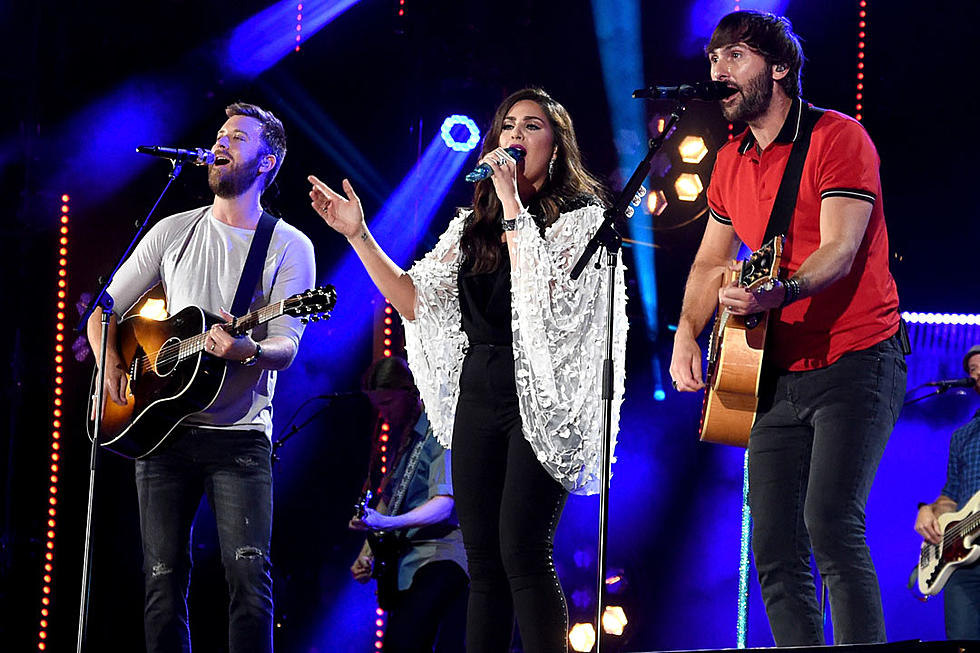 Lady Antebellum Get Candid About Their Most Personal Album Ever
Rick Diamond, Getty Images
Lady Antebellum's upcoming album will be their most personal and honest in their entire career.
"We've been a band for 13 years," singer Hillary Scott tells Taste of Country. "You get to a point where you can't outrun the things that you know you need to work on about yourself. I feel like we're now in this place of, 'No, we're going to own our crazy.'"
In many ways, Lady Antebellum grew up together. Their meteoric rise with "Need You Now" at a relatively early stage in their career gave way to the inevitable ebbs and flows of the music industry — a fact the band's Charles Kelley says they only recently learned to appreciate.
Country Music's Most Heartbreaking Breakup Songs
"It's so funny when I look back on our career and how anxious I was when things weren't coming as easy as they were the first four or five years — now I look back and I'm like, it's true without the downs the ups wouldn't mean as much," Kelley says. "Now we're just like, 'Ok what do we really want to say?'"
All three agree their perspectives have changed, both collectively and personally.
"I think we're a lot more in tune with who we are," Dave Haywood says. "What we contribute to country music and families and kids change your perspective and contribute to your songwriting. I just feel like we're more present, more honest with each other."
And for Charles, being more honest with himself, too. "I've definitely had an interesting spiritual journey over the past year or so," he says. "And honest conversations about a lot of stuff to be honest with you — my drinking over the past several years and getting that in control. It's brought us closer to actually have those conversations."
Kelley references a song on the new record that Scott wrote called "Let It Be Love," which he says almost feels like a gospel song. "Before I would've been like, 'I don't know if I want to be on a song like that,' but now I'm like,'I'm there, I want to be part of that too,'" he says.
The first taste of Lady A's unguarded new music is the single "What If I Never Get Over You," coming out on May 17. It's their first release as part of the Big Machine Label Group.
"It's funny, we were writing a song with Laura Veltz and I just said, 'Man I love the way you write,'" singer Charles Kelley tells Taste of Country. "I said, 'I want to hear everything you've written that hasn't been cut yet.'"
As luck would have it, "What If I Never Get Over You" was the first song she sent Kelley's way and he took it to the band immediately. "It reminds me of how when we cut 'Need You Now,' we were like, 'Alright this might be a cool song,'" Kelley adds. "And then once all the studio musicians are done playing on it we looked at each other like, 'Wow.' It just had this thing."
The trio worked with Dan Huff, arguably the most sought-after producer in Nashville, and put down the first half of the record. "There's this kind of fresh new chapter, kind of turning of the page," Hillary Scott adds. "We went in very similar to Need You Now and cut six or seven and then picked the single from those."
"We were probably more fired up about the other ones" before they actually got to the studio, Kelley says. "But this was the one we just felt was so representative of us as a band," Scott continues. "We haven't really released a single like this in a long time."
Haywood agrees. "It feels like a return to some of the early Lady A stuff, which has been fun," Haywood says. "To tell a male and female perspective is just something unique that we always loved, from 'Need You Now,' 'Just A Kiss,' 'Dance Away With My Heart' — this song falls right in line with that. I mean we've had a lot of great songs that have contributed to our career and live show like 'You Look Good' and 'Bartender' and 'Downtown,' but this kind of feels like a return to the core of who we are as a band, what we are and the stories we can tell."
"This album will have a lot of feels," Scott says. "I know that's like, a really trendy thing to say, but it will because I think we're feeling all these things in their fullness in a way."
Best Song of the 2000s? Lady Antebellum Has One!
More From Taste of Country