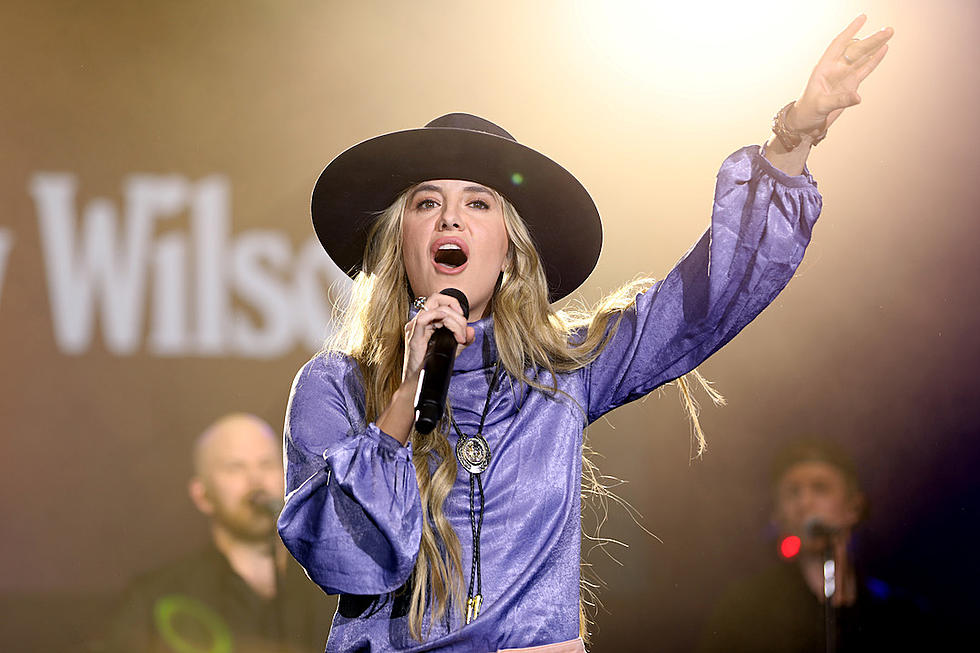 Lainey Wilson's 'Fat Bottomed Girls' Cover Is a Playful Hat Tip to Her Trendy Butt [Watch]
Danielle Del Valle, Getty Images
Lainey Wilson has admitted that it came as a little bit of a surprise when video spotlighting her butt went viral on social media — but she's in on the joke, and she proved it once again during the Country Radio Seminar (CRS) in Nashville on Wednesday night (March 14).
During an all-star karaoke night that she hosted, Wilson kicked off a night of '70s, '80s and '90s covers with a live rendition of Queen's 1978 hit, "Fat Bottomed Girls."
The glam rock classic is a pumped-up ode to ample derrières and the women attached to them, who, according to the chorus, "make the rockin' world go 'round."
The oversized, dazzling, '70s guitarwork of "Fat Bottomed Girls" was a perfect fit for Wilson's voice and signature style, which she has dubbed "Bell Bottom Country" — a twangy combination of country storytelling and throwback rock. Bell Bottom Country is also the title of her October 2022 album, which includes fast-rising hit "Heart Like a Truck."
Wilson's rear end saw a steep rise in popularity in early 2023, after fan-captured TikTok performance footage offered an impressive view not only of the stage but also of the singer's, er, generous physical assets. According the comments section, Wilson's butt made quite the impression.
"Truly the Dolly of our generation," one user wrote. "Just the backyard instead of the front."
The singer saw the humor in her newfound, butt-related popularity. When some social media users started to upload videos spotlighting their own ample rear ends, with a soundtrack of Wilson's songs, the singer hopped on social media to respond to a few.
"Mama and daddy didn't tell me I had another sister," she said in response to one clip.
"I like this," she said, responding to another fan's booty video. "You got a donk at home. You better take care of that donk."
10 Country Artists Who Won 2022
We know who won the 2022 ACM and CMA Awards, and we know which country artists won country radio and streaming airplay battles. Who won 2022?
That's a fairly big question, but when we asked our friends on social media, a few names came back consistently. These 10 artists elevated their careers to new heights in 2022, so while our No. 1 winner didn't spend the most weeks at No. 1 or dominate sales charts, her career took off like a rocket. Scroll down to see the full list.
Top 22 Country Songs of 2022, Ranked
There are plenty of feel-good country jams on this list of the
top country songs of 2022
, but the No. 1 song is one of the best love songs of the decade. These 22 songs are ranked by critical acclaim, radio and sales success, and importance to the genre.
Seven of the 22 artists made our
Top Country Songs list from 2021
, as well, but there are no song repeats. If a song made a previous list (or didn't spend most of its time on the charts in 2022), it's not eligible. So, before you ask where your favorite song is (i.e. Cody Johnson, "'Til You Can't"), be sure the miss isn't just a technicality.
More From Taste of Country