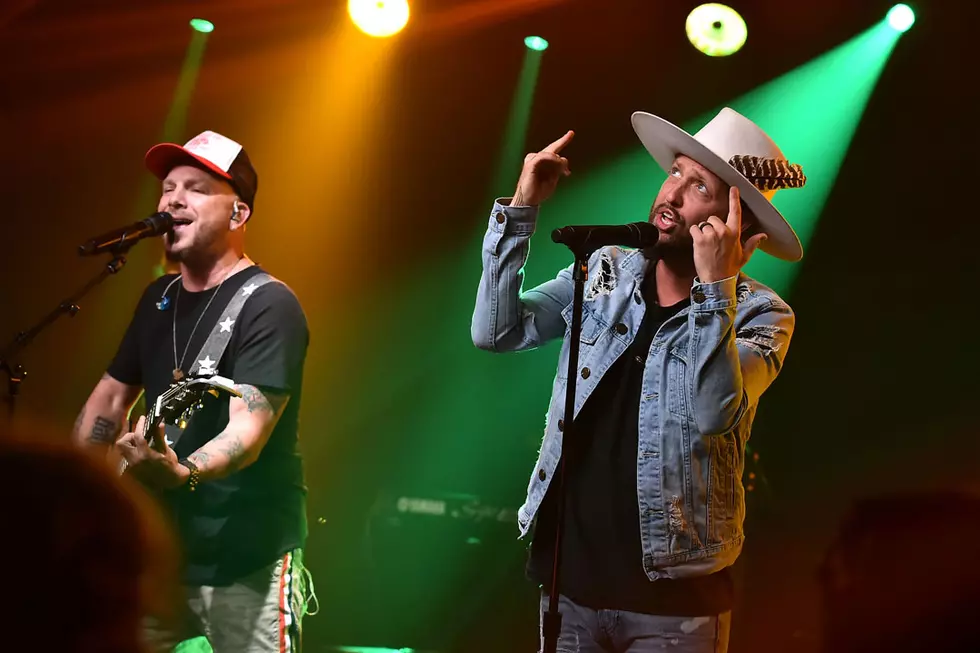 LoCash Can't Quite Finish This Devastating New Song from 'Brothers'
Theo Wargo, Getty Images
LoCash's Chris Lucas says for him, "Kissing a Girl" is the most personal song on the duo's new Brothers album. He doesn't quite well up talking about the circle-of-life ballad, but it's clear those tears are there.
"We both have 3-year-old little girls," the ACM nominated duo's Preston Brust tells Taste of Country, beginning a back-and-forth kind of story familiar to anyone who's talked to them or even seen them onstage during a remarkable 10-year run.
"That was the hardest to sing. It's still hard to sing live," Lucas admits. "Preston makes fun of me because I'll get to that one part where —"
Brust interrupts with: "This message is brought to you by Kleenex."
Lucas again, laughing: "I get to that one part where she puts her arms around my neck ... aww, dude."
"I have to be ready to sing that part every night," Brust says.
The song, Track 10 of 11 total on LoCash's third studio album (on three different labels), might not be your favorite or even the best on a project that features cuts from A-list songwriters like Dallas Davidson, Tyler Hubbard and Rhett Akins. If you're a new father, however, the song is devastating. It's also much more accessible than the duo's best attempts at expressing raw human emotion, of which only "Best Seat in the House" was released to radio.
"It's the most amazing thing in the world when your kid hugs you and says 'Daddy' and you go save them when they're crying at night time. You're their hero," Lucas says, reflecting one of life's few absolute truths.
Songwriting is where Brust and Lucas say they've improved most since their introduction with "Here Comes Summer" in 2010. It's a survival instinct. With every "no" or lost record deal they'd fall back on advice songwriter Jefferey Steele gave them long ago. It's what they tell new artists today when asked for guidance — something that happens often.
"They're like, 'What did you guys do?' and I'm like, 'We just write,'" Lucas says.
Ironically the pair only have three songwriting credits on this album, something they're proud of because it means better songs are being delivered to them by reliable hitmakers like Ashley Gorley, Ben Hayslip and Corey Crowder. The title track — a nostalgic, made-for-radio jam that sounds like a LoCash theme song — is one they did help write. "God Thing," Brust's vote for most personal because he grew up a preacher's kid, is one they didn't.
"I think we've always had that depth," he says. "We've always had it, we've always wanted to showcase it. I think one of the things is early on in our career we weren't able to slow it down in a show. We didn't have hits on the radio. We couldn't just go out on stage and play a slow song every night and expect the crowd to stay engaged. They didn't know our music so we got caught up in the whole thing of, 'We gotta keep 'em up, we gotta keep 'em rocking' and that's what's gonna drive them to our merch table or whatever before we had hits on the radio."
To a certain extent, a big ballad would have meant whiplash, so their reputation as a party duo grew at the expense of well-rounded resume. That figures to change with Brothers, a much more dynamic album than their self-titled debut (on Average Joe's Entertainment) and The Fighters, released on Reviver Records in 2016. There are still moments that stretch their sound — "Secret Weapon," Lucas says, is this album's "Ring on Every Finger" — and plenty of jams, but this is just a more consistent effort. Credit that to the other thing LoCash worked hard on across 10 years of ups and downs in Music City: patience.
"We're very motivated," Lucas says. "Nashville is very laid back, take your time. And we're like this (claps hands) hammer, hammer, hammer."
Sitting back and waiting for momentum has its advantages, too. Fun fact: current single "Feels Like a Party" was meant to be a get-me-by song as they transitioned to Broken Bow Nashville. Then all of a sudden a song that was literally born out of that transition's unique obstacles started to work.
"Instead of waiting to see what might happen, we got right in the boat with the song and just started paddling," Brust says. LoCash could literally write the book on how to survive in Nashville.
What's the Best Album of the 2000s? 
More From Taste of Country