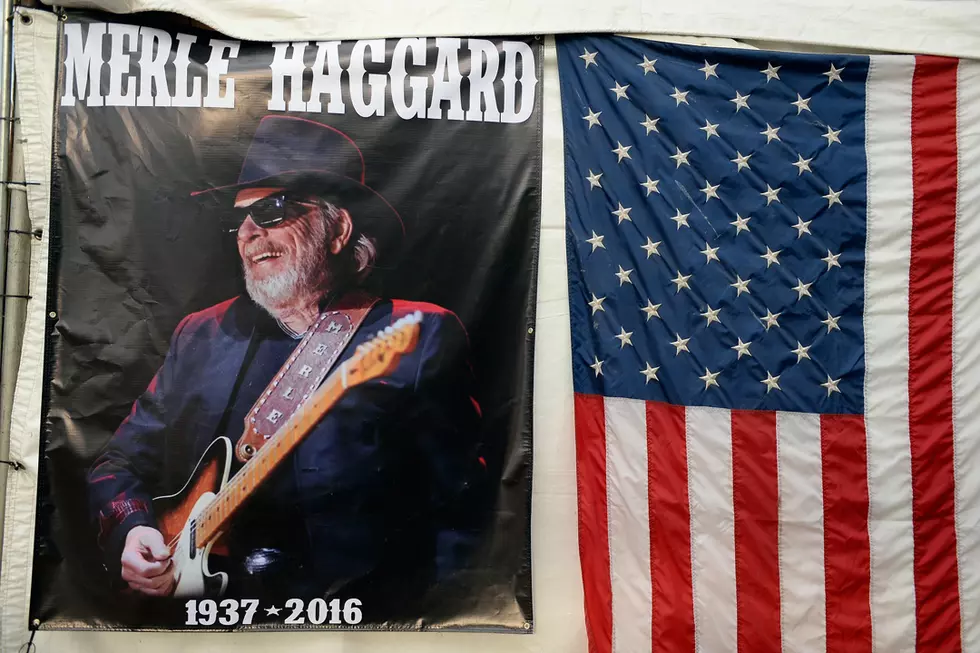 Merle Haggard Tribute Show Proves Legend's Far-Reaching Influence
Mark Cowan, Getty Images
Country stars, rock stars, alt-country heroes and bluegrass angels all came together to celebrate Merle Haggard on Thursday night (April 6) in Nashville. Willie Nelson and Keith Richards of the Rolling Stones were the biggest names, but the most memorable moments came in unexpected packages.
Haggard's influence on the next generation (or maybe the generation after) was felt early on when Chris Janson and Jake Owen shared the stage to sing "Footlights." Janson was among the many stars who grieved after Haggard died on April 6, 2016, and he held back nothing. Owen was up for trying to match, and the unlikely duet became a roaring study in Merle that both surely related to as they approach 40. Before the show Owen said as much, telling Taste of Country this was the Haggard song that made a difference in his life most recently.
"Having had the years I've had in the business, and things I've gone through," Owen said, "from my father going through cancer, getting divorced two years ago, my little girl moving back home to Florida — there's been so many nights where I've felt like that guy onstage that has to put on the Instamatic grin to hide the mood I'm really in."
Legends and friends of Merle Haggard, like Tanya Tucker, Connie Smith and Bobby Bare, also took time to talk about his character before singing their song to kick off Sing Me Back Home: The Music of Merle Haggard. Smith remembered him as honest, while Bare recalled their good times fishing together before singing "The Highway Is My Home." Rodney Crowell, Buddy Miller, Alabama and Hank Williams Jr. were other first-half highlights in the legends category. Most were backed by Ben Haggard and the Strangers, but a band directed by Don Was and Buddy Miller played much of the show, too.
Contemporary artists like Miranda Lambert and Jamey Johnson added two more early highlights. She sang "Misery and Gin," while his performance of "Kern River" was bone-chilling. He'd then bring Alison Krauss to the stage to duet with him on "If I Could Only Fly."
Miranda Tributes Haggard With "Misery and Gin"
The best moments came after the break. Haggard's wife Theresa remained on stage throughout, even though by her own admission, she figured to have a very difficult night. As Lynyrd Skynyrd recreated their version of Haggard's "Honky Tonk Night Time Man" to begin, she threw an arm in the air. The Avett Brothers followed with "Mama Tried" — a song that seemed like a sweet draw for one of the least well-known acts on the bill but the group did the Hag and his family proud.
A slow, bluesy version of "Working Man Blues" shared by ZZ Top's Billy Gibbons and Warren Haynes brought fans out of their seats for good. There was no shortage of guitar-work late in the show. This performance in particular was a fresh take on an already great song. Most artists chose to stick to how the songs were remembered.
The applause for Hank Jr. early on is all that matched Richards' entrance. He stayed for two songs, including "Reasons to Quit" with Nelson. At times it was difficult to hear the two men, a problem that was repeated on "Pancho and Lefty" between Nelson and Kenny Chesney. Their intentions were pure, and while he said little, the emotions of celebrating his best friend's life surely weighed heavy on Nelson. Once on stage, he remained for four songs.
"Ramblin' Fever" with Toby Keith closed the show before an all-call for "Okie From Muskogee." Few in this sold-out crowd left early, drowning out the two to three dozen on stage as the figurative curtain closed. While the show was indeed a celebration, it ended with some sadness and a reliance on that young generation to ensure these performances aren't the last of Haggard's songs.
Watch Artists Tribute Haggard With "Okie From Muskogee"
More From Taste of Country