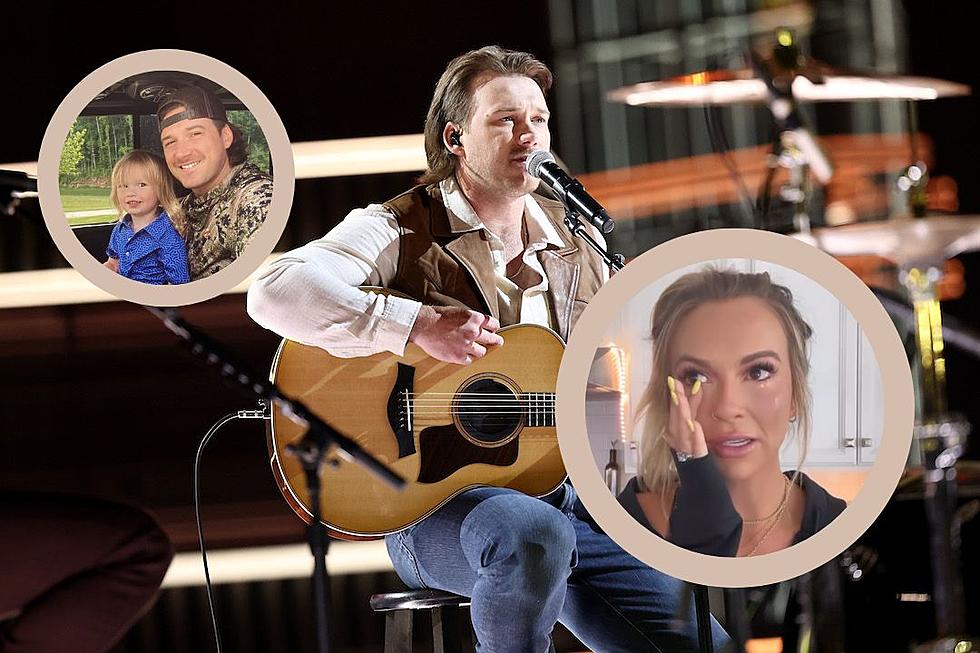 Morgan Wallen's Toddler Son, Indigo, Suffers Dog Bite to the Face
Matt Winkelmeyer, Getty Images/Instagram
Morgan Wallen's nearly 3-year-old son Indigo — also known as Indie — recently went to the hospital and received stitches after sustaining a bite from a dog to the face.
The dog belongs to Indigo's mom, KT Smith, who the young boy primarily lives with, and who is Wallen's ex-fiancée. Smith recounted some of the details of the scary incident to her followers on Instagram Stories on Monday (June 19), saying that the dog who bit Indie was a rescue Great Pyrenees named Legend.
"I never wanted to bring this to social media, but he deserves better, so," Smith prefaces the story in an emotional message. "I think I'm going to have to stop a lot because of tears.
"Yesterday [Legend] bit Indigo in the face and [he] had to have stitches," she continues. "We spent yesterday morning at the emergency room, and since then, we have been looking for options."
Smith assured fans that the young boy will be fine. "Indigo is okay. His scar will be minimum. He did have stitches, but he'll be okay," she says.
However, she also said that her son would be coming home "tomorrow" — Tuesday (June 20), according to the timing of her post — and she needed to find a way to have the dog out of the house by then.
As tears rolled down her face, Smith told fans that she "couldn't bring myself" to respond to the incident by euthanizing the dog, despite that course of action being advised to her by many people.
"What the world tells you to do is put the dog down, because they are 'aggressive,' and I've gone back and forth with that and I knew in my heart that he does not deserve that, because he is wonderful and could do really great with a family that doesn't have small children," she explains.
"I don't want him to go to a kill shelter, either — and shelters are full — so I figured I could ask you guys if you knew of anywhere that wasn't a shelter. Because I don't think he deserves a shelter either. He came from trauma," Smith continues. "... He's an angel and I feel like he can read human emotions, and he just wants love. If you're not petting him, he'll paw you. He's a great guard dog."
Smith implored fans to help her find a new home for Legend, hoping to place him with a loving and compassionate family that does not have small children. She then left her work number, saying she wouldn't normally give out such a personal piece of information, but finding a good solution to the timely problem was more important than any "spam" or "hate messages" she might receive.
Hours later, Smith updated fans saying that she had placed the dog with "the sweetest" family and that Legend will be starting a new life on a farm in east Tennessee.
"Thank you guys again, for helping but also crying with me and lifting me up," she noted.
As an aside, Smith is sporting an engagement-style ring on her left hand in the Instagram Stories she posted. She clarified that she and her boyfriend, actor Luke Scornavacco, are not engaged, but that she wears a fake ring when she's out "so men don't talk to me."
Smith and Wallen welcomed baby Indigo in July of 2020. By the time their son was born, they were no longer a couple, and have split co-parenting duties. Indigo frequently appears on both his parents' social media. Most recently, Wallen shared some snapshots of his 30th birthday, which he spent with his son.
See Inside Morgan Wallen's Recently Sold Nashville Home
Morgan Wallen
has sold his Nashville home for $835,000. The country singer sold his home for a $135,000 profit five months after being filmed on his driveway using the N-word. The 4-bedroom, 3-bathroom house is a two-story house near Nashville's 8th Ave. It's over 2,700 square feet. Redfin confirmed the house sold on July 8, 2021, less than one month after it was listed.
Check Out Country Music's Greatest Mullets
More From Taste of Country