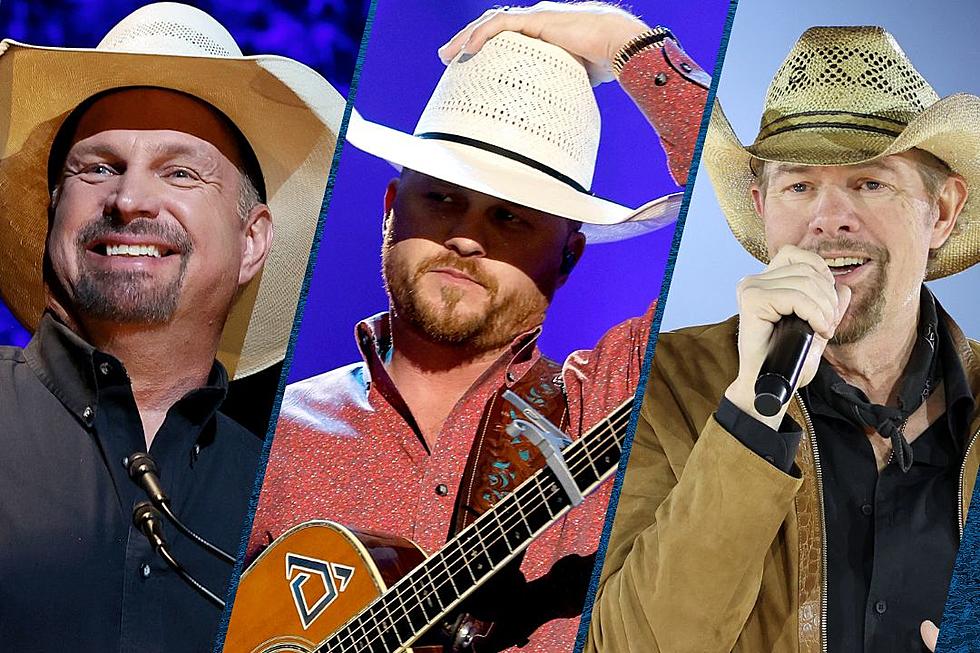 21 New Country Songs + Albums Announced and Released This Week (Oct. 8 – Nov. 3)
Getty Images
This was a very good week for traditional country music fans, as most of the 20 new songs and albums released or announced feature plenty of guitar and fiddle.
Cody Johnson, Garth Brooks and Brett Kissel are keeping it country with announcements and releases Oct. 28 to Nov. 3. There are also two surprising covers of classic country songs, starting with a John Denver reimagining that may blow your mind.
Contemporary sounds from Tyler Hubbard, Conner Smith and Jason Aldean make this overall list of new country songs and albums a bit more progressive. As always, this list will be updated as more new music is released and discovered on Friday (Nov. 3).
Related: The Top 40 Country Songs of 2023
Blanco Brown, "Take Me Home, Country Roads"
Brett Kissel, West Album (Nov. 3)
Brandon Davis, "21 Guns"
Cody Johnson Leather (Nov. 3)
Conner Smith, Smoky Mountains (Jan. 26, 2024)
Elvis Presley, Kane Brown, "Blue Christmas"
Jessie James Decker, Decker the Halls EP (Nov. 3)
Jimmy Buffett, Equal Strain on All Parts (Nov. 3)
Kameron Marlowe, "Tennessee Don't Mind"
Karley Scott Collins, "Heavy Metal"
Kassi Ashton, "Genie in a Bottle"
Kelsey Hart, "Life With You"
Kurt Stevens, "Cost of Freedom"
Russell Dickerson, The Afterparty Deluxe (Nov. 3)
Sheryl Crow, Evolution (March 29, 2024)
Toby Keith, 100% Songwriter (Nov. 3)
Travis Denning, "Going Places"
Tyler Hubbard, "A Lot With a Little"
The Top 40 Country Songs of 2023, Ranked
The best country songs of 2023 fit snugly over your life and experiences. Each is written from personal experiences, but somehow, translate as if they were custom to each of us.
We've loved, we've longed, we've lost and we've cut loose in the country.
Airplay charts, sales data and streaming numbers helped make this list of country music's
Top 40 songs of 2023
, but staff and Taste of Country reader opinion were most influential. Songs included on previous Top Country Songs lists were not eligible. A song may have been released in 2022, but it had to have the majority of recorded airplay or impact this year to count.
Gallery Credit: Billy Dukes
More From Taste of Country