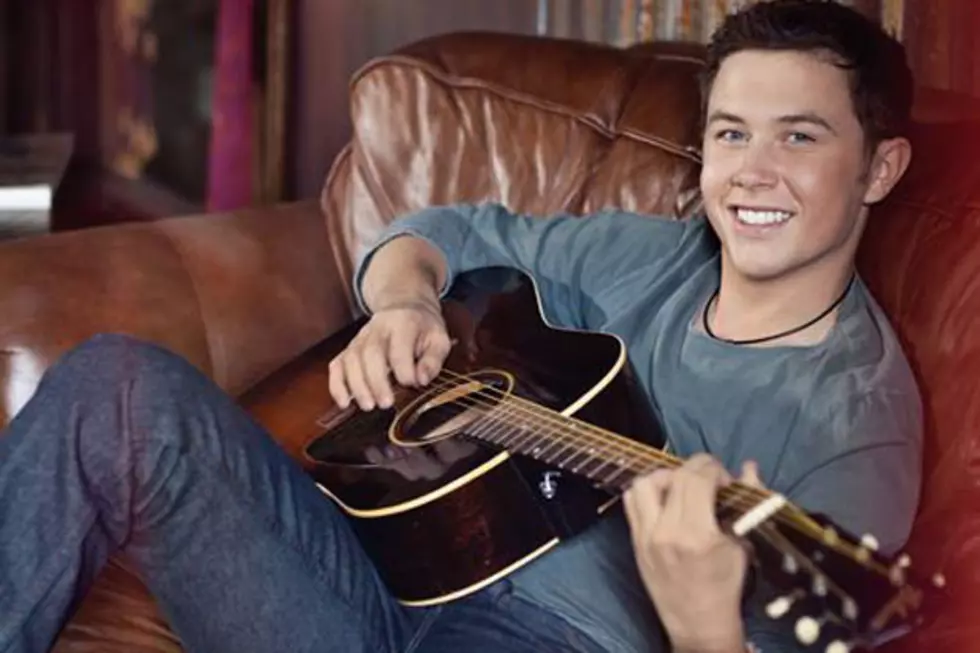 Scotty McCreery Reflects on Life After 'American Idol' and What the Future Holds
Scotty McCreery has been on a steady climb to the top since being crowned the winner of 'American Idol.' His debut album, 'Clear as Day,' became an instant hit with his loyal fanbase, which allowed it to reach platinum certification soon after its release. The album spawned three hit singles -- 'I Love You This Big' and 'The Trouble With Girls,' both of which have been certified gold for digital sales exceeding 500,000 downloads -- as well as his latest release, 'Water Tower Town.'
In 2012 alone, McCreery has picked up multiple awards, achieved a dream with opening spot on Brad Paisley's Virtual Reality Tour, and perhaps most importantly, graduated from high school. With college in the near future, McCreery is also looking ahead to his sophomore album on 19/Interscope Records/Mercury Nashville.
Despite his busy schedule, Taste of Country managed to snag a few minutes with McCreery to get an update on all his current and future career plans. One thing is obvious -- he is showing no signs of slowing down!
June has been a pretty special month for you with winning your first CMT Music Award for USA Breakthrough Video of the Year and graduating from high school all in the same week. How do you find balance between living a "normal life" and being a country music superstar?
Scotty McCreery: My hometown has really allowed me to come home and be normal whenever I am home. Going home to school, the kids didn't treat me any different. They treated me like the same ol' kid. Because of that, I got to kind of be normal and live life in both worlds. It was fun for me. High school's over now and we're on to college in the fall. It's been a good couple of months for me.
With the CMT Music Awards being fan-voted and you having America on your side, did you feel like you had the advantage over the other artists in that category?
You never go into an award show thinking you have the upper-hand and that you're going to win, but with it being fan voted, for me, I know that I had a good shot because my fans have been absolutely incredible to me. They got me through 'American Idol' and they're still with me today. I see them all the time on Facebook and Twitter and stuff, and they're so excited about what's going on. It's cool to have that kind of fanbase. I was anxious to see what happened [at the awards], and I was really glad to see that we got the belt buckle. I was in good graces with the company I was in. The rest of the artists [in that category] are so good and so deserving. It was definitely cool to get it.
Do you have a special place in your house where you are starting to put all of these trophies?
I don't really get caught up with where I put them, but the family, they like to put them up on the TV stand. I think that's where they're at right now. That way all the neighbors can come by and see it. They've been really excited [about everything] as well.
Have you started the process of working on the next album yet?
Yeah, we're just starting the process of getting songs in, and I'm starting to write a little bit. We're starting it … the wheels are turning! We'll see when we get it out.
Do you think the content on the next project will be more of the same, or are you planning on mixing it up a little?
No, we're going to try and change it up a little bit. You don't want to just keep doing a little bit of the same stuff. I think on the first album, we had a good-sounding country album and it showed who I was as an artist. This one, we want to dig a little deeper … talk about some real things in life and for me, not get caught up in all the love songs. There were a lot of them on the first album. I want to start talking about real things, and hopefully have a fun album with a few fun songs. I want to make an album that people want to listen to and want to hear and that they can relate to.

You're currently out on the road on Brad Paisley's Virtual Reality Tour. How has that been going so far?
Brad is the man. He really is. He's such a class act and a classy guy. I'm extremely honored and humbled to be on this tour. He's a funny guy. He definitely doesn't take himself too seriously or the tour too seriously. He likes to just go out there and have fun and play music. That's what it's all about. He's a good guy to learn from on my first tour.
You are no stranger to playing for the masses, coming from 'Idol,' but actually seeing the size of the crowds on Brad's tour… Do you get nervous at all before taking the stage?
The nervousness kind of hits me before I take the stage. Once I get out there, it kind of calms down, and it feels like that's where I'm supposed to be and what I'm supposed to be doing. But before I take the stage, that's when the butterflies start flying for me.
Has there been any talk of musical collaborations with anybody on that tour, or outside of the tour, in the near future?
I'd love to. We haven't really talked about that kind of stuff yet. If it comes around, doing something like that with Brad or anybody else in the industry that has really put a stamp on it … I'd love to.
So you have hit singles, a hit album, are on a major tour and are winning awards. What are some other immediate goals that you are reaching for right now?
I'm just looking forward to this next year. I'm really trying to reach out to the fans and stuff. The second album, I'm not sure if we're going to get it out by the end of this year or next year, but we are hoping to really get across what we want to get across on it and make new fans off of it. I think we've got a lot of the 'American Idol' fans and a lot of people who are out on the road following me and stuff.
Every day I'm singing for somebody who might have not heard of me before or who may have not seen me play live before, so you've got to bring it every night and try to bring them over to your side. That's kind of what I'm doing right now and what I'll plan to keep on trying to do. We'll see how that goes for me in the next year.
More From Taste of Country