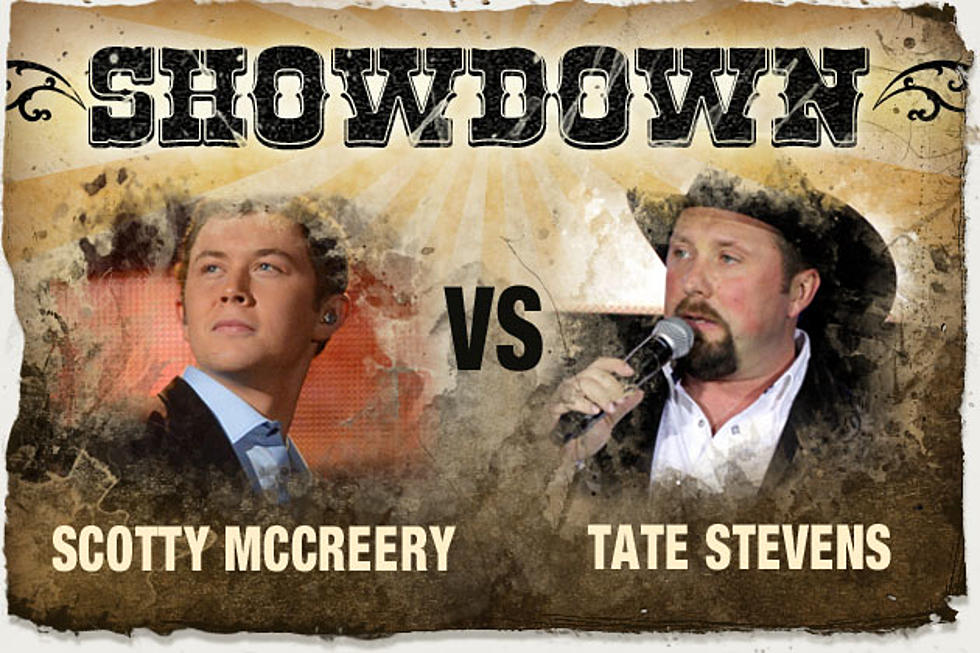 Scotty McCreery vs. Tate Stevens – The Showdown
Mike Moore / Rick Diamond, Getty Images
The new single from Pistol Annies was no match for Scotty McCreery's 'See You Tonight.' The 'American Idol' winner's latest song thumped 'Hush Hush' this week, taking almost 85 percent of the Showdown vote in the two-day battle of new songs. Today, McCreery's competition will be another popular country singer from reality television. 
Tate Stevens is preparing to release his debut album next Tuesday, and his first single, 'Power of a Love Song,' is already a hit with fans. The big ballad shows the Missouri native's range and emotional reach, but he'll need as many 'X Factor' voters as he can find to slow down McCreery.
Listen to clips of both McCreery and Stevens' songs and vote for your favorite here. You can vote once every hour until this Showdown ends on Monday at 8AM ET, so come back and vote often to be sure your artist wins. The winner of this matchup will face a new challenger on Monday.
Listen to a Sample of Scotty McCreery, 'See You Tonight'
Listen to a Sample of the Tate Stevens, 'Power of a Love Song'
Showdown Rules: The song with the most votes wins, and the winner goes on to face a new challenger in the next Showdown. Vote as much as once per hour online. If a song wins five Showdowns in a row, it will be retired into the Taste of Country Showdown Hall of Fame to allow for new songs to compete. Some songs will be considered for a second Showdown if voter turnout is healthy in a losing effort.
More From Taste of Country