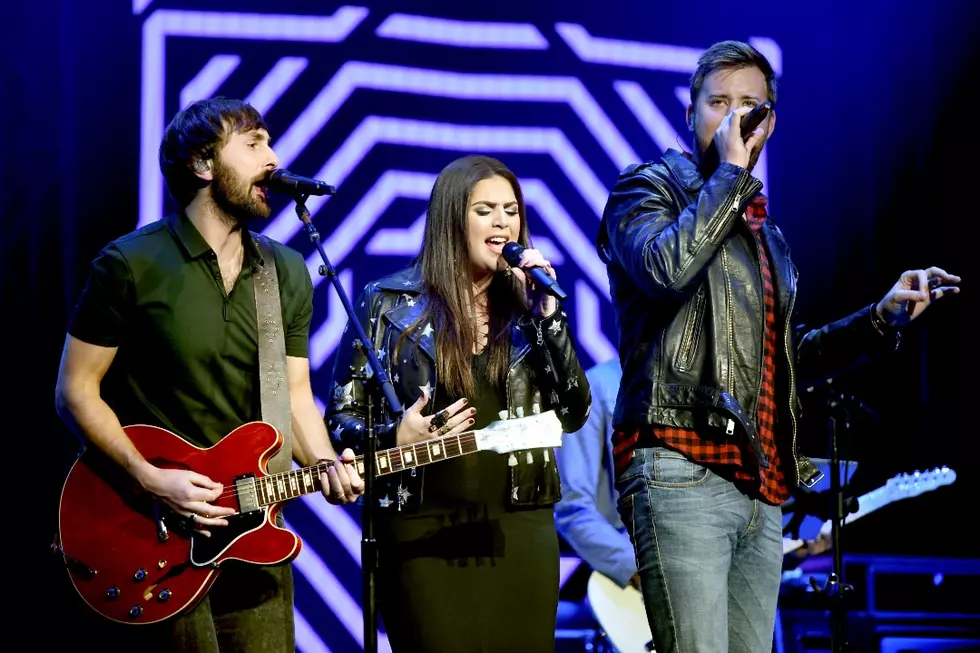 Sheryl Crow Inspired Lady Antebellum to Get More Involved in Music Education
John Shearer, Country Rising, Getty Images
Lady Antebellum have always had big hearts for charity. The Grammy-winning trio with a global platform have used their celebrity to focus on a bevy of important causes, from fighting cancer to helping kids aging out of foster care.
"We've always felt a calling to give back," the band's Dave Haywood tells Taste of Country during a recent roundtable discussion. "We just got back from a gig with Musicians On Call, which is so fun. Just to visit hospitals and play. Music has such a healing power."
But a fellow star recently also inspired the group to get involved more and more with music education. "The other night we were at a dinner with some Grammy board people and Sheryl Crow," singer Charles Kelley says. "It was really cool to hear Sheryl Crow, how passionate she is about [music education]. One of the things we want to get more involved with is getting younger kids interested in actually playing instruments again. Especially young girls—you know, getting involved in learning how to play guitar and getting empowered by that."
Kelley notes how so much of music today begins behind a laptop instead of with an instrument in hand. "It would be sad to think that as these years go on that people are going to be playing instruments through their computer and not just picking up one," he adds.
Haywood also notes that they feel a strong urge to help the songwriter community. "It's a tough world, you know, with a bit of a regulated industry from a financial standpoint, for people to make a living writing music."
Singers Hillary Scott and Kelley also note that the band's upcoming album Ocean (due Nov. 8) has more outside cuts than any other record before. "And multiple songwriters and a lot of new, unknown songwriters," Kelley adds. "This is a bit of a 'raising the flag' for the songwriting community. I don't think we necessarily did it intentionally, but it is now."
While Lady Antebellum co-writes much of their material, they're one of few bands that will listen to thousands of demos for their upcoming albums in addition to the songs they write. "At the end of the day, I can't lie to myself when I hear a song that's better than the song we wrote," Kelley laughs.
Best Song of the 2000s? Lady Antebellum Has One!
More From Taste of Country