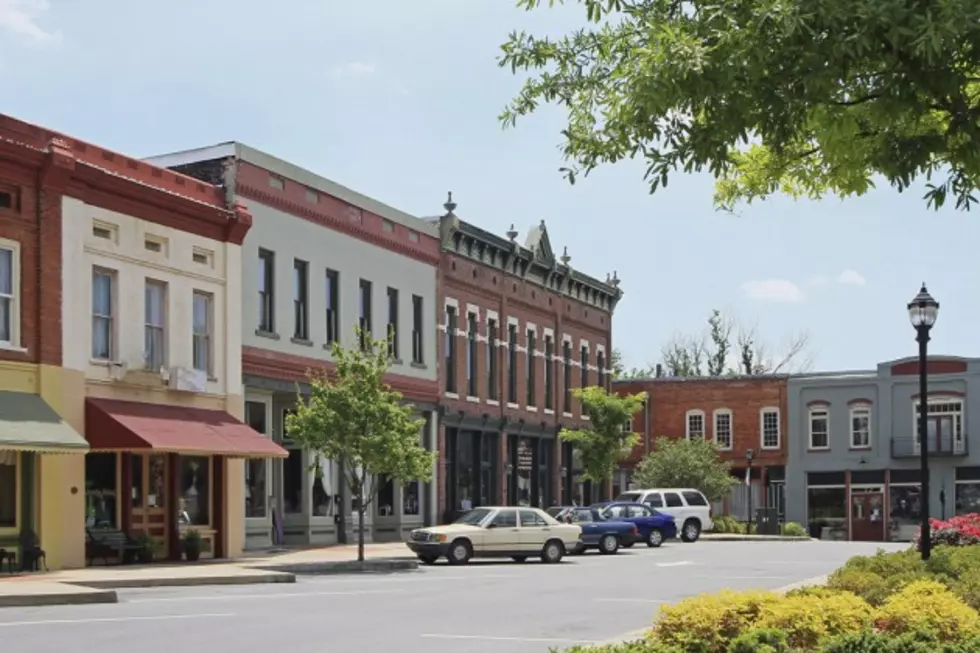 Top 10 Songs About Small Towns
Atlantagreg, ThinkStock
Country music has no shortage of songs about small towns. Growing up in the middle of nowhere is almost a requirement for being a bonafide country artist, and most singer are proud of their hometown, even if it's not perfect.
Many small town songs have similar themes — appreciating the simpler life, close-knit communities (for better or for worse) and a loyalty that lasts a lifetime — and that's what makes the songs resonate with fans everywhere. We've put together a list of the Top 10 songs that truly embody what a song about small town life should be, whether they describe the good, the bad or even the ugly.
10

"Small Town USA"

Justin Moore

Justin Moore's "Small Town USA" is a sort of love song dedicated to the small town in which Moore grew up. The ballad's sentimental lyrics reflect on the simple life he lived there: hanging out with friends, learning the value of a hard day's work, and going to church on Sundays. Moore acknowledges that many people saw the town as a prison growing up there, but looking back, it was the perfect place to be. "Small Town USA" was released in 2009 as the second single from his self-titled debut album and became Moore's first No. 1 hit.

9

"Small Town Southern Man"

Alan Jackson

A small town Southern man is a special kind of man. Alan Jackson knew that when he released "Small Town Southern Man" in 2007 as the first single from his album Good Time. The song is essentially the life story of a noble man who cares about his family, his faith and his country from his youth until his old age. It's got a classic country feel, which fits well with the storytelling style. The song was a No. 1 hit for Jackson — his first since 2004 — and serves as a tribute to small town Southern men everywhere.

8

"Thank God for Hometowns"

Carrie Underwood

Carrie Underwood can deliver a sentimental ballad with little competition, and this tribute to hometowns is no exception. Her honest performance of the sweet tune honors the close-knit communities in which we are raised, commending them for always being there for us when we need it most. For many of us, hometowns are a place we can always go back to and feel welcomed home, even if our families are no longer living there. Though the song is one of Underwood's lesser-known tracks from her 2012 album Blown Away, it packs just as hard a punch as any and earns a well-deserved slot on our Small Town Songs list.

7

"Back Where I Come From"

Kenny Chesney

Kenny Chesney sings this mid-tempo ode to growing up in the country, recounting the tales of days gone by: lying on a river bank, drinking some beer, but still going to Sunday school the next day. "Back Where I Come From" is a Mac McAnally original, first released in 1990, but Chensey brought it new life in 1996 on his album Me and You. The catchy, sentimental tune has become a sort of anthem for people who know exactly what Chesney is singing about.

6

"My Town"

Montgomery Gentry

Everyone's hometown is special to them, but there's a certain sense of ownership that comes with growing up in a small town. If everyone knows your name (and vice versa), you can point out the spot where you got your first kiss or threw the winning touchdown, there's no doubt — it's your town. Montgomery Gentry feel the same way about their small towns, which they express emphatically in their hit "My Town." The grittier verses sung by Eddie Montgomery break into an anthemic chorus from Troy Gentry, filled with pride and joy about the little community to which they belong. Like other small town songs, this tune does admit a period of rebellion against the town of their youth, but they eventually come back around, as most do, to appreciate it as their town. "My Town" hit No. 5 on the Billboard country chart in 2002 and kept Montgomery Gentry as frontrunners in country.

5

"Famous in a Small Town"

Miranda Lambert

Anyone who grew up in a small town probably has newspaper clippings with their name or even their picture on them saved from their childhood. Miranda Lambert's "Famous in a Small Town" is a tribute to that kind of everyone-knows-your-business environment and the drama that comes along with it. Being famous nationwide would be great, but who needs paparazzi and billboards when everyone already knows who you are (not to mention everything about you)? Lambert shows off her pipes in this 2007 Top 20 hit from her second album, which served to prove she deserves to be a country superstar.

4

"My Tennessee Mountain Home"

Dolly Parton

Dolly Parton has always been proud of the small town in Tennessee where she grew up, even if her childhood wasn't necessarily glamorous or exciting by the rest of the world's standards. Parton wrote the tune "My Tennessee Mountain Home" for her concept album by the same name and released it in 1973. The song includes sentimental imagery like walking home from church with her family and holding hands on a porch swing, and it is a sweet reminder of Parton's humble roots. The folky tune reached No. 15 on the U.S. country charts and is another gem in Parton's vast repertoire of songwriting.

3

Life moves slower in a small town, especially when that particular town's name has become synonymous with 'quaint, peaceful community.' Rascal Flatts tapped into this nostalgic scene in their 2003 hit referencing Andy Griffith's fictional hometown, Mayberry, where people actually sat on their front porches and drank cherry Coke as they watched the clouds roll by. The song is a reflection on the fast-paced life we live today and how strongly it contrasts with the more peaceful days gone by — at least the ideal of it. The feel of the song matches the subject matter, with wistful, calming harmonies and a cheerful key change from the verse to the chorus. "Mayberry" was a No. 1 hit in a string of hits off Rascal Flatts' 2002 album. It's a staple on any list of small town songs.

2

"Merry Go 'Round"

Kacey Musgraves

Kacey Musgraves takes an atypical perspective on small towns in this introspective ballad. "Merry Go 'Round" is a skillfully woven story about the darker sides of small town life — the ones that don't necessarily end up on postcards or get put into backwoods anthems. Musgraves explores the bleak cycle of life stuck in a small town, without much hope or ambition for anything to ever change. She leaves no stone unturned describing this tough situation or the pressures that come along with it. The song is in Musgraves' sweet spot — beautiful, poignant and truth-centric, even if it may ruffle a few feathers. Her risk paid off, as the song won a Grammy in 2014 for Best Country Song and was a Top 10 hit for her, more than qualifying it for a top slot in our list of the best small town songs.

1

"Boondocks"

Little Big Town

Little Big Town bare their small town roots in their breakaway hit "Boondocks." It's a homage to country small towns where the group grew up and where their loyalties lie, no matter how far they've traveled. The gritty, stomp-clap feel invokes the image of being on a back porch singing together with others who share your hometown pride. "Boondocks" was the band's first Top 10 hit and launched them into country stardom in 2005. The song is an anthem for people who were raised in the middle of nowhere (and proud of it), earning it the No. 1 position on our list of best small town songs.