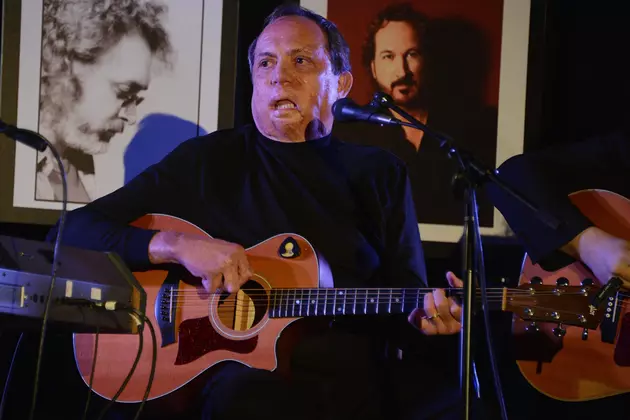 Nashville Songwriter Kim Williams Dead at 68
Jason Kempin, Getty Images
Respected Nashville songwriter Kim Williams died Thursday (Feb. 11) in Florida. He was 68.
Memorable songs Williams has written include Brooks' "Ain't Goin' Down 'Til the Sun Comes Up," Chesney's "Fall in Love" and Travis' "Three Wooden Crosses."
"Yesterday the Nashville Songwriters Hall of Fame lost one of its finest members," Nashville Songwriters Hall of Fame Chairman Pat Alger says in a statement. "Kim Williams overcame more adversity than anyone I know to become one of the best and most colorful songwriters to ever come out of this town. Horribly burned in a work related fire (before his songwriting career) he endured hundreds of operations and complications to emerge as a man of boundless humor and dignity with a tremendous capacity for love. Kim loved his family, his profession and his friends and was always there to remind us that we can rise above it all to make sweet music. He was my hero and I will miss him so much. I had the pleasure of telling him that he had been inducted into the Hall of Fame and his joy and genuine humility was something I will never forget. Our hearts go out to Phyllis and Amanda Williams — he loved you most of all."
Williams was born in Kingsport, Tenn. in 1947. In 1974, after a near-fatal accident that left him severely burned, he began treatment at Vanderbilt Hospital in Nashville, where he eventually focused his time on songwriting. In 1989 he signed a staff writer deal with Tree International, and two years later he saw his first No. 1 hit with Joe Diffie's recording of "If The Devil Danced (In Empty Pockets)."
Additionally, Williams saw many of his songs become Brooks staples including
"Ain't Goin' Down Till The Sun Comes Up," "Papa Loved Mama," "It's Midnight Cinderella," and "She's Gonna Make It."
Funeral arrangements have not yet been announced.
Country Artists We Lost in 2015
More From Taste of Country