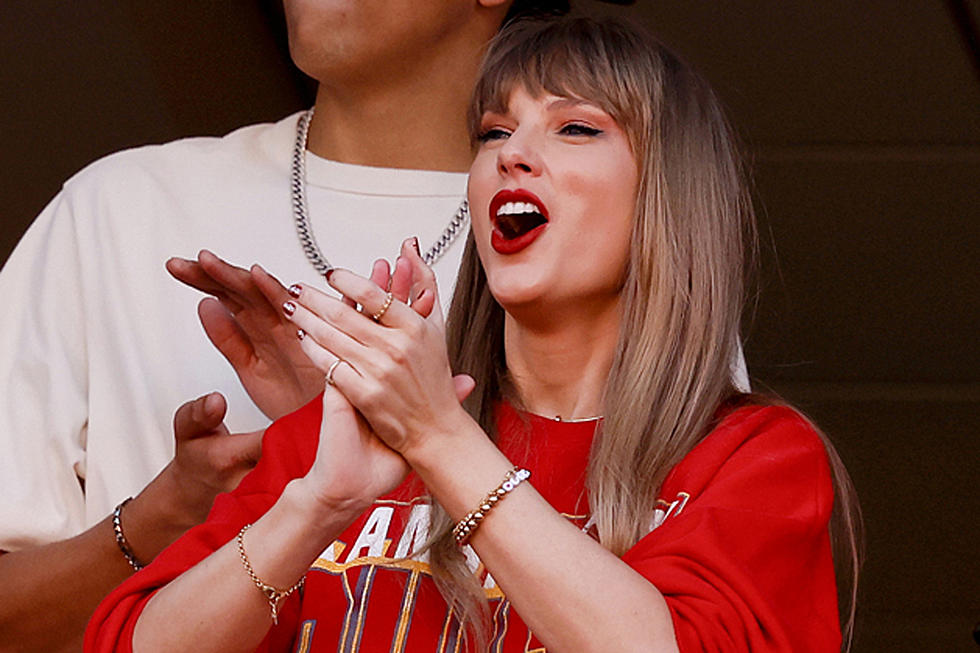 Taylor Swift Was VERY Distracted at the Kansas City Chiefs Game + TBH, We Can't Blame Her
David Euiltt, Getty Images
Taylor Swift joined Kansas City Chiefs' quarterback Patrick Mahomes' family in a suite to watch her boyfriend's game on Sunday. Pictures show her struggling to keep her eyes on the field.
Honestly, can you blame her? A photo gallery below finds the two adorable culprits.
Swift is dating Travis Kelce, a start tight end for the Chiefs.
His team is 4-0 since when she attends his games.
The pop singer looks to have become friends with Brittany Mahomes. They even have their own handshake:
The Chiefs beat the San Diego Chargers 31-17 on Sunday, but as usual, all eyes were on the suites and Swift. Brittany Mahomes brought her two kids to the game, and Swift was smitten. Photos show son Bronze (11 months) and daughter Sterling (2) in mama's arms, getting a lot of attention from the "Shake It Off" hitmaker.
Swift, 33, doesn't have any kids of her own. It's not clear how serious her relationship with Kelce is, as he has tried to downplay it when talking on his New Heights podcast.
While Kelce's mom has been spotted in the suite with Swift during previous games, photogs were trained on Brittany and Taylor this week. Another face pops into several photos, however — yep, that is Jackson Mahomes standing over the two women's shoulders in many of these pictures.
Jackson is a social media star as well, but he was arrested in May and charged with aggravated sexual battery for an incident that took place at a restaurant three months prior. Swift fans on social media did not have a positive response to the potential for a Taylor and Jackson friendship.
Pictures: Taylor Swift at the Kansas City Chiefs Game (Oct. 22)
Taylor Swift was very distracted at the Kansas City Chiefs game on Sunday (Oct. 22) in Kansas City. Honestly we can't blame her.
Swift and Chiefs' tight end Travis Kelce are dating and she's attended several of his games. Brittany Mahomes and her two kids joined her in the press box this week.
Gallery Credit: Billy Dukes
Pictures: Taylor Swift Watches Travis Kelce Score a Touchdown
Taylor Swift accepted NFL tight end Travis Kelce's invitation to attend his football game on Sunday (Sept. 24). His Kansas City Chiefs beat the Chicago Bears 41-10 in Kansas City. Swift was remarkably excited when Kelce scored a touchdown to make it 34-0.
Gallery Credit: Billy Dukes
More From Taste of Country