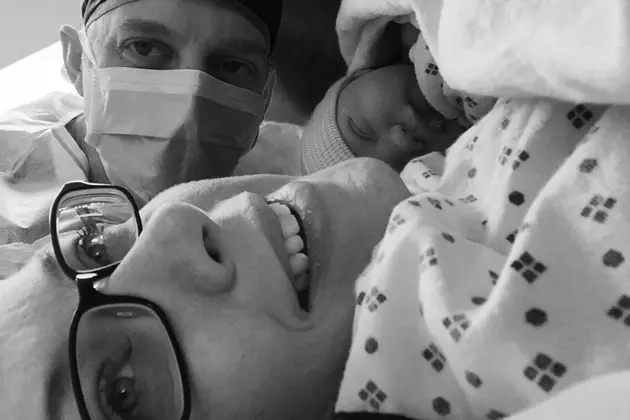 Thompson Square Announce Birth of Baby Boy
Courtesy of Thompson Square
Thompson Square's Shawna Thompson gave birth to the couple's first child on Sunday (Jan. 24) morning. The baby boy was born at 3:46AM ET, weighing 7 lbs., 13 oz.
In the weeks leading up to the birth, Keifer and Shawna had referred to their son as 'Cooper,' but in a statement they have shared his full name. Rigney Cooper Thompson has dark blue eyes and brown hair, TS2 tell E! News. Rigney is Shawna's grandmother's maiden name.
Thirty-seven-year-old Shawna and her husband of 16 years revealed they were expecting in August and shared the baby's gender in a Facebook video one month later. There was plenty of joking about what they may name the little babe, with Keifer suggesting Toothpaste Thompson, as he enjoyed the alliteration.
Earlier this month they shared a bump photo on Instagram, letting fans know they were 38 weeks and two days into their 40 weeks. It appears baby Rigney Cooper arrived early.
"God blessed us this morning with a little 7 pound 13 oz miracle," the Thompsons say. "It's hard to explain this kind of love. We're so overjoyed. He's already got us wrapped around his little finger."
Musically, Thompson Square have taken a break from radio during their pregnancy. "Trans Am" was the duo's last single, peaking just inside the Top 50 in 2015. Their last studio album was Just Feels Good, released in 2013. Keifer and Shawna say fans can expect the next album to be very "aggressive and rockin'." It's not clear if that album will be released in 2016.
There are currently no winter, spring or summer tour dates at the band's official website.
More of Country Music's Cutest Couples
Thompson Square Rebuild After Flood
More From Taste of Country