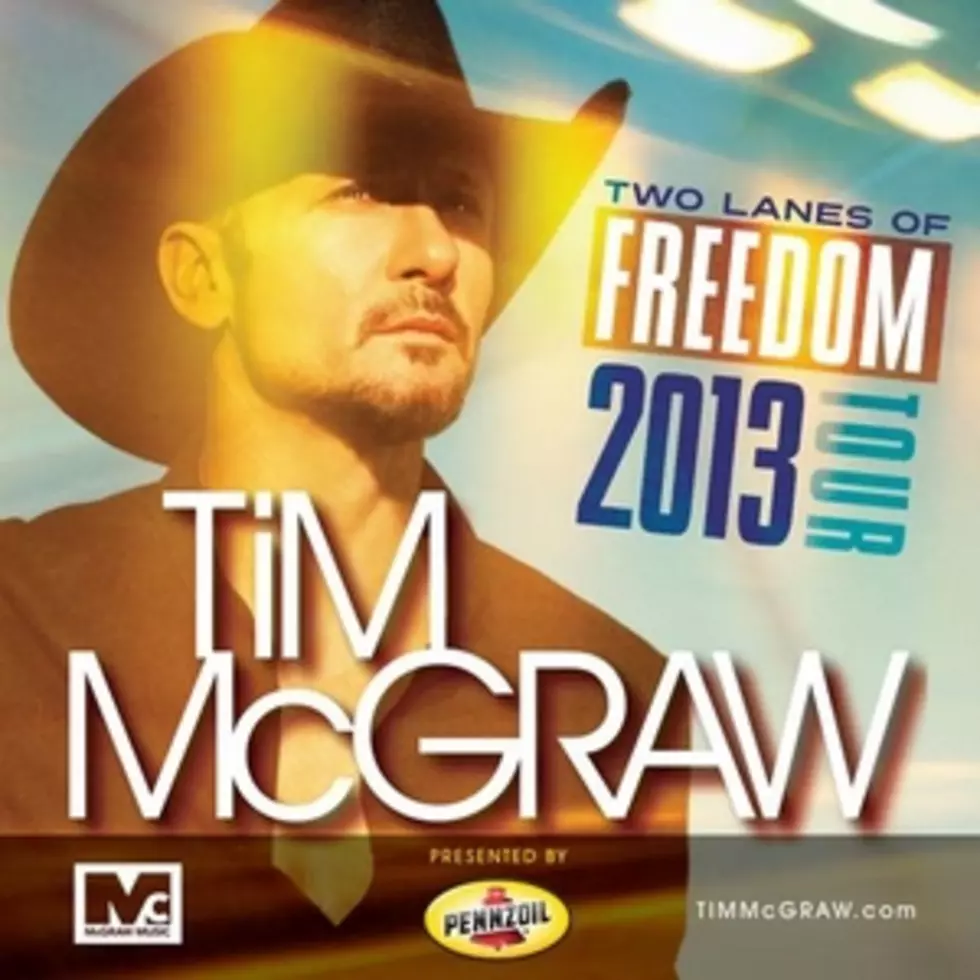 Tim McGraw Announces Dates for Two Lanes of Freedom 2013 Tour
Green Room PR
Truck yeah! Country music superstar Tim McGraw will release a new album titled 'Two Lanes of Freedom' on Feb. 5, and in support, he'll hit the road on a 30-date tour.
Presented by Pennzoil, the tour kicks off on May 2 in Birmingham, Ala. and runs through July 27, when it wraps up in Virginia Beach, Virginia. Rising stars Brantley Gilbert and Love and Theft will open for McGraw on the tour, and McGraw has partnered with Tumblr to create the "Fanticipation" program, which will allow fans to announce through Tumblr when tickets will be available in their own hometown.
"This album marks a new sense of excitement and artistic freedom for me, and I really wanted to extend that same feeling to the tour and create a cool vibe for the fans," McGraw explains. "Let's leave anything that might be weighing us down out in the parking lot and spend a few hours together feeling alive and free."
Adds the singer, "We've started working up new songs from the album, and there's some really cool stuff we'll be able to pull out this summer. My band is just kick-ass… there's nothing these guys can't play!  We'll be counting the days 'til Birmingham!"
Tim McGraw Two Lanes of Freedom 2013 Tour Dates:

5/2 - Birmingham, Ala.
5/3 - Charlotte, NC
5/4 - Raleigh, NC
5/10 - West Palm Beach, Fla.
5/12 - Atlanta, GA
5/17 - Philadelphia, Penn.
5/18 - Pittsburgh, Penn.
5/19 - Detroit, Mich.
5/23 - St. Louis, Missouri
5/24 - Chicago, Ill.
5/25 - Cincinnati, Ohio
5/26 - Darien Lakes, NY
5/30 - Indianapolis, Ind.
5/31 - Cleveland, Ohio
6/1 - Washington, D.C.
6/7 - San Diego, Calif.
6/8 - San Bernardino, Calif.
6/9 - Mountain View, Calif.
6/13 - Albuquerque, NM
6/14 - Salt Lake City, Utah
6/15 - Denver, Colo.
6/20 - Beaumont, Texas
6/22 - Dallas, Texas
6/28 - Hartford, Conn.
6/29 - Boston, Mass.
6/30 - Holmdel, NJ
7/25 - Toronto, Ont.
7/26 - Bethel, NY
7/27 - Virginia Beach, VA
More From Taste of Country