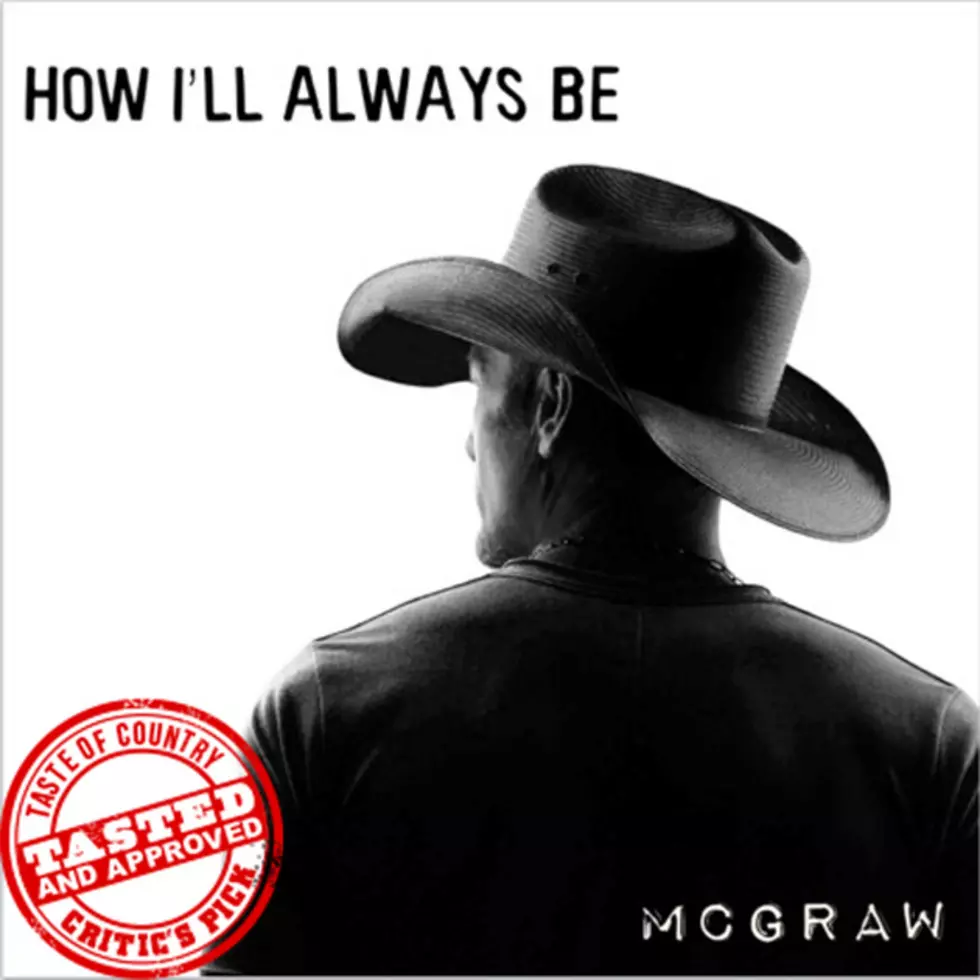 ToC Critic's Pick: Tim McGraw, 'How I'll Always Be' [Listen]
Big Machine Nashville
No one makes old sound quite as cool as Tim McGraw on songs like "How I'll Always Be." It's not the first time he's recalled a quieter time in life without showing his gray hairs. He's a throwback with his eyes fixed forward.
McGraw's imagery on this third single from Damn Country Music is reminiscent of "Meanwhile Back at Mama's," he duet from Sundown Heaven Town. In November ToC called "How I'll Always Be" the best song on Damn Country Music, and in spite of the success of a powerful ballad called "Humble and Kind," we stand by it. All of the moving parts of this song sing in harmony. The drumbeat is driven, but not rushed. Steel and electric guitars come and go like good neighbors. McGraw — a man who as he approaches 50 shows no signs of aging out of relevancy — hangs back, calmly and confidently offering a impromptu biography.
The song is relatable to each country fan in a unique way. Either you are the man he's describing, or you have fond memories of a loved one who spent hours under a favorite tree and could quote Cool Hand Luke without looking at the television set. Writers Jeremy Stover, Chris Janson and Jamie Paulin have crafted a masterpiece that only a living legend like McGraw could improve upon. And he does.
Did You Know?: The first song Chris Janson wrote for Tim McGraw was "Truck Yeah," penned with the members of LoCash and Danny Myrick.
Listen to Tim McGraw, "How I'll Always Be"
See Photos of How Tim McGraw Used to Be: 
Tim McGraw's "How I'll Always Be" Lyrics:
"I'm a little more beer bottle beer joint than a fancy bar / I'm a little more sittin' up high on a road than a little car / And I'm a little more bust your back than take it for free / And that's how I'll always be."
"I'm a little more lose my temper than sit on back / I'm a little more ol' Hank Williams than that trendy crap / Another flat wood old front porch made of an old oak tree / That's how I'll always be."
Chorus:
"I'll always be a fan of old stray dogs and guitars playin' / One room churches, back road walks and front porch swingin' / Sunset skies, bonfire nights, I love the simple things / That's how I'll always be."
"I got friends that say I live a little like Coolhand Luke / Fast cars and motorcycles, raisin' hell in cowboy boots / Late on Sunday morning, I'll take the back row seat / That's how I'll always be."
"I'm a fan of chert rock boucin' off a Chevy fender / That feelin' that you get first time she lets you kiss her / Rusty roofs that rattle when the rain is fallin' down / Handshake deals, fresh cut hay field's and corn bales."
It's Tim McGraw at His Best: 
More From Taste of Country