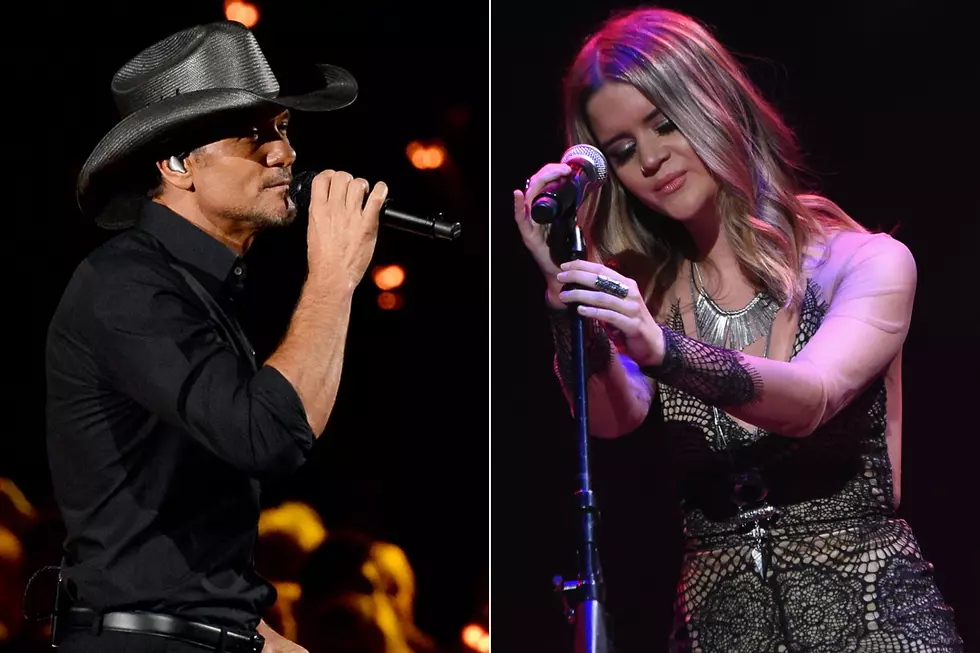 Top 10 Country Songs of 2016
Ethan Miller / Rick Diamond, Getty Images
The best country songs are the songs you could listen to over and over and over again. Some of the Top 10 Country Songs of 2016 grab your heart, while others heat up a Friday night. More than one on our list is a song of empowerment, while others are meant to be the soundtrack for a party.
This is a list full of country veterans and newcomers. Keith Urban, Chris Young and Chris Stapleton are included in this final edition of the Top 10 Country Songs of 2016 list, as are songs by Miranda Lambert, Kelsea Ballerini and Dierks Bentley. An all-star collaboration earned our attention — how could it not? — but didn't have enough to top this list. No, the No. 1 country song at the end of 2016 is the same one we chose early, back in the spring.
Women led the way last year, with Little Big Town's "Girl Crush" and Cam's "Burning House" making the final cut. You'll find plenty of females on the 2016 list, including a pop star and a reality television star that hooked up with one of country's leading men for a smash. The list is always heavily debated. Yes, we're listening and once again you're urged to choose your favorites and tell us where we got it right — and wrong — in the comments section below.
The Taste of Country Top Country Songs of 2016 list is determined using sales and radio airplay data, reader feedback and staff opinion. Any song that spent the majority of its chart life in 2016 is eligible.
10

"Think of You"

Chris Young (Feat. Cassadee Pope)

Chris Young and Cassadee Pope team up for this powerful duet from Young's I'm Comin' Over album. You'll struggle to find two better vocalists on an album from 2016. Together they sing about those uneasy moments that come post-breakup.

9

"Forever Country"

Various Artists

It's a supersong — the ultimate collaboration and a masterful production job by Shane McAnally. It didn't garner much radio airplay, but immediately went to No. 1 on iTunes. "Forever Country" slowed down time for a few minutes.

8

"Nobody to Blame"

Chris Stapleton

Chris Stapleton's first post-CMA Awards single reached the Top 10 on country music airplay charts. Time will tell if it's the song that saved country music as so many hoped, but for five months it represented a return to a traditional country sound.

7

Miranda Lambert's Grammy-nominated comeback song was slow to sink in, like fine wine or good whiskey. But once she hooked you, her lyrics took you on an emotional rollercoaster similar to what she went through in 2015 and 2016.

6

"Peter Pan"

Kelsea Ballerini

This is the song that earned Kelsea Ballerini a Grammy nomination. The singer took a simple concept and turned it into a brilliant retort to a guy who's not treating her right. Her rounded emotional response feels real.

5

"Head Over Boots"

Jon Pardi

The lead single from Jon Pardi's second album is an easy piece of California country that's too good to turn off. Was there a bigger earworm in 2016? "Head Over Boots" is strong favorite among our staff members. It's also the most played radio song of 2016.

4

"Different for Girls"

Dierks Bentley (Feat. Elle King)

Dierks Bentley's Grammy and CMA nominated duet with Elle King was an instantly impactful message that didn't feel preachy. The pair give rich, subdued vocal performances that like so many songs on his Black album feels both gritty and warm.

3

The debut single from Maren Morris is a soulful country revival. "My Church" is the lead single from Morris' Hero album. Perhaps more exciting than the song is the artist — Morris is an original from top to bottom, and fans are embracing her. For weeks her hit was at or near the top of sales charts.

2

"Blue Ain't Your Color"

Keith Urban

Stronger sales may have bumped this song to No. 1, but Keith Urban's waltz from the Ripcord album settles at No. 2. The song is among his finer vocal performances. There may not be another country singer as dynamic as Urban.

1

"Humble and Kind"

Tim McGraw

Tim McGraw's "Humble and Kind" is a calming three-to-four minutes of radio. The ballad may be his finest since "Live Like You Were Dying," and it's certainly his most important. Lori McKenna's lyrics find the voice of a father of three who at times seems to be singing right to them. It's a song that combines strong sales and radio airplay with more than favorable staff and reader feedback. It's without a doubt the top song of 2016.

1

Unforgettable Moments From 2016

The deaths, the resurrection, the music and one unbelievable surprise — these are the most unforgettable moments of 2016.
More From Taste of Country