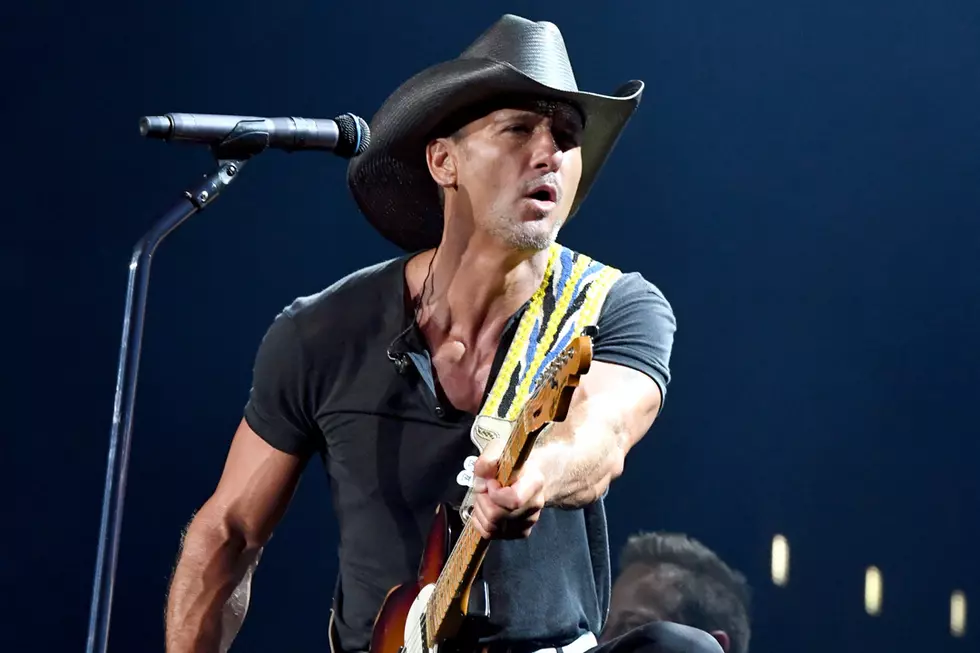 Tim McGraw's 'Neon Church' Is a Dark, Cinematic Heartbreaker [Listen]
Kevin Winter, Getty Images
Tim McGraw's new single "Neon Church" picks up where he left off with his last solo album. The ballad is a first-person, blood-and-scars, real-life exploration that finds him diving deep into character.
Experiences from a former life may allow McGraw to relate to the character in "Neon Church," but the purposefully sober country vet hasn't lived that life in a decade. One finds a man at a bar searching for salvation and finding it amongst friends facing a similar plight. No, it's not an original country scene, but the singer's approach and sound create a costume experience. Vivid imagery makes it easy to play the song like a movie in your mind.
Cast amongst a hopeful arrangement, there's a type of true grit found on recent singles like "How I'll Always Be," "Diamond Rings and Old Bar Stools" and "Meanwhile Back at Mama's" that's relatively new to McGraw's delivery. Perhaps it's a change in production, or perhaps as the 51-year-old ages, he's leaning more into nostalgic touchstones no matter how good they are for you. The result is a more personal brand of country music than he delivered during his early '00s prime. "Live Like You Were Dying" may be biographical, but his recent performances are more real. In many ways, "Neon Church" picks up where McGraw left off before teaming with wife Faith Hill for an album in 2017.
Did You Know?: McGraw's "Neon Church" was written by Ross Ellis Lipsey, Ben Stennis and Ben Goldsmith. Of the three, Stennis has had the most cuts by country artists, including two singles for High Valley.
Tim McGraw's "Neon Church" Lyrics:
I need Jesus or I need whiskey / Whatever works best to get me through getting over you / A little Friday night hallelujah / A congregation of backsliders just like me, yeah what I need.
Chorus:
Is a neon church with a juke box choir / Full of honky tonk angels with them wings on fire / Straight pouring out that Johnnie Walker healing / I got a feeling I need a neon church.
Baptize me in that bar room smoke / Bartender preach to me till my heart ain't broke no more / Ain't that what this place is for / I've tried bended knee, hands up praying / But damned if that hurt don't just keep hanging around / What I need right now.
Get to sipping that unholy water / Save that hurt like hell for tomorrow / I'll stay here all night.
In a neon church with the party crowd / Where the good times roll and the music's loud / Instead of home staring holes in the ceiling, I got a feeling.
More From Taste of Country