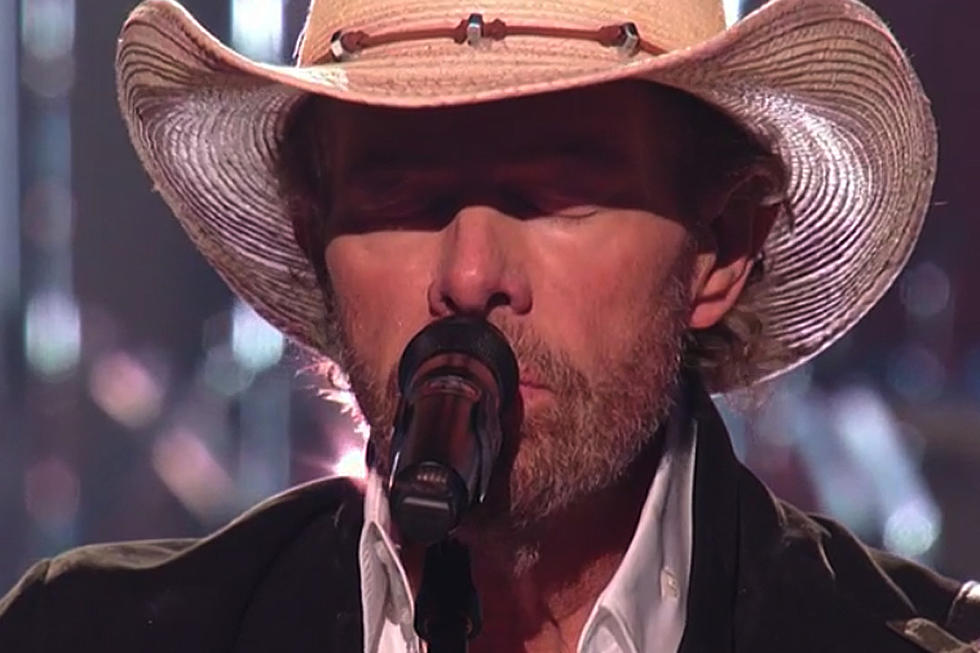 Toby Keith's 'Don't Let the Old Man In' Tops iTunes Chart After Emotional TV Performance
NBC/Peacock
Toby Keith's cancer battle has been the focus of headlines about him over the past year, but his impassioned performance of "Don't Let the Old Man In" at the People's Choice Country Awards last month is a reminder of who he is as an artist.
The superstar told NBC's Backstage Live on the red carpet that he chose to sing that song — which he wrote for the 2018 Clint Eastwood flick The Mule — because of his cancer fight.
"It's really inspiring for a lot of people," Keith observes. He revealed his stomach cancer diagnosis in June 2022, telling fans at the time that he'd been getting radiation and chemotherapy for six months.
The song, as it turns out, was the perfect pick for his grand return to live television. Watch here:
Due to his powerful delivery of the heart-wrenchingly poignant song and the chatter that followed, "Don't Let the Old Man In" swarmed to No. 1 on the iTunes Country chart, and even more impressively, reached No. 3 on the iTunes All-Genre chart.
Though the live performance of "Don't Let the Old Man In" at the inaugural People's Choice Country Awards was Keith's first time back on red carpets and television since his cancer diagnosis, he insists he's working hard to recover so he can get back on the road and see his fans.
Next up, on Nov. 3, Keith will release a new project, 100% Songwriter — a selection of 13 of many of his most iconic solo-written songs.
Evan Paul is the host of Taste of Country Nights, a syndicated radio show heard on more than 120 country radio stations nationwide, every night from 7PM to midnight. He plays the best new country music and interviews today's top stars, like Luke Combs, Miranda Lambert, Dan + Shay, Keith Urban, Carrie Underwood, Luke Bryan, Chris Stapleton, Lady A, Morgan Wallen, + more! 
2023 People's Choice Country Awards Red Carpet Pictures
The best dressed from the 2023
People's Choice Country Awards
include several bold fashion choices and plenty of mid-summer crop tops. See pictures from the red carpet at the Grand Ole Opry in Nashville, taken before Thursday night's (Sept. 28) live broadcast.
Gallery Credit: Billy Dukes
PICTURES: See Inside Pam Tillis' Spectacular $3.5 Million Tennessee Cabin
Pam Tillis has just sold her deluxe Tennessee cabin, and she stands to make a pretty penny from the spectacular property.
Gallery Credit: Jess
2023 People's Choice Country Awards Performance Pictures
Gallery Credit: Billy Dukes
More From Taste of Country