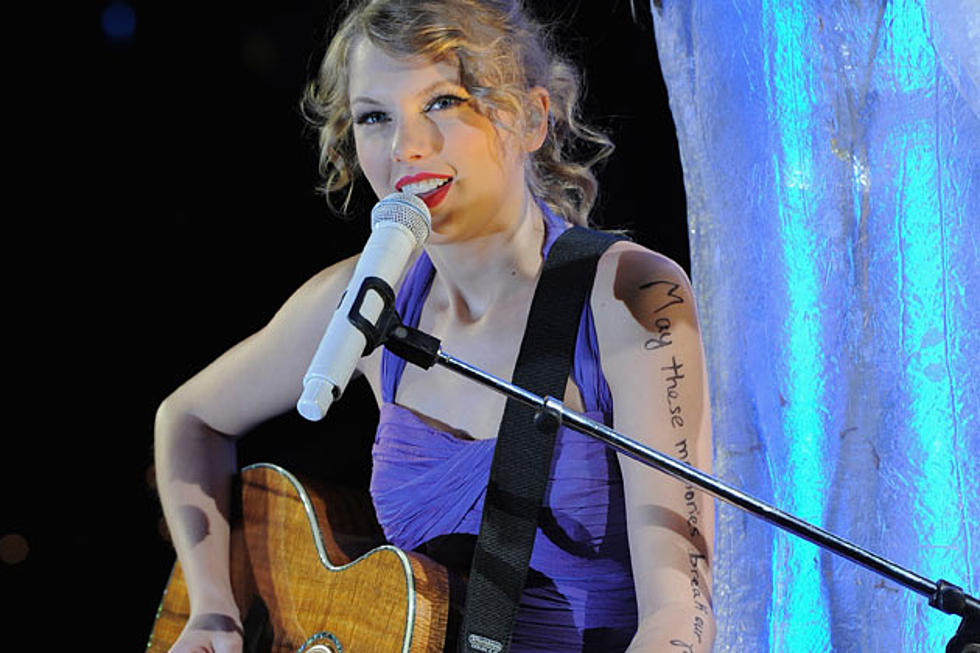 Who Is Taylor Swift's 'We Are Never Ever Getting Back Together' About?
In late October, Taylor Swift will give fans a clue as to who her new single 'We Are Never Ever Getting Back Together' is about when she hides a message in her lyric book. Until then, fans and tabloids will just have to speculate: Who is 'WANEGBT' about?
Many seem to think that the 22-year-old songwriter has penned yet another song about John Mayer, Joe Jonas or Taylor Lautner. Some believe this is the Jake Gyllenhaal song many expect to see on 'Red,' as the high-profile relationship ended post-'Speak Now.' When you piece together clues from the last year, however, we believe the answer is obvious -- the song isn't about any of the above.
The most telling lyric in the song is the dripping-with-sarcasm line, "And you would hide away and find your peace of mind / With some indie record that's much cooler than mine." In an interview explaining the tune, Swift said that one of the mystery guy's friends visited her in the studio and brought up their relationship, which ultimately inspired the song. Of the men listed above, only Mayer would seem to be both interested in woeful indie records and have musical friends in Nashville. However...
Shortly after the spectacular end to the Swift/Mayer 'relationship,' the pop singer disappeared to find himself. Mayer spent two years in seclusion before doing a recent Rolling Stone interview in which he talked about being shocked, angered and 'humiliated' by 'Dear John' -- the song Swift already wrote about him. He simply wasn't around to come crawling back, begging for forgiveness, and his attitude about the whole thing certainly doesn't seem to fit that speculation. Plus, it's not even clear that they were actually boyfriend/girlfriend -- perhaps just talented ships passing in the night, occasionally feeling a spark inside the studio and out.
Swift's past Joe Jonas and Taylor Lautner relationships are simply too dated to be singing about in 2012, plus she already penned the reminiscent 'Back to December' for Jacob from 'Twilight.' Their relationship hardly seemed to be the type that would lead to a spiteful song like 'WANEGBT.' As for Jake Gyllenhaal, he closed the door pretty hard on his growing Swift flame because he apparently couldn't handle the publicity of an A-list match-up. It's difficult to believe he would come crawling back again, although not impossible. What happens away from the paparazzi cameras and red carpets is anyone's guess.
Regardless, all of these romances ended by early 2011, shortly after Swift released 'Speak Now.' Until her time with Conor Kennedy, the singer hasn't been in any confirmed relationships (although there have been plenty of rumors), although she more than hinted that her heart was broken during her spring and summer 2011 tour.
Each night, Swift would choose a different lyric to write on her arm. Taste of Country kept a full list of these arm lyrics through November, and beginning with the May 28 show in Omaha, Nebraska, a tragic narrative begins to form. "I recommend getting your heart trampled on to anyone," she wrote, quoting Alanis Morissette's 'You Learn.'
The next three shows read:
5/29: "Cinderella said to Snow White, 'How does love get so off course?'" (Faith Hill, 'This Kiss')
6/02: "And for one desperate moment, he crept back in her memory." (Tom Petty, 'American Girl')
6/03: "It took a while to understand the beauty of just letting go." (Dixie Chicks, 'Let Him Fly')
Aside from nights when a lyric was chosen specifically to pay tribute to the city she was performing in (she chose an Eminem lyric for Detroit, Michigan, for example) the arm tattoos followed a narrative of a relationship that ends, begins, ends and maybe begins again before three straight 'getting over you' songs in early September.
7/01: "You won't be the songs that I could never write." (Needtobreathe, 'Again')
7/16: "Doing all the things that I neglected, I traded them all in to be in your arms." (Mandy Moore, 'Gardenia')
7/20: "You're someone else's baby, you're someone else's crazy now." (Matt Nathanson, 'Queen of (K)nots')
8/02: "I guess to build yourself up so high you had to take her and break her down." (Keith Urban, 'Stupid Boy')
By autumn, Swift seems to be getting over the mystery man, but who is he? Somehow, they must have kept their romance hidden from the vulture-like photographers for the weeks or months in early 2011 that things were hot and heavy. Her four month-long depression suggests that he made the John Mayer and Joe Jonas heartbreaks look amateur. The timeframe would also be consistent with when she was once again writing songs for her 2012 new album, which has earned the title of 'Red.'
Sure, Swift could just have been choosing songs to draw on her arm at random, but for a woman who enjoys hiding messages in every lyric and liner notes booklet, this idea seems like a longshot. She knew what she was doing and who she was talking to. The trouble is, we don't. He may not even be famous.
More From Taste of Country