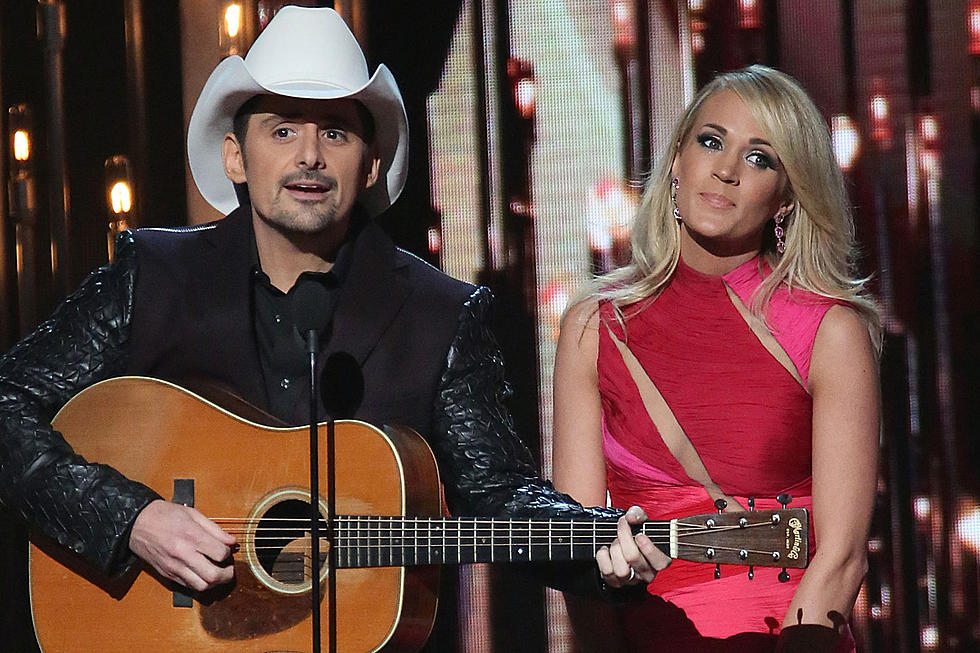 Everything You Need to Know About the 2016 CMA Awards
Rick Diamond, Getty Images
Brad Paisley and Carrie Underwood will return to host the 50th Annual CMA Awards on Nov. 2. During what's sure to be a historic and memorable night, modern country stars will mingle with legends and join millions at home to see who wins Entertainer of the Year.
This is everything you need to know about the 2016 CMA Awards. Not all details have been released — in fact, the Country Music Association typically holds back a few surprises. Remember, it was only hours before the broadcast that fans learned Justin Timberlake would join Chris Stapleton on stage in 2015.
Typically two dozen performances are scattered across three hours of television. There are always surprises and OMG moments, like that one time Paisley revealed Underwood was having a baby boy on national television. Bookmark this page so you know what to expect on Nov. 2. We'll update this page as soon as new details are revealed.
When and Where:
The 2016 CMA Awards will take place inside the Bridgestone Arena in Nashville on Nov. 2 at 8PM ET. The show will broadcast live on ABC.
The Nominations:
Garth Brooks, Luke Bryan, Chris Stapleton, Carrie Underwood and Keith Urban are up for Entertainer of the Year. But the remaining categories include anything but the usual suspects. A few artists (Blake Shelton, Jason Aldean) were shut out, and the nominations leader hadn't even released a single a year ago!
The Performers:
The first performers for the 2016 CMA Awards in Nashville have been announced. Just six names have been revealed thus far, including Underwood, Paisley, Dierks Bentley, Eric Church, Keith Urban and Maren Morris. Expect more legacy artists to be included during a show that pays tribute to the history of country music.
Forever Country:
To celebrate 50 years, the CMA asked 30 country music stars and legends to record a mashup of John Denver's "Take Me Home, Country Roads," Dolly Parton's "I Will Always Love You" and Willie Nelson's "On the Road Again." The resulting collaboration and music video are stunning audio and visual displays. The song likely won't be performed on Nov. 2, but it's difficult to believe such a momentous production won't be at least alluded to.
CMA Awards History:
George Strait is the all-time leader in wins and nominations, while the most wins ever in one night goes to Alan Jackson (2002) and Johnny Cash (1969). And the trophy? It was initially designed to resemble a chart bullet, and these days it's made in Italy and assembled in Nashville. Originally it was made of wood. Here is some more history from the first 49 years of CMA Awards:
More From Taste of Country