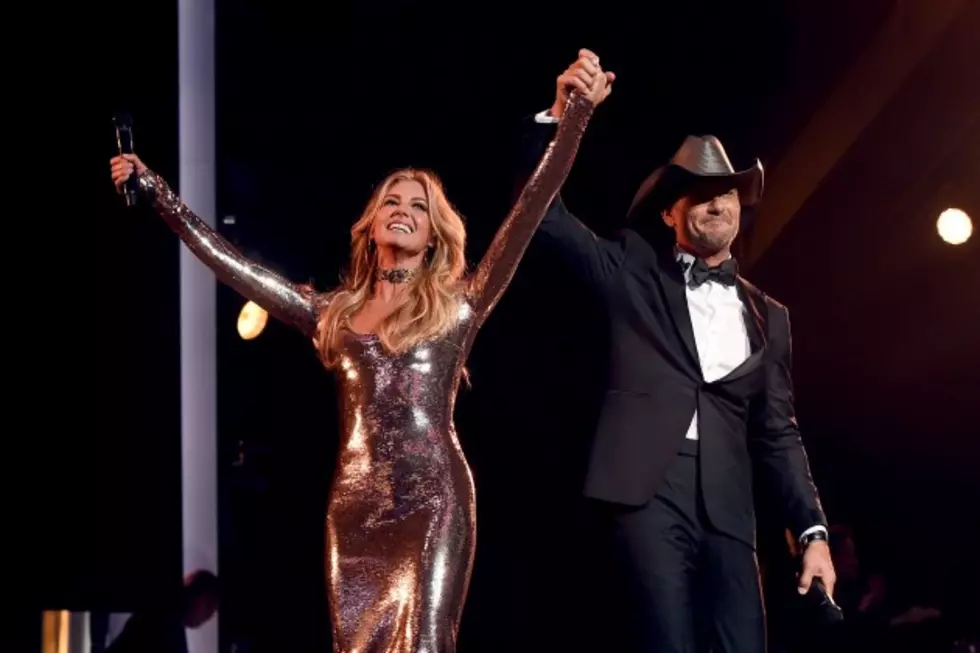 5 Things to Take Away From the 2017 ACM Awards
Kevin Mazur, Getty Images
The 2017 ACM Awards included 23 performances and very few acceptance speeches. The first hour passed, it seemed, before CBS put the 'awards' into ACM Awards, but did anyone mind?
The show was different in ways subtle and non. There was absolutely nothing done to tip a hat to country legends, unless you count Chuck Berry's tribute, which looking back felt forced even if it rocked. The In Memoriam was once again scrapped in favor more music, but be honest: Did you even notice that before right now?
One moment stood above all others, however. There was an action — a single fist-pump — that has the potential to change the course of future awards shows permanently. Warning: if you like your rocks mossy and think "Bro" is a four-letter word, you won't care for this ...
1. Welcome to the Future
This is about awards shows finding the biggest pop star to bring non-country fans to their television sets, but it's also about so much more. Justin Timberlake, Beyonce, Katy Perry, Backstreet Boys ... who's next? We're going to find out in six months when the 2017 CMA Awards roll around. The race is on, but the point is so much bigger: The majority love that this is happening. The next generation of stars didn't leave — they took selfies with the boy band!
And so did the last generation.
The defining moment of the 2017 ACM Awards was Tim McGraw jumping up to celebrate Florida Georgia Line doing Backstreet Boys' original dance from the "Everybody (Backstreet's Back)" music video. McGraw — a man few under the age of 60 will argue is not "real country" — threw his entire self into embracing the spectacle before him. With a fist in the air he smashed the glass on this phony argument over what is, and isn't, country music. It's done. It's over with — the format has chosen 'get busy living!' instead of get busy dying.
2. Mo Music Is Mo Better
The pace of the 2017 ACM Awards was maddening for a country music journalist, or even a team of country music journalists. We couldn't react fast enough, which is great news for viewers. Like the weather in Colorado, if you don't like what you see, wait five minutes. Performance after performance brought today's stars together, and the focus was squarely on the "now." Reba McEntire was the only "legend" who took the stage, and looking back, her song seemed out of place.
Two years ago the ACMs did something similar in Dallas, and it was electric. For some reason the pace slowed in 2016, but Sunday night's show was one of the most enjoyable in years.
3. Thomas Rhett's Time Is Now
Thomas Rhett was the underdog in the Male Vocalist category. The surprise wasn't quite like Chris Stapleton's win at the CMAs in 2015, but result will be the same. There was no bigger winner on Sunday night in Las Vegas. In two years when he's headlining the same venues as Luke Bryan and Jason Aldean and his name is included in the Entertainer of the Year category, think back to him shaking his head, saying "nope" as pregnant wife Lauren looked on with tears in her eyes.
4. Lady Antebellum Are Back!
The trio's performance of "You Look Good" was the night's triple-take moment and our No. 1 moment from the show. Lady Antebellum have struggled to get the same attention they had several years ago, with the result being less successful singles and fewer awards show honors. They needed a big splash, so they called in a few dozen horns and blew away everything but the hair extensions.
5. There's Clear Distinction Between ACM and CMA Awards
The ACMs honored Aldean, Florida Georgia Line and Rhett, three artists that — as much as anyone — have pushed the genre in ways that make traditionalists cringe. This group earned one nomination between them in artist categories at the 2016 CMAs (FGL for Vocal Duo of the Year, but Rhett's "Die a Happy Man" also picked up Single of the Year).
Both are major awards shows that try to balance country music history and the future, but sometimes they're too much alike. Right now, the ACMs are the younger, hipper brother to a very successful and well-respected CMA Awards. Neither is "better" per se, but there are differences ... and that's very interesting.
Top 5 ACM Awards Moments
See the Best Pics from the 2017 ACM Awards Red Carpet
Watch: Country Music's Next Generation
More From Taste of Country