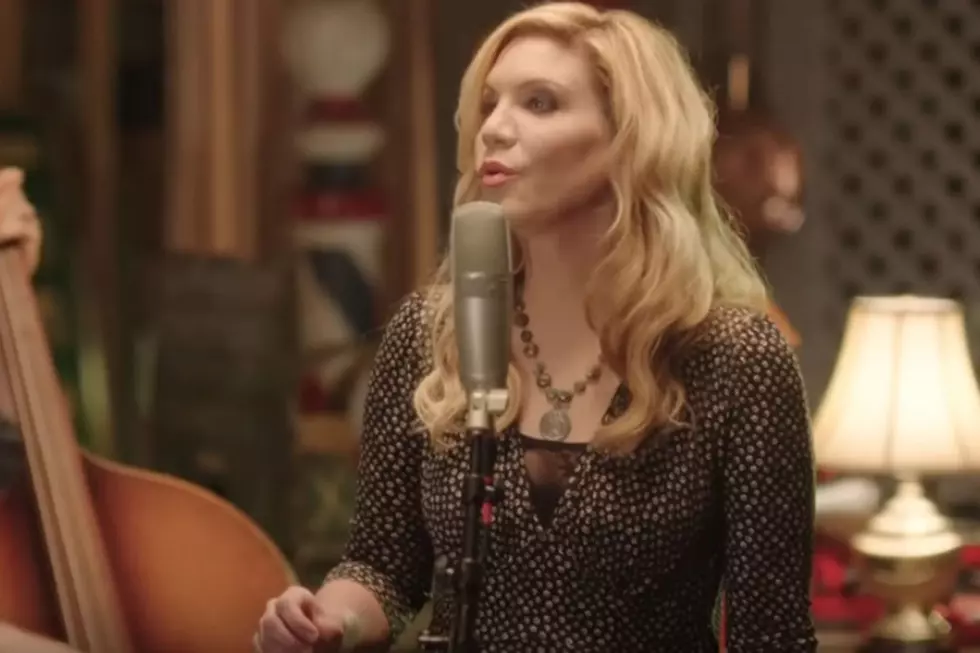 Alison Krauss Transports Listeners Back in Time on 'Losing You' [Exclusive Premiere]
Cracker Barrel Old Country Store / YouTube
Alison Krauss will be releasing Windy City on Friday (Feb. 17), and she's giving Taste of Country readers the first look at a special performance of one of the tracks, "Losing You."
Her first solo project in nearly 18 years, Windy City has the singer partnering with producer Buddy Cannon as the two selected 10 songs for Krauss to cover for the release. While some are popular country standards, others are more obscure.
"Some of these tunes weren't well known," Krauss tells Taste of Country by phone. "They weren't big songs. They are [songs] I have a connection to."
The title track, "Windy City," is a bluegrass song featured on the Osborne Brothers' 1972 album Bobby and Sunny. Krauss says it's the first song she ever heard the Cox Family sing together when she met them. Another song, "Losing You," premieres exclusively with Taste of Country today.
"Losing You" was originally recorded by Brenda Lee for her 1963 album Let Me Sing. In an exclusive video as part of Cracker Barrel's Warehouse Sessions, Krauss is joined by a three-piece band. Two of the players -- guitarist Ron Block and bassist Barry Bales -- have played with Krauss for over 25 years now, while she praises pianist Matt Rollings, also featured, as being "one of the most empathetic musicians."
Krauss says "Losing You" was one of the first songs she and Cannon selected for the project. She first heard the song while sitting in Cannon's office and says she thought it had "a perfect sentiment."
"I loved that song and I thought it fit me, the message of it. I love a heartbreak song like that. I thought it was a really beautifully feminine song. Brenda Lee cut it originally and it's incredible, when she sang that. My son and I, we were driving around listening to these songs and he said, 'I don't think you can do that. There's no way you can touch that.' I was like, 'I know. It has to be different,'" she recalls with a laugh.
See All Albums Set for Release in 2017
Krauss says if singing the song didn't feel natural, then she wouldn't have selected it. She adds that the story of the song "felt very true" to her and the lyric made sense.
"If you have to contrive something to make it work then it's not a good fit," she explains. "There's only one Brenda in the entire world. To try to imitate that would be a mistake. It was a natural story for me and I think it's an exquisite song."
Recording the song live at Cracker Barrel brought back memories for Krauss. The antique items hanging throughout the studio had her nostalgic for her childhood as she recognized much of the memorabilia on the walls.
"We grew up in traditional music [so] you have a reverence for the past and you don't want things to change. When you walk into something like that Warehouse where everything is decorated from things your grandparents' and an older generation, there is such a mystery and familiarity at the same time," she notes. "It's a romantic environment. We all have grown up appreciating things from the past. I grew up going to antique shows and flea markets every weekend with my parents so there are a lot of memories."
Much like the Warehouse, Krauss' album brings listeners back in time, even the singer herself. One of the tracks that holds deep meaning for her is "It's Goodbye and So Long to You." The album's version includes background vocals from Dan Tyminski and Hank Williams, Jr., and Krauss reminisces of seeing Hank Jr. perform at her local country fair as a child.
Krauss says she grew up with the song, recorded by the Osborne Brothers with Mac Wiseman in 1979. While recording it for her album she was transported to the bluegrass festivals she used to attend, and remembers hearing the Osborne Brothers play the song with three fiddles.
"When we ended up cutting the track, it reminded me the feeling of the country music that I grew up hearing. When I would go to the fair, there would be a lot of people who would come through Champaign, Ill., where I grew up, and play at the county fair. TG Sheppard would come through there, Eddie Rabbitt, Merle [Haggard], Hank Williams, Jr.," she recalls. "It brings back childhood memories and that romance of those times and the musical connection. Everybody gets pulled back in time when they hear songs from the past, and it's interesting when songs take on new meaning when you hear them in the studio and you're connected with it. It's new for you but it brings you back."

Alison Krauss, "Losing You" Lyrics:
Don't sigh a sigh for me / Don't ever cry for me / This is goodbye for me / I know we're through / I'm losing you
Love sang it's song for me / Then things went wrong for me / Nights are too long for me / Because I'm losing you
Our love and our devotion / Were deep as any ocean / Then one day like the tide you began to change / And you became a perfect stranger
Someone is holding you / Sharing the lips I knew / I can't believe it's true / That I am losing you
I can't believe it's true / That I am losing you
Most Anticipated Albums of 2017
More From Taste of Country