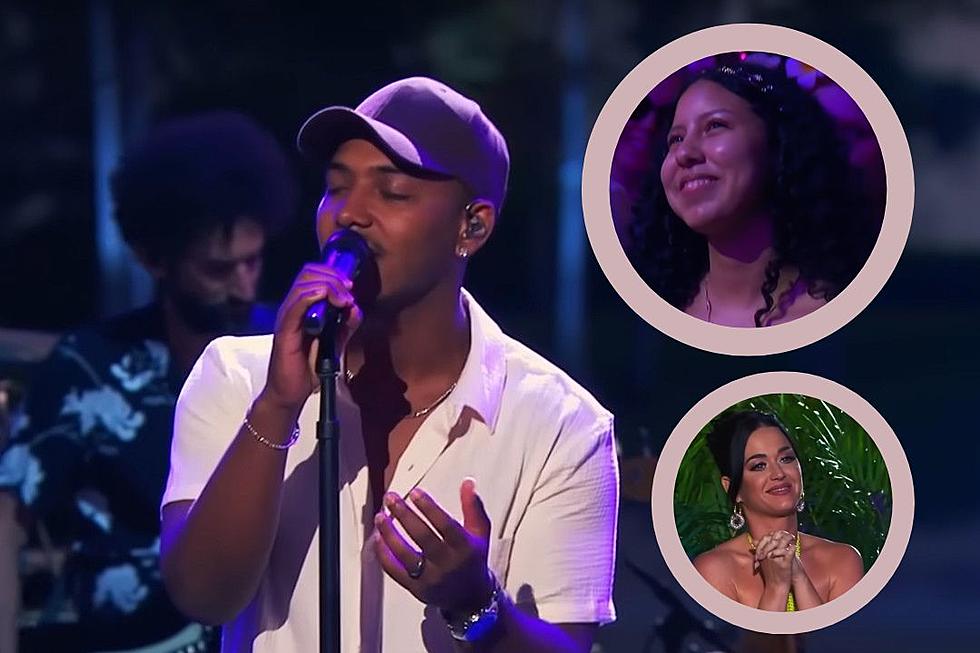 'American Idol:' Matt Wilson Serenades His Wife — and America — With Dan + Shay's 'Speechless' [Watch]
YouTube
R&B singer Matt Wilson dipped into country territory on the latest episode of American Idol on Sunday night (April 16), performing a vocal run-filled rendition of Dan + Shay's romantic hit ballad, "Speechless."
The duo's brand of vocal-forward country pop wasn't too much of a stretch for a singer with soul leanings, and Wilson handled the song's sky-high vocal runs expertly, delivering a bluesy groove that had the live audience swaying along. But it was the personal backstory that truly put this performance over the top: Dan + Shay were inspired by their respective wives to write "Speechless," and Wilson's version was a serenade to his own wife, Melisa.
Melisa smiled adoringly from her spot in the crowd as Wilson sang, and at the conclusion of the song, he walked over to her and knelt down onstage, grabbing her hand as he sang the final bars.
Melisa has been a big part of Wilson's Idol journey from the get-go: It was her who pushed him to audition for the show.
"It's been a long time since I really dreamed, and I feel like she's the reason why I started to dream again," Wilson explained during his audition.
It was the perfect episode for a soaring, fairytale-esque cover, as the contestants of Idol were performing from their most idyllic location yet this season: The Top 26 headed to Aulani, a Disney Resort & Spa, nestled in the scenic beaches of Ko Olina, Hawaii. Their performances there will be narrowed down by America's first open vote of Season 21.
After living voting on Sunday night's episode, the rest of the Top 26 will perform from the Aulani stage on Monday night (April 17.) The results of the vote will be revealed next week, when three contestants will be sent home.
American Idol airs on Sunday and Monday nights on ABC.
14 'American Idol' Singers Who Secretly Hooked Up — Or Did They?
At least two couples who met through
American Idol
got married, while one more could be headed in that direction. Not all
American Idol
hookups have a happy ending, however. Here are seven of the most talked about meet-ups, plus the
real
scoop on how serious things got.
PICTURES: See Inside Carrie Underwood's Beautiful Post-'American Idol' Home
Carrie Underwood invested her money wisely after winning American Idol in 2005. One of her first big purchases was a 3,099-square-foot home in the well-to-do Nashville suburb of Franklin, Tenn. Underwood paid $384,000 for a luxurious 3-bedroom, 3.5-bathroom stone and stucco home in a private gated community.
The house features a library, a vaulted ceiling and lovely amenities throughout, but while it's very nice, it's certainly not the kind of home you'd picture for a budding country superstar. Underwood wound up being a huge success right out of the gate with her debut album, Some Hearts, and she sold the home in Franklin for $372,500 in 2007, when she purchased the Brentwood mansion that she would later share with her husband, Mike Fisher.
More From Taste of Country