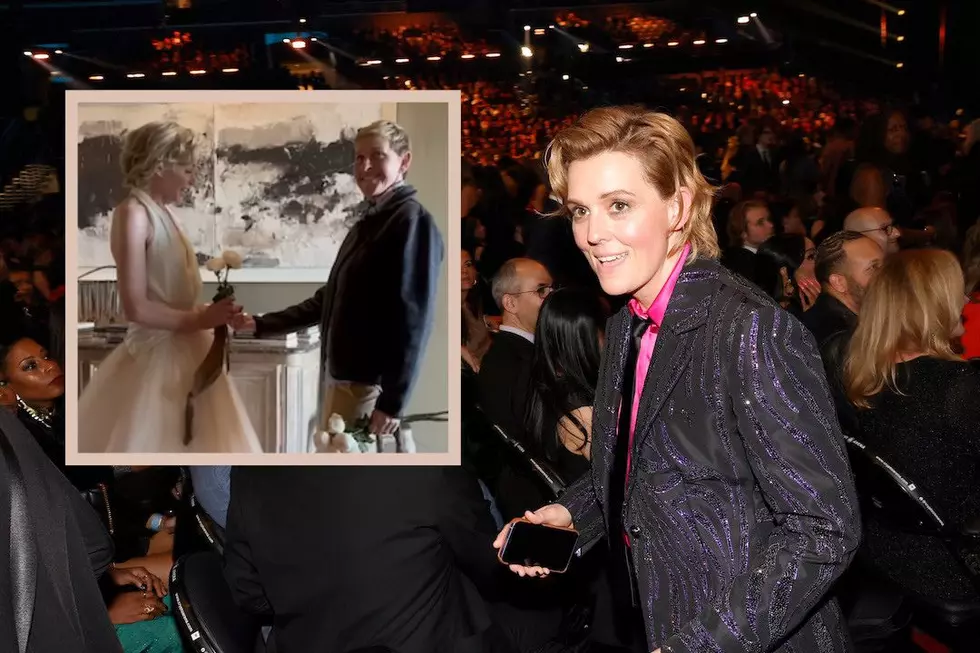 Brandi Carlile Sings at Ellen DeGeneres' Surprise Vow Renewal to Wife Portia De Rossi [Watch]
Frazer Harrison, Getty Images/YouTube
Brandi Carlile played wedding singer to Ellen DeGeneres and Portia De Rossi recently, when the couple — who have been married for 14-and-a-half years — renewed their vows.
The vow renewal ceremony came as a complete surprise to DeGeneres, as Rossi surprised her wife in the middle of a party celebrating Rossi's 50th birthday.
The event was nothing short of star-studded: Actors Jennifer Aniston and Gwyneth Paltrow were just two of the celebrities in attendance, and Kris Jenner officiated the vow renewal ceremony. Carlile was originally only planning on being an attendee at the event, but De Rossi took her aside ahead of time and asked her to sing a few bars of Roberta Flack's "The First Time Ever I Saw Your Face" as she walked out and surprised DeGeneres in a wedding dress.
"I was just an attendee and Portia was like, 'Can you just burst into the first verse of 'The First Time I Saw Your Face,'?' And I was like, 'Absolutely, that's what I do," Carlile told ET on the carpet of the 2023 Grammy Awards on Sunday (Feb. 5).
"So in front of these, like, mega-celebrities, I just had to go at the top of my lungs, 'The first time...' and they were looking at me, like, 'Does Brandi need some attention right now?'"
But it was all for a good cause: Carlile explains that De Rossi and DeGeneres have long been good friends to her and her wife, Catherine Shepherd.
"It was actually a beautiful thing to witness," she says of the vow renewal ceremony. "We love them. They are our sisters."
Plus, that star-studded guest list afforded Carlile the chance to rub elbows with another couple who are very far outside of the country circle: Prince Harry and Meghan Markle. Carlile says she and Shepherd got the chance to not just meet the royals, but have a long conversation with them at the event.
"We talked to them for a long time — like, British accents, talked about the enneagrams [personality test]," Carlile recounts. "They just really felt like normal, decent, good-humored people. We just had a great chat."
At the 2023 Grammy Awards, Carlile collected three trophies. Her song, "Broken Horses," won Best Rock Performance and Best Rock Song, and her album In These Silent Days, won Best Americana Album.
PICTURES: See Country Stars Walk the 2023 Grammy Awards Red Carpet
Carly Pearce, Brothers Osborne and more country stars walked the red carpet ahead of music's big night on Sunday (Feb. 5.)
More From Taste of Country