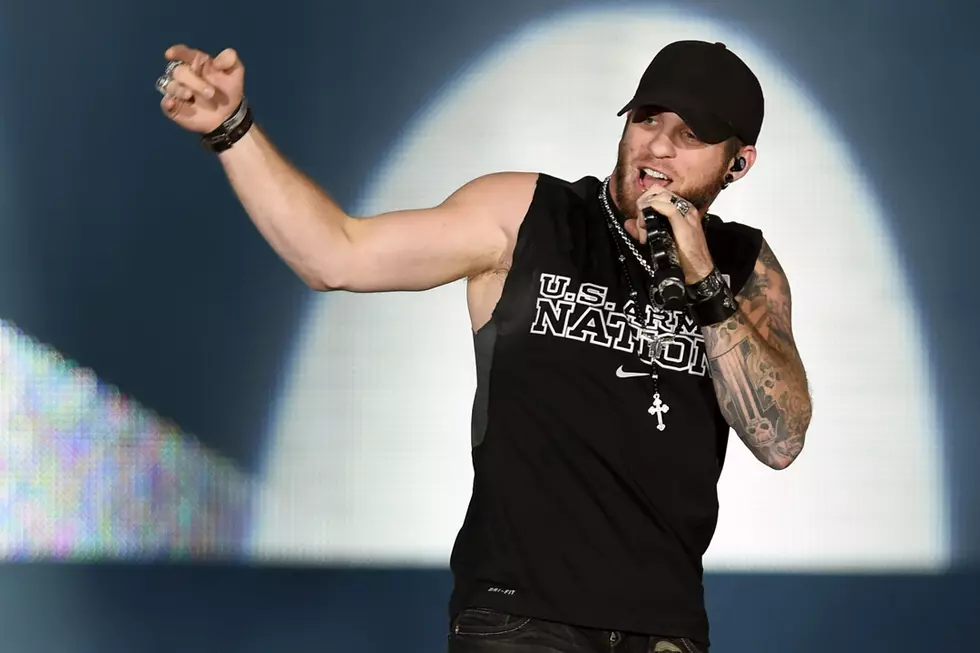 Brantley Gilbert Gets Double-Pistol Back Tattoo
Ethan Miller, Getty Images
Brantley Gilbert had two black antique pistols tattooed on his back earlier this week. A new photo shows one with the singer's "BG" logo carved into the burnished silver grip. The other gun has a cross on the handle.
On Monday (Feb. 23), the "One Hell of an Amen" singer shared a picture of tattoo artist Carl Grace inking something on his back. "So my boy Carl Grace came by ... because it was Monday," he says.
As it turns out, the design for the tattoos laid on the rustic table, just below an actual pistol. It appears the tattoo may have been designed using two of Gilbert's guns. He's an enthusiast, previously insisting that he be allowed to carry his two 1911 pistols in the music video for "Bottoms Up."
Grace revealed the finished piece of art (scroll down to check it out) just after 12AM CT on Tuesday morning. Both guns point down the center of Gilbert's back. They're nearly identical, with only the grips and some insignia on the right gun distinguishing the two.
The country star is no stranger to ink. His left arm is covered, including a heaven and hell scene on his shoulder that commemorates his life-threatening accident from the mid-2000s. In 2012 he attempted to count them all during an appearance on Country Countdown USA with Lon Helton. There's a crown of thorns on his back in addition to ink on his rib cage that has "Brothers" written in the center.
"There are a few other people in my life who have that same tattoo," he says.
The BG logo, skulls, flames and brass knuckles round out Gilbert's body gallery, and that was as of 2012! It's difficult to believe the singer is through after Grace's work. Learn all about the aforementioned accident in the video below.
Learn All About Brantley Gilbert and His Frightening Accident
More From Taste of Country