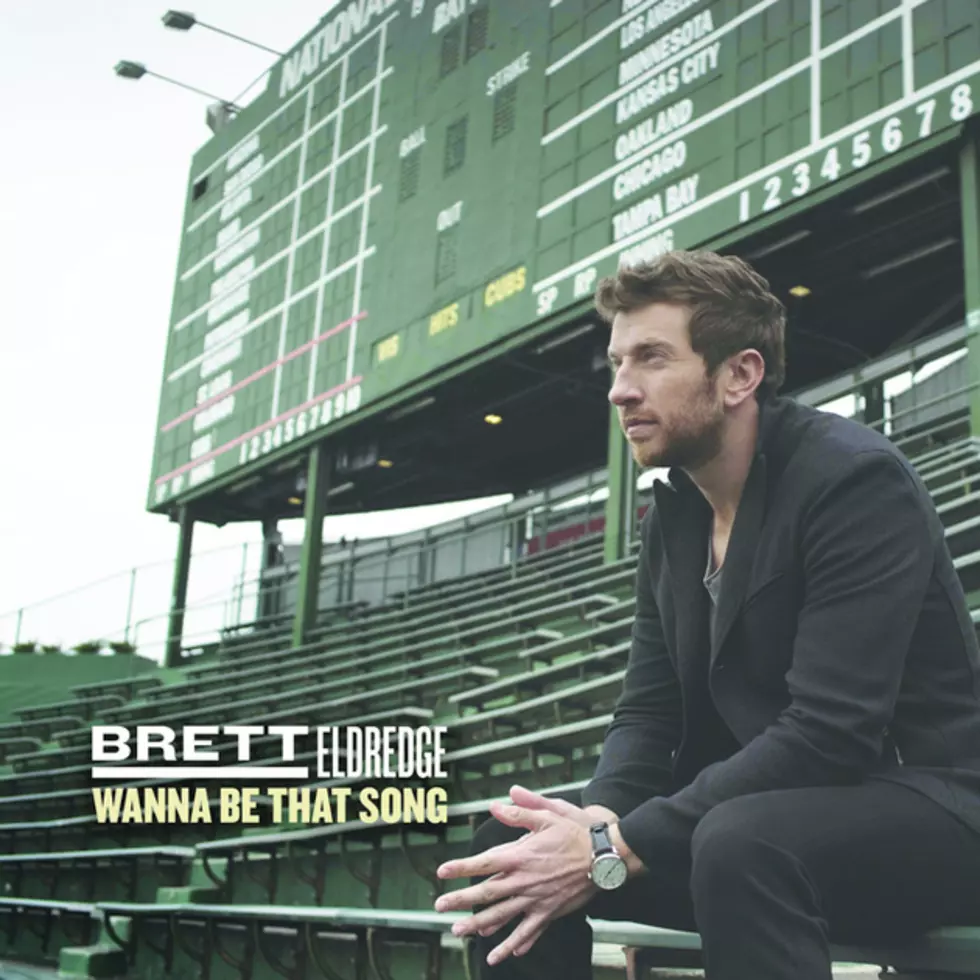 Brett Eldredge, 'Wanna Be That Song' [Listen]
Warner Music Nashville
Brett Eldredge's "Wanna Be That Song" speaks to a higher audience. The country crooner is willing to pass poetry off as country music, and his fans and country radio are better for it.
The third single from Illinois isn't obvious. Sure, it's a love song, and Eldredge's commanding performance is as convincing as ever. But it takes a few close listens to appreciate his metaphor. A slow, sparse production around each verse gives his voice plenty of room to impute the subtle emotions that come with every word of "Wanna Be That Song." The chorus turns everything up to 10, creating a cathartic see saw that fans will feel even if they can't quite understand the nuances of his lyrics.
Power ballads on the brink of summer are dangerous, unless you're a superstar artist (Eldredge is not, yet) or the song is absolutely irresistible. Fans will decide if that's the case over the next several months. At first they'll be split between those who ferociously love it, and those who don't quite understand the depths of "Wanna Be That Song" entirely.
Did You Know?: This is the second song Eldredge has recorded that he wrote with Scooter Carusoe. The other is "Mean to Me" from his debut album.
Listen to Brett Eldredge, "Wanna Be That Song"
The Best Songs of 2016 So Far? See Our Picks
Brett Eldredge, "Wanna Be That Song" Lyrics:
"The radio and a sundress / Making my world all a mess / Back corner of a cornfield / Bottle tops and a truth spill / Pull the lever, lay the seat back laughin' / You slippin' off your shoes / While the dashboard speakers sing every word of 'Night Moves.'"
Chorus:
"I wanna be that song that gets you high / Makes you dance, makes you fall / That melody rewinds years / 
Ones disappear, makes time stall / Wanna be those words that fill you up / Roll your windows down and keeps you young / Makes you believe you're right where you belong / I wanna be that song / I wanna be, wanna be, wanna be, wanna be that song / Oh, I wanna be, I wanna, I wanna."

"I wanna stand with you in the third row / Window booth at a bar / Back pew on a Sunday pourin' out your heart / When the bleachers are crowded / When you're sittin' all alone / When the rain is pourin' and you need something to take you home."
"When you're searching the horizon / When your eyes look back / When you're standing in the moment / Every life has a soundtrack."
"When the highway's calling / When the bottle's dry / When the sky is falling and you're asking yourself why / Oh, oh, I wanna be, yeah, oh."