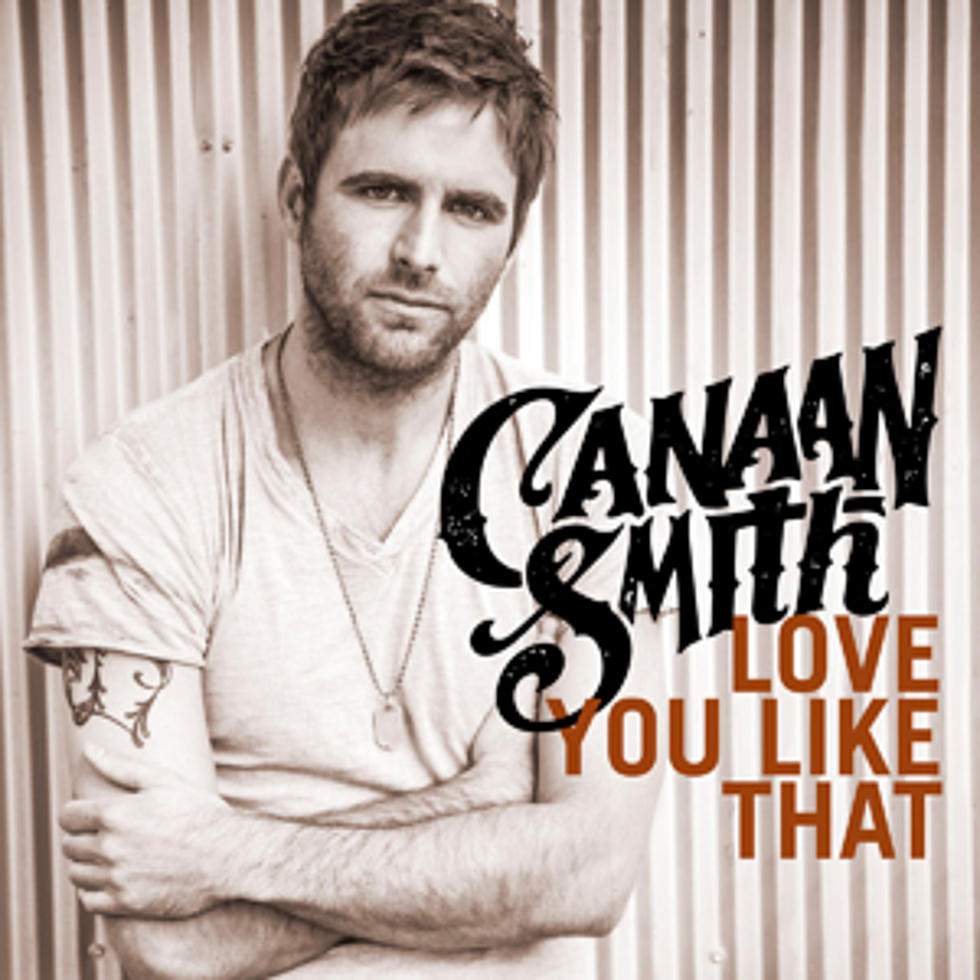 Canaan Smith, 'Love You Like That' [Listen]
Mercury Nashville
Canaan Smith's 'Love You Like That' finds a home between modern country that haters love to ridicule and the traditional sound that helped build Nashville. Vocally, Smith's voice has all the grit of a glass of chardonnay, but he turns in a performance that's honest and seductive.
The Virginia native penned the song with Brett Beavers and Jim Beavers. The trio's lyrics are colorful, familiar and lasting. The metaphors they use throughout the chorus are sharp and effective, and Smith wraps his arms around this love story like he's saying goodbye at the airport.
"The way I wanna kiss you is / Slow as the Mississippi, strong as a fifth of whiskey / Steady as a Tom Petty track / I wanna love, wanna love you like that," he sings.
Emotionally, the love song hits like a shot of Jack. The production fits Smith's natural tendencies. He comes across as a sweet kid with a little bit of a rough edge — a tattooed Romeo in need of someone to settle down with. Perhaps that's just an assumption built upon the first verse of 'Love You Like That,' but it fits.
"Hey girl, I'm just a small town run around / I get my kicks out on the outskirts of town / I could never do it like a pretty city boy / I'm more a fishin' in the dark, nitty gritty boy."
Smith's first single 'We Got Us' came nearly three years ago. Then he was a sweater-clad, coffee shop picker with a clean chin and sweet blue eyes. Now married with a bit more scruff and a love of sleeveless T-shirts, he's a more interesting vocalist with a better story to tell.
Why Fans Will Love It: Lyrically, this love song uses familiar references to take a listener deep into his or her own personal love story.
Key Lyrics: "Deeper than a sunset sky / Sweeter than muscadine wine / All night 'til the sun comes back / I wanna love, wanna love, wanna love you like that"
Did You Know?: Smith's high school has quite a few notable alumni. Members of rock bands GWAR and Lamb of God graduated from Lafayette High School in Williamsburg, Va. So did NFL Hall of Famer Lawrence Taylor.
Listen to Canaan Smith, 'Love You Like That'
Watch the Best of Country 2014 (So Far)
More From Taste of Country