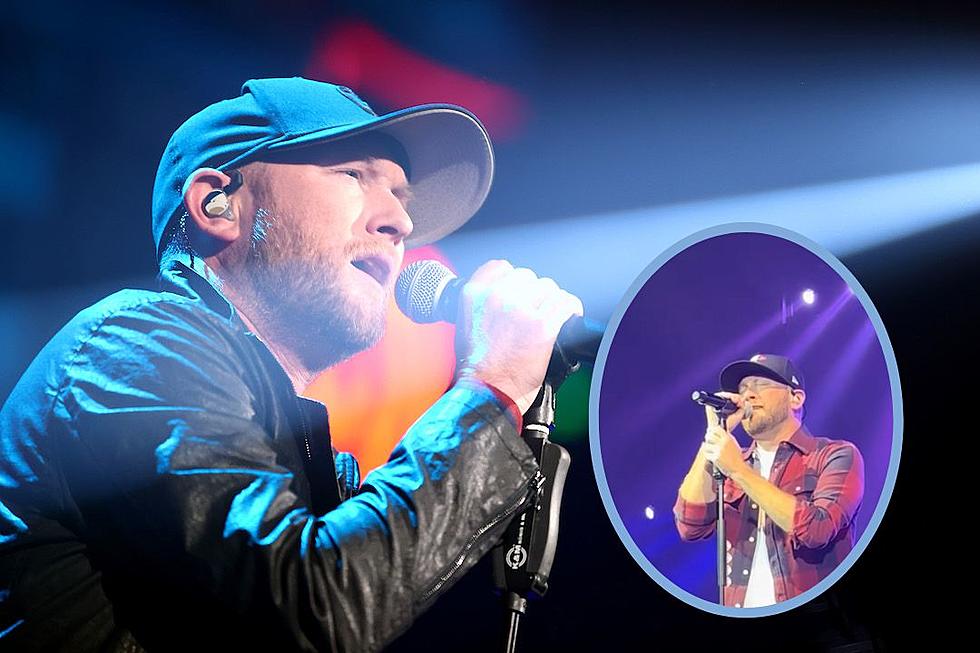 Cole Swindell Nearly Breaks Down Singing a New Song for His Late Mom [Watch]
Matt Winkelmeyer, Getty Images/TikTok
Cole Swindell is no stranger to performing searing, personal ballads about loss. Still, during a recent performance of an unreleased track called "Heads Up Heaven," he struggled to finish the song without breaking into tears.
The "She Had Me at Heads Carolina" star was onstage performing the final stop on his headlining Twelve Tour on Saturday, Nov. 4, when he told the crowd he wanted to perform an unreleased tune called "Heads Up Heaven."
It isn't quite a brand-new song — Swindell performed it at Nashville's Ryman Auditorium in late 2022 — but he's yet to put it on an album. Plus, as the singer cautioned fans before he sang, the subject matter is still pretty raw.
"You know, I lost my mom a couple years ago," he explained. "I know I'm not the only one in here that's probably been through that. But I wrote this song and ... [we're] gonna try and get through this thing. I can't ask for your help because I know y'all don't know the words. But I hope you love it and I hope it makes you think of somebody you're missing tonight."
Swindell's mother, Betty Carole Rainey, died in September 2021. The singer announced her death on social media but didn't share details.
"Lost my sweet Mom today. I know she's up there. Gonna miss her so much," he wrote on an Instagram Stories slide.
In the lyrics of "Heads Up Heaven," Swindell imagines his mother's ascent up to the afterlife and gives the occupants of Heaven a few clues as to what they can look forward to once she joins their ranks.
"Bet she's gonna make her way straight to the kitchen / Praying with you over gravy and biscuits / I can still taste 'em, I already miss 'em / Guess I just wanted you to know what you're getting," he sings in the first verse of the song.
Swindell had warned fans that it would be tough for him to get through the song without getting emotional, and sure enough, his voice starts to get shaky in the final lines of the song.
"Heads up heaven / I know it's been a minute / You've got a waitin' line / I've got somebody in it / There's never been a better reason to open the gate," he sings in the final chorus. "I'm just havin' trouble lettin' go / Of the one who told me 'The Bible tells me so' / She's always wanted to meet you face to face / Heads up heaven, there's a good one headed your way."
Betty Carol Rainey died eight years after Swindell lost his father, William Keith Swindell. The elder Swindell died unexpectedly in 2013, just as his son's country music career was taking off, and he is the subject of Swindell's hit ballad "You Should Be Here."
Every Cole Swindell No. 1 Hit, Ranked
From "Chillin' It" to "She Had Me at Heads Carolina," we've ranked every No. 1 hit from
Cole Swindell
.
Gallery Credit: Lorie Liebig
More From Taste of Country