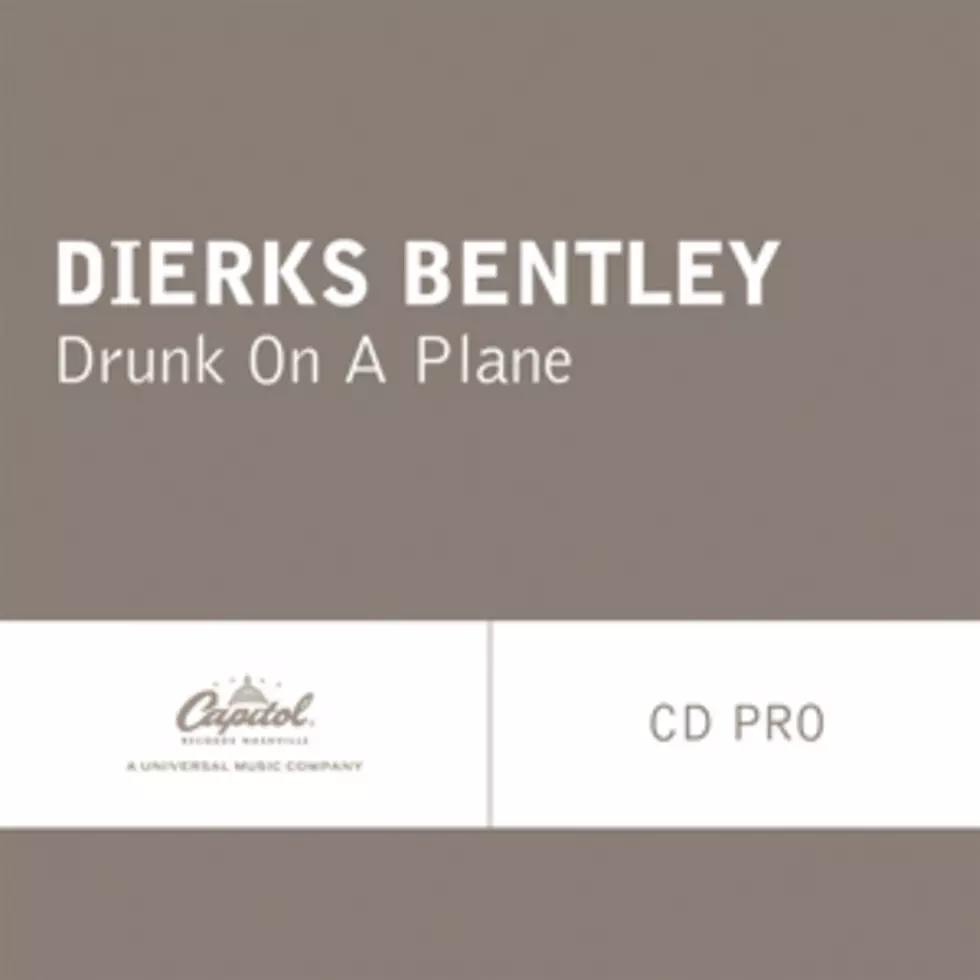 Dierks Bentley, 'Drunk on a Plane' [Listen]
Capitol Nashville
Dierks Bentley's new song 'Drunk on a Plane' is a change of pace for a singer preparing to celebrate the chart-topping success of 'I Hold On.' Both songs come from his life story, but the new track is more of a dark comedy than a drama.
Bentley co-wrote the song with Chris Tompkins and Josh Kear. He's never been left at the alter but that doesn't mean he can't relate to the rejection (see below). Fans will hear the connection at the chorus, which is cautiously funny.
"Buyin' drinks for everybody / But the pilot, it's a party / Got this 737 rockin' like a G6  / Stewardess is somethin' sexy / Leanin' pourin' Coke and whiskey / Told her about my condition / Got a little mile high flight attention," he sings.
The story begins with his character taking the flight to Cancun that he was supposed to take with his wife. "I feel like a plastic groom alone there at the top of the cake / So hey, I'm gettin' drunk on a plane," Bentley says. The song is full of memorable lines, but that may be the best.
"On my way home I'll bump this seat right up to first class / So I can drink that cheap champagne out of a real glass / And when we land I'll call her up and tell her kiss my, yeah, you know / 'Cause hey, I'm drunk on a plane," he sings during the third verse.
A song as light as 'Drunk on a Plane' doesn't usually go past four minutes, but perhaps this final dig warrants it. Perhaps as much as the lyric, the production of this song will separate it from others on the radio. A heavy, almost crying, keyboard adds drama and a little bit of tropical intrigue. One's not really sure how to feel through most of the song, which may be the point.
Why Fans Will Love It: The funny chorus comes after dark verses, allowing this song to satisfy on two different levels.
Key Lyrics: "I'll try anything to drown out the pain / They all know why I'm gettin' drunk on a plane"
Did You Know?: Bentley has never been left at the alter, but he has been turned down for a marriage proposal. "All you can do is pray there's a good return policy for the ring, get drunk and carry on," he says.
Listen to Dierks Bentley, 'Drunk on a Plane'
More From Taste of Country