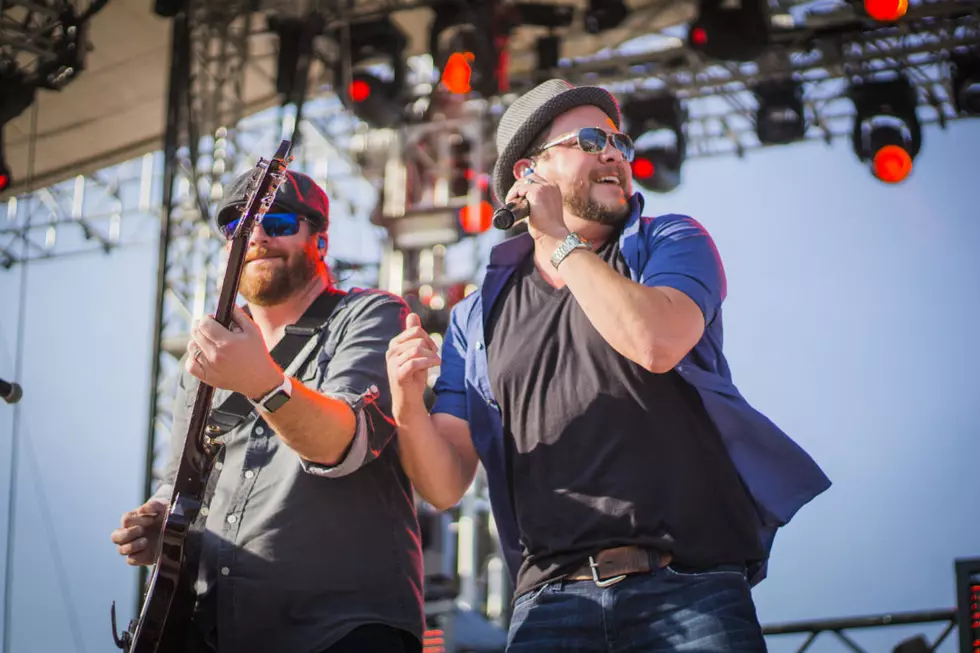 Eli Young Band Warm Up Country Jam Crowd With Drinking, Love + Cover Songs
Ciara Carver
Who's tired? Not the thousands of fans who stood, sang, danced and clapped for Eli Young Band's Sunday evening (June 21) set at Country Jam 2015. The sun was still out, but the temperature had dropped just a tad from earlier in the day, when it flirted with triple digits. The four-man-band took the stage and quickly got fans pumped up with "Drink You Up," "Revelations" and "10,000 Towns."
"This is the moment where we're all tested," said frontman Mike Eli. "If you don't know the words to this next song, you've been living under a rock." The guys then played a popular cover, David Lee Murphy's "Dust on the Bottle," before singing their own "Dust." Other covers toward the end of their set included Tom Petty's "Learning to Fly" and Garth Brooks' "The Thunder Rolls."
Of course, the band also did the title track from their new EP, Turn It On, followed by "Always the Love Songs." "I feel like I'm sitting around a bonfire in Texas," Eli admitted. Numerous mini American flags were waving in the air during "Prayer for the Road," which was dedicated to "those of you out there that have served your country." American Pride floated through the air on Country Jam's final day.
"Tomorrow morning some of you will wake up with a headache ... I pray that you can think of us and smile," Eli encouraged. The crowd cheered as "Drunk Last Night" began to fill Grand Junction. "Your Place or Mine" soon followed.
Before "Even if It Breaks Your Heart," the Texan frontman told a quick story about his dad, as it was Father's Day. "I remember that moment when I first saw Garth Brooks. I told my parents, 'That is what I want to do,'" Eli recalled. "My dad said, 'Boy, I've been working 3 jobs the past 10 years so you could go to college. If you don't go to college, I will kick your a--.'"
"Happy Father's Day!" the singer joked. "I went to college, and we all met and started a band. We were terrible students, but we were there ... This is for all of the dreamers out there."
Eli Young Band played just before headliner Toby Keith closed out Country Jam 2015. "I want to thank Toby Keith, his band, and his crew for putting up with our drunk butts!" Eli remarked. "They've seen our crazy. Now we'd like to see your crazy." The group wrapped their show with a hyped performance of "Crazy Girl."
Watch Fans Sing Along to a Tim McGraw Hit at Country Jam
More From Taste of Country