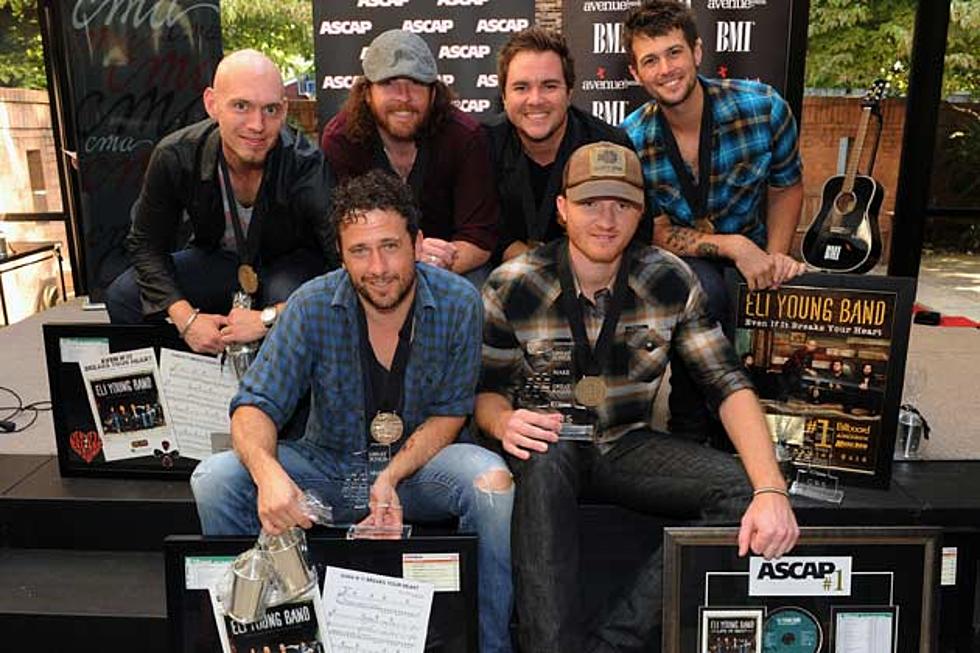 Eli Young Band Celebrate 'Even if It Breaks Your Heart' With Friends in Nashville
Eli Young Band spent their Monday afternoon celebrating their latest chart-topping hit, 'Even if It Breaks Your Heart.' The band, as well as the song's two writers -- Eric Paslay and Will Hoge -- gathered at Nashville's CMA headquarters to honor the song and all the key people who helped take it all the way to the top.
Although it's a song the Texas-based band didn't write themselves, the words ring true for them in every way. The song speaks of the long journey to (hopefully) succeed in the music business, overcoming hardships along the way.
"With us and the 13-year thing [of waiting for our big break], we never felt like it was a struggle," the band's frontman, Mike Eli, told Taste of Country at the party. "Looking back, it was definitely sometimes a bit of a struggle, but I think we were always real positive about where we were going, even though it seemed like it was somewhat daunting at times, we were still moving forward and not really taking steps backwards. We had some doubt times, but for the most part, I think this song is one of those tunes that makes all those years of working hard worth it."
For Paslay, this is one of three of his songs in just a year's time that has topped the charts, the first being Jake Owen's 'Barefoot Blue Jean Night,' and the most recent being Love and Theft's 'Angel Eyes.'
"It is wild ... I can't stop grinning and going, 'What the heck is going on?'" Paslay admits. "It's cool that people are getting to hear [the songs I write]. I really don't know what to say about it because I'm 3-3. It's humbling in a great way, and it's pretty wild."
While guests in attendance waited for the presentations to be underway, they enjoyed a snack bar complete with grapes, assorted nuts, jelly beans and pastries, as well as a full bar. As a little token to remember the special day, custom guitar picks with the name of the song printed on them were scattered across the tabletops.
Eli Young Band are also hoping to go 3-3 with the release of their latest single, 'Say Goodnight,' which is at radio now.
More From Taste of Country