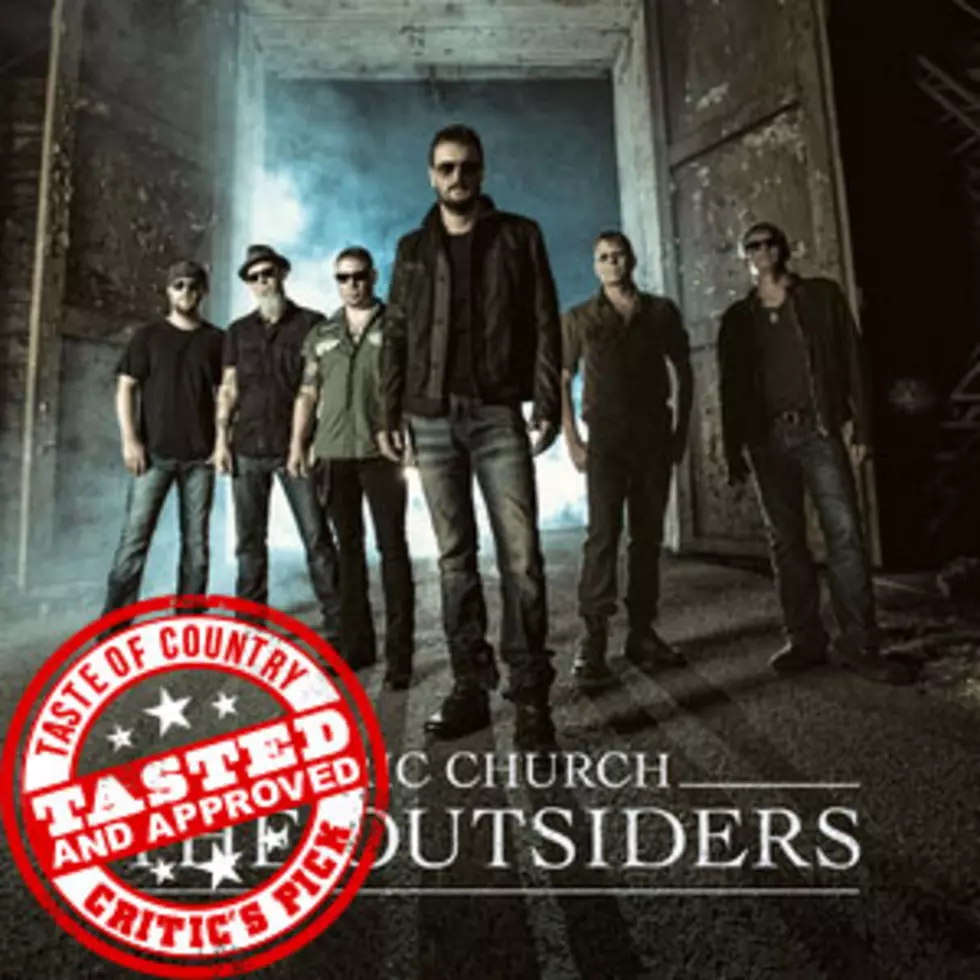 Album Spotlight: Eric Church 'The Outsiders' – ToC Critic's Pick
EMI Nashville
There may not be another 'Springsteen' on Eric Church's new album 'The Outsiders,' but one of the best tracks from the eclectic, aggressive, 12-song project shares a title with the something the Boss is known for.
'Like a Wrecking Ball' is nothing like Bruce Springsteen's 'Wrecking Ball' album, and it's really like nothing else on 'The Outsiders.' Each cut grooves along to an industrial sort of beat. This love song -- the hottest Church has ever cut -- leans on a thin electric guitar and Hammond B3 organ.
"I wanna rock some sheet rock, knock some pictures off the wall / Love you baby like a wrecking ball," Church sings during this song, one that's as sharp lyrically as anything he's ever done.
"That whole house is gonna be shakin' / I hope those bricks and bolts can take it," he adds.
Track No. 7 is as good a place to start as any, but it doesn't represent the album. There are too many moods and grooves to choose one signature track. A bass-driven, rhythmic thread and intensely personal lyrics are what one will take away. 'The Outsiders' is the most personal and angriest of Church's four studio albums.
After the title track, the singer's snarl manifests during much of the last half of the album. There's 'That's Damn Rock & Roll,' a slap at drug-addled sissies who hide behind makeup and beautiful women. There's 'Dark Side,' a raw threat to anyone thinking about messing with Church's family.
And then there's 'Devil, Devil (Prelude: Princess of Darkness).' This is the song people will be talking about. At over eight minutes, Church recites a speech he penned about the evils of Nashville in the Opry Mills Mall parking lot as his band vamps beneath him.
It's an opus that finds the singer battling competing emotions before coming to a stark conclusion: "The devil walks amongst us / And Nashville is his bride," he bristles. The first three-and-a-half minutes are worth disecting. His words are controversial, but brilliant.
"Like a beacon she will seek and see / Her loins so fertile / To a free man she's a prison / To a caged one she's a file," he says early. "It's not all bad, it's not all dark / It's not all gloom and crass / But to find gold in this silver mine it does take balls of brass," he adds before a few R-rated lines and, "No matter how satisfied her screams sound she always wants someone new."
Because of its size and scope, 'Devil, Devil' may be what defines 'The Outsiders,' but that's simplifying a complex record. It's also overlooking one of the best songs he's ever penned, the vulnerable 'A Man Who Was Gonna Die Young.'
"This morning I turned 36 / When you just remember half of it / You wonder how you outlived Hank or Jesus," Church sings without the effects and filters that mark other songs on this album. Images of scrap metal heaps and smoking race cars tie the love song back to the junkyard theme of the album. Every song, no matter how far left of center, comes back to the album's mood. Producer Jay Joyce deserves a healthy dose of credit for this.
Church's grip loosens during the more straightforward cuts on 'The Outsiders.' The accessible 'Cold One' and nostalgic 'Talladega' are two dips. The latter could be a hit for dozens of A-list country stars, but on this record, it falls flat. 'Broke Record' is another that fails to stand out. The mood of the music doesn't match his story. The same can be said of 'Like a Wrecking Ball,' but the dichotomy is more pleasing on the white-hot love song.
Church succeeds at breaking free of expectations to create a project that's original, compelling and revolutionary. There's not a ton here to grab fringe fans or those who simply don't care for him. It's truly an album built for the outsiders -- his Outsiders.
Key Tracks: 'A Man Who Was Gonna Die Young,' 'Like a Wrecking Ball,' 'Devil, Devil (Prelude: Prince of Darkness),' Give Me Back My Hometown'
The Trilogy: Church calls 'Dark Side' and the two-part 'Devil, Devil' "the Trilogy." The tracks merge together like highway traffic to create a seamless, 12-minute-long, exhausting emotional ride that barely lets up for 'Give Me Back My Hometown.'
Did You Know: Many call Church an outlaw, but he's not a fan of the term. He also dislikes the phrase "bro-country."
More From Taste of Country