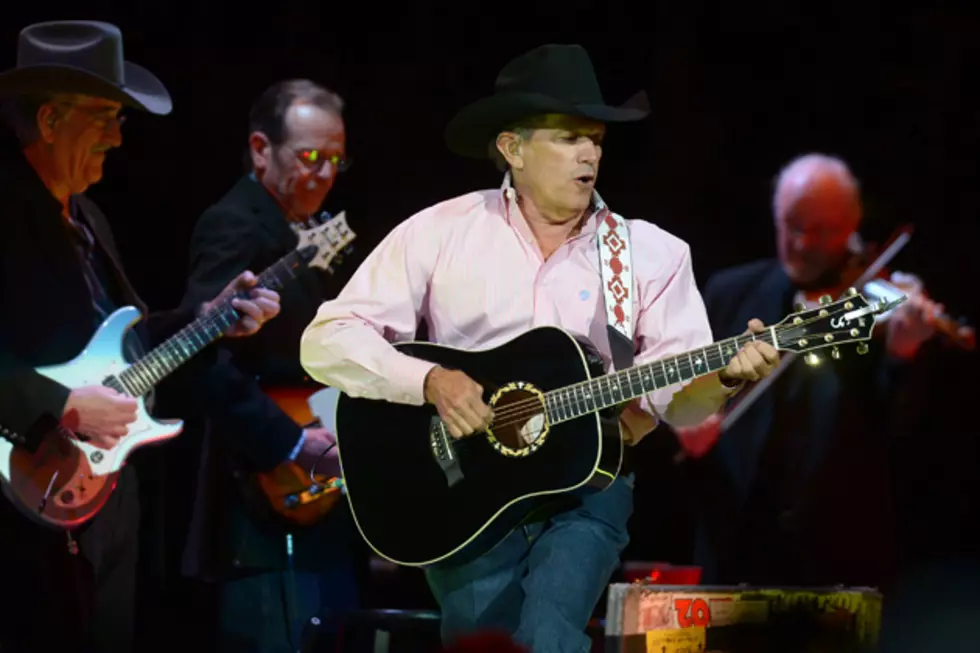 George Strait's Cowboy Rides Away Tour Brings Special Guests to the Stage [Watch]
Rick Diamond, Getty Images
George Strait's Cowboy Rides Away Tour has brought some of country music's biggest stars to the stage during many of the more than two dozen 2014 shows. Miranda Lambert, Jason Aldean and Vince Gill are a few that have joined the King at the mic to trade licks and lyrics.
Find video of the most memorable guest appearances below. In some cases, the artist was the scheduled opening act. In a few other cases, he, she or they just turned up on stage to sing a song. Strait's final concert in Dallas, Texas promises to be a star-studded event. Look for more videos to be added to this list as they become available!
Jason Aldean Sings 'Fool Hearted Memory' and 'Nobody in His Right Mind ...'

January 9 in Bossier City, La.

Eric Church Sings 'Easy Come, Easy Go'

January 18 in Kansas City, Mo.

Miranda Lambert Sings 'How 'Bout Them Cowgirls' and 'Run'

January 31 in San Diego, Calif.

Little Big Town Sings 'You Look So Good in Love'

February 15 in Columbus, Ohio

Martina McBride Sings 'Jackson'

February 28 in Philadelphia, Pa.

Vince Gill Sings 'Lovebug' and 'Amarillo by Morning'

March 7 in Louisville, Ky.

Eric Church Sings 'Cowboys Like Us'

March 21 in Nashville, Tenn.

Kenny Chesney Sings 'Amarillo by Morning'

March 21 in Nashville

Sheryl Crow Sings 'Here for a Good Time' and 'When Did You Stop Loving Me'

March 21 in Nashville, Tenn.
More From Taste of Country