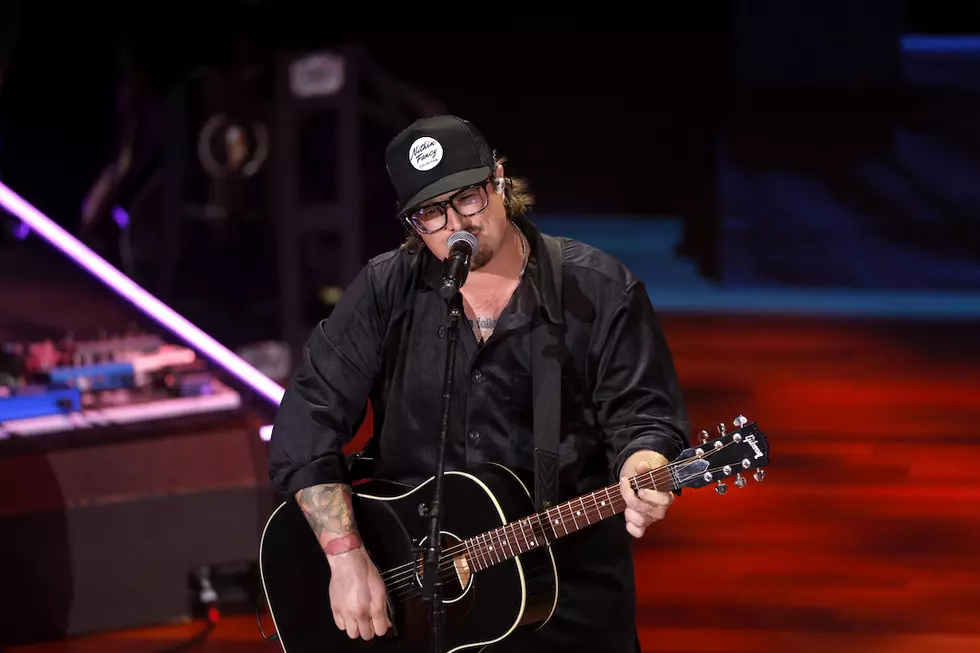 Hardy Bridges Genres With His 'Meta,' Self-Challenging New Album, 'The Mockingbird & the Crow'
Brett Carlsen, Getty Images for ACM
Hardy's album was finished.
He'd written and recorded all the songs. He'd come up with the concept of a half country, half rock project — eight tracks of each genre — fleshed out the concept, turned it into his label and shot the artwork. The record even had a name, Michael Hardy, with the singer's first name symbolizing his country singer-songwriter side and his last name symbolizing his hard rock side.
"For a brief moment that was gonna be that album title. And now that I'm saying it out loud, I hate it," Hardy admits to Taste of Country and other outlets in a conversation about the project. "So I'm really glad that it worked out [the way it did.]"
The change came in the summer, when Hardy was on tour. Two songwriters he collaborates with frequently, Brett Tyler and Jordan Schmidt, joined him on the road and asked to hear some of his new material. He played them a couple of his new rock songs, which were a little bit of a novelty to the veteran country songwriters, and the music piqued their interest.
"I was like, 'Man, the record's done.' They were like, 'Dang, that sucks. We'd really love to write something like this," Hardy recounts. "The next morning, I woke up and Jordan had already been awake for, like, three hours, and he was producing this rock track. I walked in — this was on the bus — and I just looked at him and said, 'Damn it, dude, this sounds awesome, and we're probably gonna end up writing it today.'"
Write it they did, and not only did the song end up making it onto the record, but it became the title track and centerpiece of the entire album.
"This is gonna blow your mind, but 'The Mockingbird & the Crow' was the last song I wrote for the record," Hardy relates.
It was a song title he'd been kicking around for a while, inspired by a time he'd seen a mockingbird attacking a crow while he was driving down a country road. He liked the visual to sides of himself that frequently found themselves at odds: The mockingbird, a successful country songwriter crafting radio-ready hits; the crow, a defiant, progressive and rock-inspired artist who breaks boundaries of format, genre and convention.
"It really does describe and convey and capture the dilemma I have with not only being a country artist and a rock artist, but just as a songwriter. And a rock artist, and because there's a lot of that, internal struggle and internal battle," Hardy reflects.
"I've had to deal with that, because I love, love, love writing songs for other people. And I love, love, love performing and being my own artist," he continues. "That song is just a struggle between the two."
The Mockingbird & the Crow is an exploration into — in no particular order — Hardy's dual interests in the country and rock genres; the balance he strikes between being a working songwriter and a recording and performing artist; his veteran interpretation of the country radio format and the formula that creates a hit song and his ongoing drive to push himself as a songwriter, especially on his own projects.
Hardy had a hand in writing every song on the record, and he says that's quietly by design. "I think I have a chip on my shoulder in that I feel like I have to write everything that I record," he acknowledges. "Honestly, I want to. I think it feels like I'm in complete control of the creative process when I do that ... It's kind of a vow that I've made to myself, and I don't ever wanna, like, publicly say that, because you never know, there  could be a song one day that's perfect and that I want to be a part of. But for now, I guess, my ego or whatever is, 'I have to write every song.'"
In fact, The Mockingbird & the Crow includes the very first song Hardy's written solo since the beginning of his career: A song called "Happy."
"That was the first song I had written by myself since 2013 when I wrote a song called 'Dog Years.' That was the song that got me my first publishing deal," he recounts. "I had been trying to get one [song] by myself just to know that I still could."
Not to imply that Hardy's against collaboration: His career is full of co-writing stories, and as a writer who came up in the songwriters' rooms of Music Row, creative collaboration is a major part of his songwriting process. As a singer, Hardy's no stranger to a hit duet, either: He's had No. 1 success with songs like "Beers on Me," with Breland and Dierks Bentley, and his Hixtape albums are full of joint efforts. That trend isn't slowing down on The Mockingbird & the Crow, whose track list contains multiple duets, including his current single, "Wait in the Truck," with Lainey Wilson.
Morgan Wallen — another frequent collaborator for Hardy — also appears on the tracklist with a duet called "Red." On the rock half of The Mockingbird & the Crow, Hardy joins forces with Jeremy McKinnon, lead vocalist of pop punk group A Day to Remember, for a song called "Radio Song."
Perhaps the most openly self-referential song on the project, "Radio Song" points to — and then rails against — the tropes of a country radio hit.
"I've just always been a fan of meta song lyrics," Hardy explains, citing Sara Bareilles' "Love Song" — which was written out of frustration at a record label who asked her to write a love song for a record — and Outkast's "Hey Ya" — a dance-ready megahit that was actually written as a criticism of modern-day relationships.
"I just love songs that are, like, meta or weird or different," Hardy continues, "a song within a song, an idea within an idea. I don't know. I also just wanted to write the heaviest thing I had done so far, and I think we did it all."
His album highlights dichotomy, and spotlights the fact that with one foot in each genre — and a hand in several different aspects of the music industry — he never really truly fits in anywhere. But in so doing, the singer carves out a lane, and finds a home to settle into. Even in the songs where he embraces rock, a strong country lyric is a theme on The Mockingbird & the Crow, from start to finish. The more he strips away the country sounds he thinks should be there, opting instead to pursue the music that's true to him, the more he discovers his own kind of country.
"I guess it kind of did open the door for doing the rock and roll thing," Hardy allows, "But it also opened the door a little more wide open for me to kinda give my own rendition of country music."
The Mockingbird & the Crow arrives on Jan. 20.
11 Songs That Changed Modern Country Music: 
More From Taste of Country